Baking a Royal biscuit
20 May 2016
Our Edinburgh factory has been a hive of activity this week. We were extremely proud to be asked by Tesco to make its commemorative Queen's 90th Birthday Shortbread tin, so we've been busy putting the finishing touches to what we hope will be a wonderful product for customers to enjoy on the 11th June - the official annual celebration of the Queen's birthday, otherwise known as The Queen's Birthday Parade.
At Burton's we've been baking quality biscuits for over 75 years, and our shortbread recipe is definitely one of our most popular. We use 33% butter to produce a rich, creamy taste, and bake it into a traditional Petticoat Tails shortbread shape. We've been conducting some taste tests this week and it has proved to be extremely moreish!
Nothing leaves our Edinburgh factory without the official seal of approval from our operations manager Tommy McGovern (pictured). Like his father before him, he has been with Burton's for over 30 years. He has overseen production of endless Tesco collaborations but the range to celebrate Her Majesty's 90th birthday has really been a special one.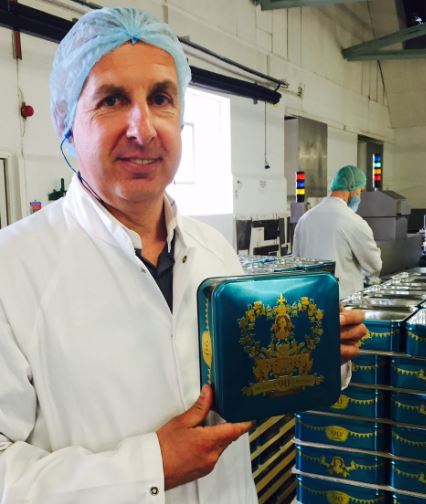 The next step for us is to ensure all 180,000 tins make their way to Tesco stores across the UK, giving customers plenty of time to pick up a tin for street parties or family get-togethers in June.
As a business, we now employ over 2,000 people around the UK, in three main manufacturing facilities in Llantarnam in Wales, Edinburgh and Blackpool, as well as a chocolate refinery in Moreton and a central distribution hub in Liverpool.
We've been working with Tesco for over 50 years, developing biscuits from the humble Rich Tea through to Christmas Shortbread and Tesco's Chunky Cookies range (my personal favourite is the rather decadent White Chocolate and Raspberry Cookie).
It's been great to witness some of the improvements Tesco has been making over the last 12 months to build trusted and transparent partnerships with its supply base. Our team and Tesco work collaboratively and have a forward thinking, proactive relationship.
It's imperative we work together to ensure we're producing products that people really enjoy – after all, what could be more important than choosing which iconic British biscuit to have with your afternoon cup of tea!
With this in mind, I was pleased to read Jason Tarry's comments at the IGD Conference last week, where he called on suppliers to have the confidence to invest in innovation for customers.
Innovation and creating new and exciting products is something we're always looking at. One of the most important things for us is being able to base our decisions on what customers want, and that's where Tesco comes in. They're always listening to customers, so we're able to use this insight to create our next classic biscuit.
Hopefully customers will love Tesco's Shortbread tin. And who knows, maybe Her Majesty will pick one up with her £50 Tesco voucher!
You may also like