Celebrating National Nut Day
22 October 2015
Liberation Foods have supplied our Fairtrade organic brazil nuts since 2006. Learn more about the journey from the Bolivian rainforest to the Tesco shelves.
The highlight of my first year of being the Chair of Liberation Foods has undoubtedly been my trip to the tiny community of Puerto Perez in the Bolivian Amazon rainforest. Liberation Foods is Europe's primary importer and distributor of Fairtrade nuts. We are unique as we are 44% owned by small-scale nut producer co-ops around the world. Our aim is simple – ensuring farmers earn a decent and secure income which enables them to plan for their families and communities.
I joined and assisted a film crew of two on an assignment to capture the journey of the incredible brazil nut crop from forest to UK store.
A little known fact about Brazil nuts is that they are from a small stretch of the Amazon covering Peru, Brazil and Bolivia. Well, I say small – it's actually 9 million hectares. Just 6000 families live in the Bolivian rainforest and harvest the nuts when they've been shed from the trees as nature intended. The 'coconuts' are then cut open individually by hand to release the brazil nuts in their shells. The nuts in shell are then hauled in 70 kilo sacks – imagine 70 bags of sugar on your back – to be sorted and dried. Next they are stacked in small boats to be transported down the Madre de Dios river for further sorting, selection, cleaning and final packing for export.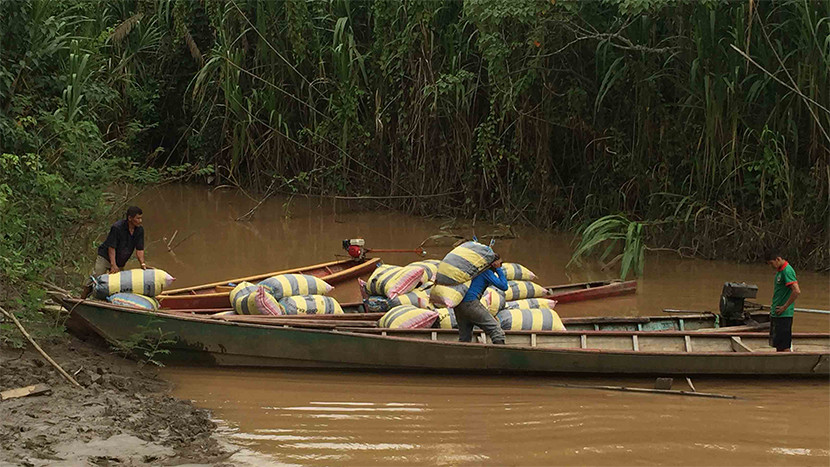 The bag of Brazil nuts you buy is the miraculous work of many hands from the families that gather to the boatman who coursed down the river with the raw product. 'Nut by nut' this journey is a long way from the convenient world we see when we do our shopping.
We at Liberation have had a partnership with Tesco for nearly 10 years now – they were our first big own label customer when we launched Fairtrade nuts into the UK market. Today, Tesco remains our biggest customer and is an incredibly important foundation to our business and the security of our small-scale producers. We are delighted to be trading with Tesco to provide a nutritious, natural snack whilst sustaining livelihoods in far flung communities.
Learn more about the journey from the Bolivian rainforest to the Tesco shelves
Perhaps when you're next at the Tesco checkout with your bag of Fairtrade Organic Brazil nuts you might just pause to consider, how did these get here?!
You may also like