Debuting dementia-friendly checkouts
16 July 2015
How fundraising for the local hospital led to opening our first dementia-friendly checkout.
How did fundraising for the local hospital lead to opening our first dementia-friendly checkout?
We had been fundraising for the local hospital and wanted to do more, then they suggested we went to a Dementia Friends session. Andy Tysoe, a Memory Nurse from the Countess of Chester Hospital and a Dementia Friends champion instantly gripped us – he had a vision of a dementia-friendly checkout for supermarkets (he'd even Photoshopped their logo onto a picture of a checkout!).
Myself and my colleague Nicola wanted to launch the dementia-friendly checkout and open up 11 of our disabled car parking spaces for people with dementia, ready for Dementia Awareness Week on the 18th of May (which was three and a half weeks away!). Our Store Manager loved the idea so off I went emailing head office to see if we could do it. Everyone I spoke to from the carpark and community teams thought it was a brilliant idea, but these things take time as they have to be done in the right way.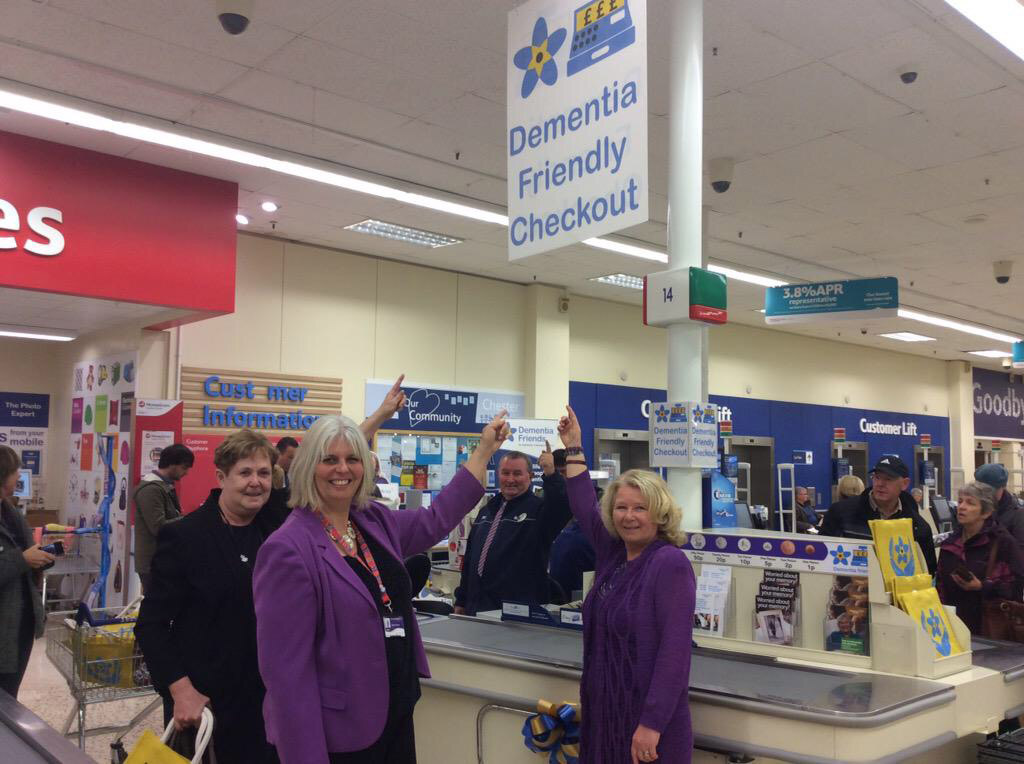 The checkout is located in the middle of the store and has a big, clear sign
Elsewhere word was getting round in the dementia community and social media interest started early. Andy and his team held focus groups with people living with dementia, using images of different signage, wording and logos to come up with our final design.
Time was ticking on and unfortunately we were unable to launch our car parking spaces in May but we were able to launch our dementia-friendly checkout! Andy held a third awareness session during the morning in our Costa. Following this, we were honoured to have Tommy Dunne and Gina Shaw, two amazing people living with dementia, come and open the checkout.
Tommy told me he usually pays with notes in shops nowadays as he doesn't recognise the coins and doesn't like to hold people up trying to work it out as it gets quite stressful for him. Not in our shop! We have pictures of coins to help with this and the checkout is manned by colleagues who have attended Andy's sessions.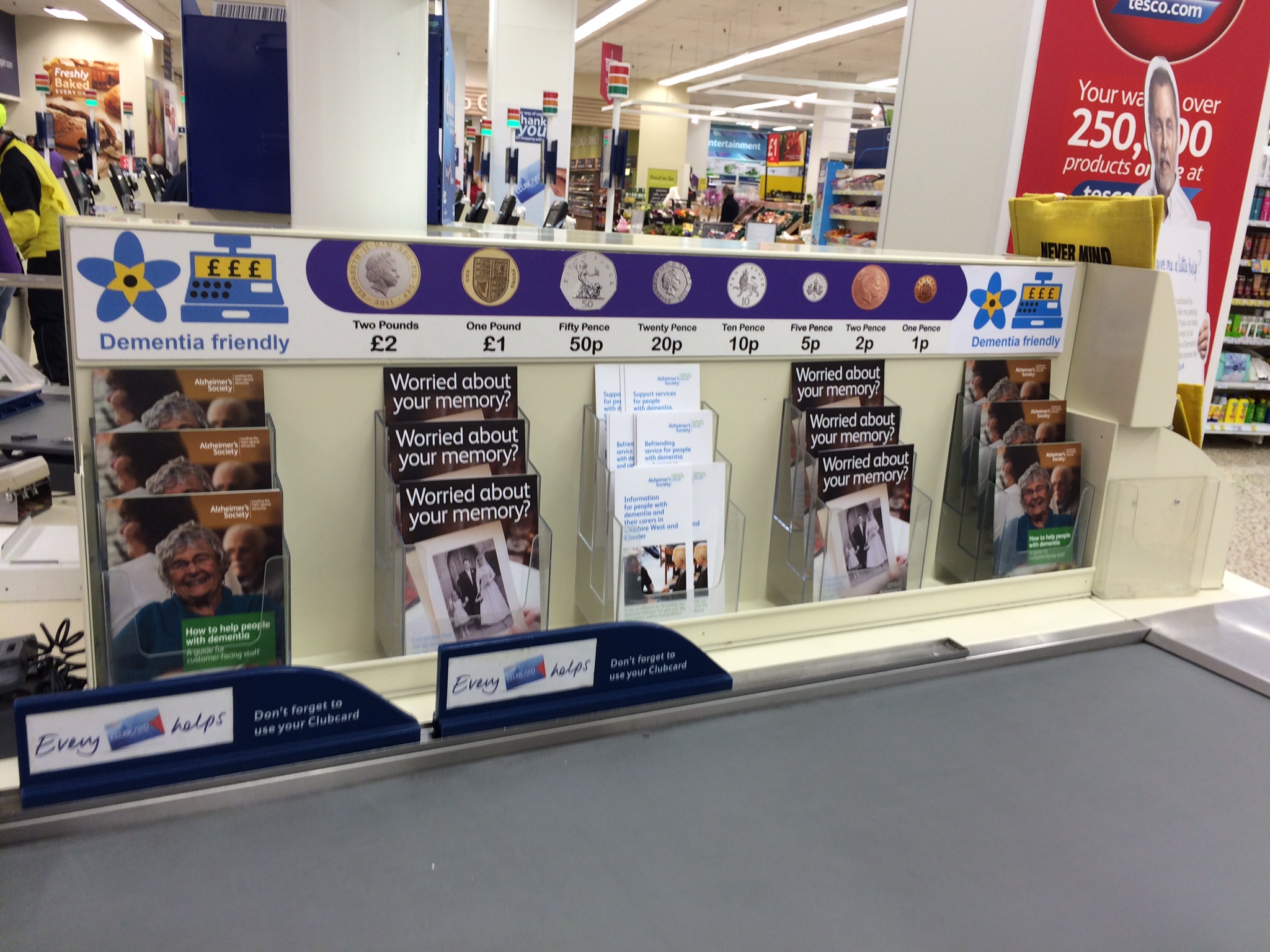 There's a reminder of the value of coins at the checkout
I think one of the best things about this is that general awareness has gone up, not just for colleagues but for customers too. The checkout isn't exclusively for people with dementia but our shoppers are now aware that people in that queue may need a little more time to get through, so overall everyone is a little more understanding.
There are still more articles being published about it, we have featured in two popular blogs, I've lost track of the number of tweets and the checkout was IGD's 'innovation of the week'.
Andy asked me to attend Liverpool Dementia Action Alliances Business event, addressing over 70 delegates from Liverpool's businesses to tell them what we had achieved. I was extremely nervous but got through it and was very proud at the end of the session to see that what we had achieved had inspired people to do more in their businesses.
So… what's next? The car park spaces are on the way – we are just waiting for that final tick in the box and along with my store director we are in talks about what we can do in other stores – so fingers crossed it won't be the last you'll hear from me!
You may also like