Exclusive British Heritage Christmas Turkey ready to be gobbled up this season
13 December 2016
How we produce our exclusive breed of Narragansett Heritage Turkey which roams free in a secret British location.
An prestigious award win for our company led to a chance meeting with the Tesco Agricultural Manager. His brief was to produce an exclusive Christmas product and we relished the prospect and opportunity. We held extensive taste testing of many different breeds of turkey with the Tesco team. This was an exciting opportunity to grow our poultry business and on a product which we would exclusively supply to Tesco.
Our research led us to a very traditional tasting turkey with succulent breast meat and full flavoured delicious dark meat. The Narragansett Turkey was the clear winner. This breed was only available on a small scale in the UK though, so we've worked hard to bring back this top quality bird. The Narragansett Turkey is a result of crossing old English breeds together over 200-years-ago. The breed takes its name from the area in North America where our forefathers settled when they were pioneering the Americas.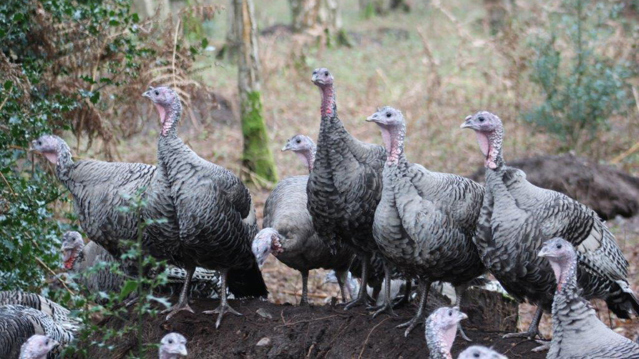 The turkeys are grown slowly and enjoy a relaxed, free-range life. This is noticeable in the final product. They are free to express their natural instincts pecking at the soil and exploring their natural environment. They're a very social creature and follow the farmers around watching their every move. We check our birds frequently throughout the day to make sure they are happy.
Game cover is planted on the land which the Narragansett's love to play in. Game cover is strips of plants such as kale and chicory. The birds walk around in this and it shelters them from the elements and again gives them environmental enrichment as they love to wander and play amongst it.
It also shelters them from the sun in the late summer/early autumn and the rain and wind in the winter. This game cover attracts wildlife such as bees and insects which help to maintain the natural flora and fauna. These turkeys can eat, drink, play and sleep whenever they want to. Essentially it's a 5* all-inclusive lifestyle!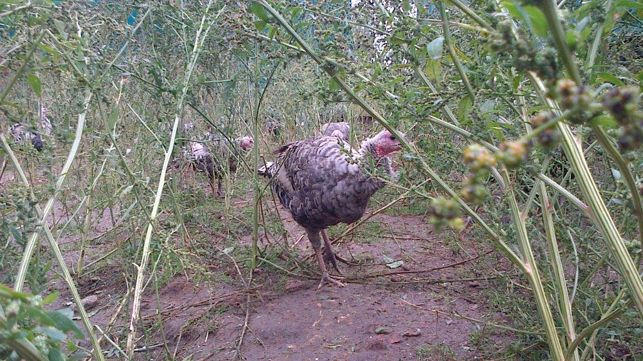 The Turkeys are grow to Quality British Turkey standards and the RSPCA endorses the care and attention these birds are grown to.
Tesco are helping to keep the Narragansett breed going. It's the turkey I will be cooking again this year. My family know they are in for a fabulous dinner, perhaps that's why my house is always full for Christmas lunch.
You may also like