Food collections raise millions of meals
12 December 2014
Over the last few weeks we have helped to raise millions of meals for those in need by holding in-store food collections in many of our operating markets.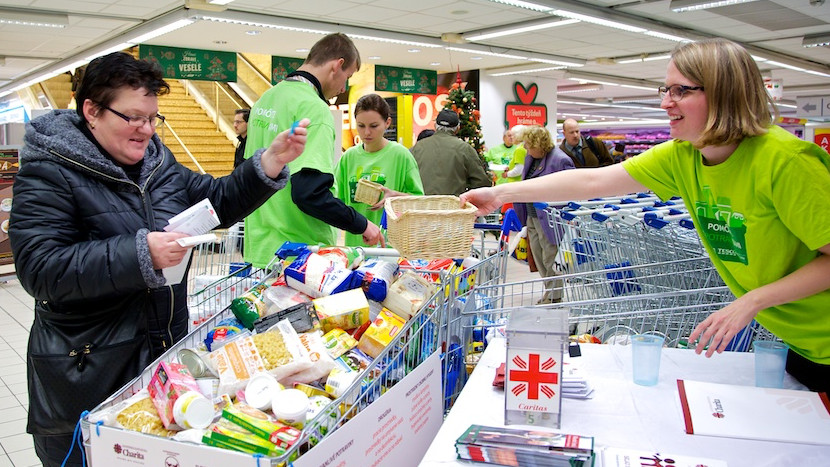 Food collection in Slovakia
With Christmas fast approaching, this time of year provides a fitting opportunity to support the most vulnerable people in society. For too many this means struggling to have enough to eat.
So over the last few weeks we have helped to raise millions of meals for those in need by holding in-store food collections in many of our operating markets. These are a vital way in which we can support our local communities, wherever we operate, and help those who find themselves suffering from food poverty.
As the Corporate Affairs Director for Tesco Slovakia, I am particularly pleased to see the progress and success of our food collections across central Europe.
Last year we held our first-ever food collections in Slovakia in 30 stores. This year collections took place in 67 stores, during which customers donated over 47 tonnes worth of food and non-food products. Along with a 20% top-up by Tesco, this equates to 110,000 meals, more than double what we raised last year. One store in Bratislava collected five and half tonnes of food alone! You can see more about the collections in Slovakia in this video.
In the Czech Republic, meanwhile, collections took place in partnership with the Czech Federation of Food Banks in 55 of our stores across the country. Almost 300 Tesco colleagues volunteered to support the collections, which saw customers donate over 70 tonnes of food for charity, far more than last year. Including our 20% top-up, this equates to over 170,000 meals.
Collections have also taken place in 175 stores in Hungary and 227 stores across Poland, where customer donations and our top-up have helped to raise around 340,000 and 200,000 meals respectively for charity. This is an incredible effort and will help support many thousands of hungry people across Europe.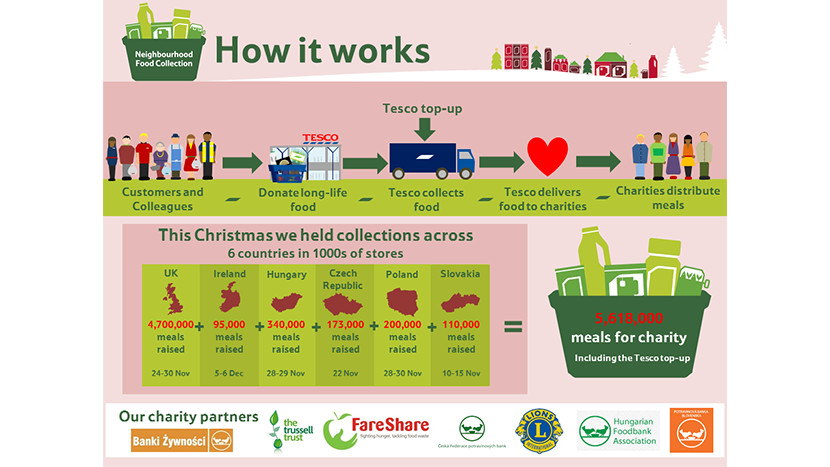 Infographic about how the scheme works
In the UK we have held five Neighbourhood Food Collections since 2012, in total raising over 21 million meals for charity. The most recent collections, which were held for an entire week in all of our stores across the UK, saw generous customers donate a record 4.7 million meals, which we will top-up by 30%. Thanks to our partnerships with food redistribution charities FareShare and The Trussell, this food will help to support an incredible number of people over the Christmas period.
In Ireland, where we have already taken a number of actions to tackle food poverty, such as donating surplus food to Bia Food Bank, collections were held last weekend in partnership with the Lions Club in 146 of our stores. Customer donations amount to at least €155,000 worth of food, far more than last year, which along with our 30% top-up equates to around 95,000 meals.
Further afield, we have also held collections for the first time in Thailand, specifically to support children living in poverty-stricken slum areas. As with our other collections, we asked customers to buy and donate long-life foods, and managed to collect products with a total value of more than 50,000 Baht.
Every day millions of people across the world struggle to make ends meet. While there are many reasons for this, the knowledge that there will be a warm meal each day during the coldest time of year can make a massive difference. That's why these collections are so important.
So I would like to once again thank all our customers across all our markets who have showed such incredible generosity and donated so much food. Thanks also to all the Tesco colleagues and other volunteers who have helped to make the donations possible. It has been an incredible effort and it really does make a difference.
You may also like