Wet and warm weather conditions lead to bumper crop of Rainbow Chard
11 August 2017
Tesco works with supplier to take on bumper crop of Rainbow Chard, helping to tackle food waste and give customers a great deal.
We've had ideal wet and warm weather conditions for Rainbow Chard recently, which has resulted in a lovely bumper crop of the vegetable.
We've worked with a number of our suppliers over the summer to take on bumper crops that would otherwise have gone to waste, and we've done the same with DGM Growers, one of our chard growers. The crop is grown for them by two producers - Peter Tickle in Lincolnshire and Brian Read in Kent, and the crop is now ready to hit our stores.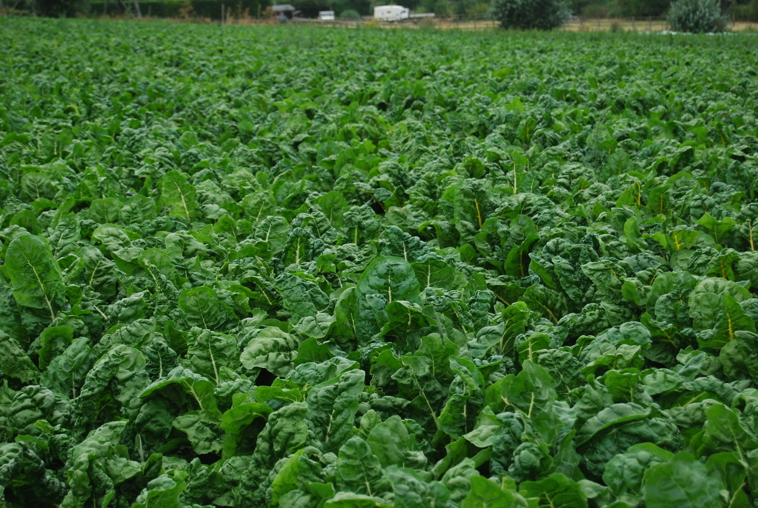 Because we've seen a bumper crop of the vegetable we're able to offer customers a fantastic deal, so for the next two weeks Rainbow Chard will be available at half price – just 97p a pack. The crop will be available in over 250 of our stores across the UK.
The name Rainbow Chard comes from the fact our packs contain a mixture of three different varieties with different coloured stems. The delicious vegetable is at its best between July and November and has a similar flavour to spinach.
It's a really versatile vegetable and is a great accompaniment to a range of dishes including stir fries and gratins.
Helping our suppliers
We're passionate about working in partnership with our suppliers so that no edible food goes to waste. In the last 12 months, we've been able to take bumper crops like this and offer customers great deals on raspberries, strawberries, cherries, carrots, cauliflowers, lettuce and celery. Customers benefitted from great prices; our farmers were happy we could take more from them, and we prevented good food from going to waste.
This is another example of Tesco working with our farmers and suppliers to give customers the best British fresh produce, at the best prices.
No time for waste
Taking more crops from suppliers when they're in abundance and offering them to customers is part of our ongoing work to tackle food waste wherever it occurs – from farm to fork. Tesco believes that no food that could be eaten should be wasted. That's why we've committed that no food that is safe for human consumption will go to waste from Tesco UK retail operations by the end of 2017.
You may also like