Giant super sweet blackberries set to be a 'game changer'
17 July 2015
They've always been seen as the poor relation to strawberries, blueberries and raspberries – but all that is set to change very soon for the humble blackberry.
Tesco's blackberries have just got bigger and sweeter!
They've always been seen as the poor relation to strawberries, blueberries and raspberries – but all that is set to change very soon for the humble blackberry.
This summer British berry growers are starting to reap the rewards of a new variety of blackberry called Driscoll's Victoria which I can best describe as an absolute whopper
both in size and in taste. Not only are these blackberries far sweeter and juicier than traditional UK varieties but they are, on average, also twice the size.
And berry experts are already hailing Driscoll's Victoria as a 'game changer' that will boost the appeal of the fruit. Its impact is already starting to be felt on British high streets with Tesco this summer becoming the first supermarket to sell blackberries as a snacking food.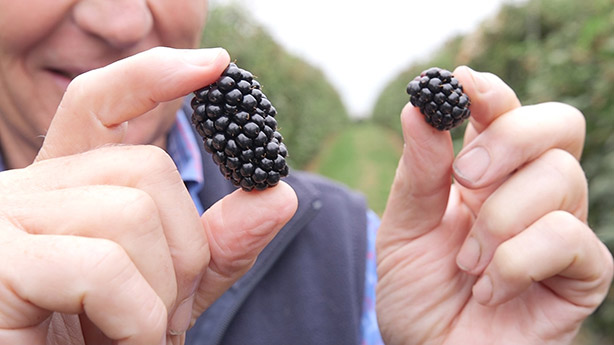 Just look at that whopper – the giant Driscoll's Victoria is twice the size of regular blackberries
This week I visited one of the UK's largest berry growers, Robert Pascall, owner of the 420 acre Clock House Farm, in Coxheath, near Maidstone, Kent, who gave me the low down on this fantastic berry.
Robert told me that the Driscoll's Victoria is a natural hybrid variety imported from America which has helped establish blackberries as a stand-alone dessert fruit in the States over the last 10 years. It's one of several relatively new blackberry varieties including Karaka Black and Black Magic which have been developed as a result of advances in breeding.
An increasing number of UK growers have been planting them over the last few years but none have performed as well as the Driscoll's Victoria. The taste is consistently sweet and has been developed with a reduction in the acidity of the berry which allows the natural sugars in the fruit to dominate.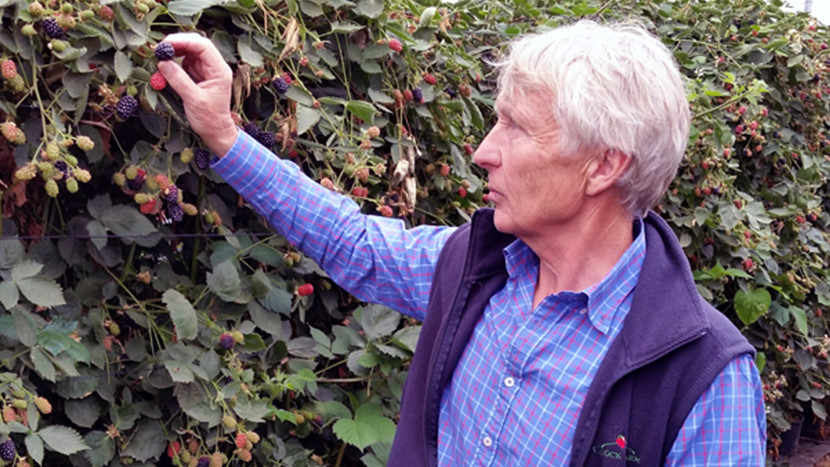 Robert Pascall checking the quality of his blackberries
Robert said: "Finding a larger, sweeter blackberry variety that can be eaten on its own as a dessert or as a snack has long been the Holy Grail for UK berry growers.
"I've been trialling various sweeter varieties for a few years now but none have produced as consistent a taste or size as the Driscoll's Victoria which is already proving to be a game changer for growers like myself and also on the high street.
"The move by Tesco to sell blackberries in snacking packs and widen their appeal will no doubt encourage growers to invest in further production and establish the fruit as a rival to other top selling berries."
Traditionally blackberries have never been as popular as strawberries, blueberries and raspberries and that's because they have not been as sweet.
They've always been popular in cooking, especially as ingredients for jam, pies and crumbles but lesser so as a treat to be enjoyed on their own.
The arrival of the sweeter blackberry varieties helped boost total UK production last year to more than 1500 tonnes – up by nearly 20 per cent on the previous year. But experts predict that, weather permitting, this year's yield could be as high as 2000 tonnes.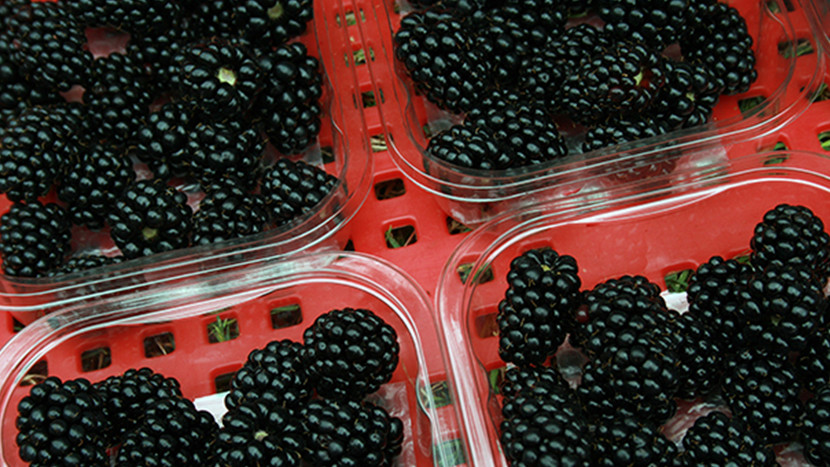 Trays of the Driscoll's Victoria on their way to supermarket shelves
Robert says the arrival of the Driscoll's Victoria and other sweeter varieties has encouraged him to plant more blackberry bushes with his own production rocketing from 30 tonnes in 2012 to 180 tonnes in 2014. This year, with good weather, he is expecting his annual tonnage will soar yet again.
For more food and drink related stories by Mike Baess, visit www.itsawonderfulloaf.com
You may also like