Help and hope for refugees in a strange land
23 September 2015
I had seen the pictures on the news. Desperate families struggling along railway tracks. Exhausted people crammed into small rubber dinghies. But nothing quite prepared me for the sight of 578 refugees and asylum seekers landing at a port in Sicily this summer.
The Italian holiday destination must have seemed very strange to these weary travellers. Figures dressed in white plastic suits and masks boarded their boat. But inside these space suits were Italian doctors and Red Cross volunteers, looking for anyone who was injured or sick.
The Red Cross volunteers translated into French, Arabic, English and a myriad of dialects. They explained what was happening for the doctors and their weary patients.
"I am very tired. We came from Bangladesh to Libya – it took many days," one man said.
Others had travelled from Syria, Eritrea, Sudan, Togo, Guinea, Gambia and Mali.
Baby on board
Before anyone stepped on to dry land, the scorching concrete port was flooded with cool water. Most people had come with nothing – including shoes.
However, the first person to leave the boat couldn't walk at all. At just 14 days old, baby Paulo had spent half his life at sea, sleeping in a cardboard box.
Under the hot Sicilian sun, Red Cross volunteers greeted each person, giving them water, food and a full health check. Sweating through their uniforms, Red Cross volunteers bandaged injured feet, looked after pregnant women and took one man with a broken leg to hospital. A psychologist made sure traumatised people got the help they needed.
Across Europe and here in the UK, the Red Cross is working every day to help families who have fled their homes in search of safety. As conflict rages in Syria, refugee camps in surrounding countries are filling to the brim. More people are on the move than ever before. The last time we saw anything like this was the Second World War.
You can help
That's why the British Red Cross has launched the European Refugee Crisis Appeal.
Thank you to everyone who has already donated online or put some money in a bucket during their shop at Tesco over the last two weekends. Every penny will help to provide food, water and medical care to families left with nothing. As well as holding in-store collections, Tesco has supported the appeal in many ways. They support the Red Cross as members of the Disaster Relief Alliance and they donated an additional £20,000. They have also given items such as 1,000 sleeping bags, toothbrushes and socks to help refugees facing cold nights away from home
New ways to tackle a crisis
As a founding member of the Disaster Relief Alliance, Tesco are also helping us to find new and better ways to help people around the world cope with crises. As well as traditional aid such as food parcels and blankets, they are investing in finding new techniques and tools to help communities.
Whether it's a new app that could help people fight disease or solar-powered radios to give people important information, there are so many ways that technology can help communities cope with crises.
Thanks to Tesco's support through the Disaster Relief Alliance, we can experiment with a whole range of new ideas in the future to help people prepare for and recover from major disasters.
Their investment also means we can act as soon as disaster strikes – and set up projects to help people recover, long after the crisis disappears from the news headlines. If you have any questions about other ways to support refugees, you can call our helpline on 0800 107 8727 (free from landlines, a charge may apply from mobile phones).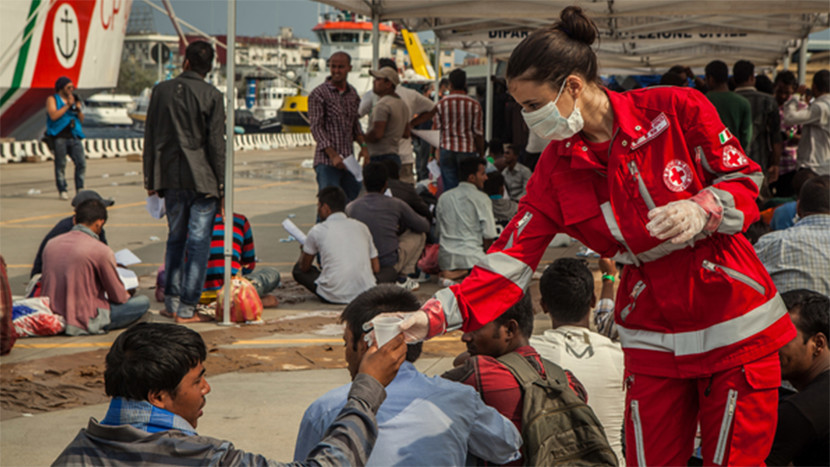 You may also like