Helping to cure cancer through Race for Life
6 June 2018
Hear how colleague Michelle Cornish has supported Tesco's 17 year partnership with Cancer Research UK's Race for Life, with over £40m raised to date.
A proud partner of Race for Life 
I've worked at Tesco for 25 years in our People team, Exports, Corporate Responsibility and for the last 17 years in the Community team, where I've had the most fantastic experience managing Race for Life.  
I'm so proud of how it's grown each year, and how our support has helped to save countless lives. I know many of the amazing colleagues who take part in the events, and never cease to be touched by their personal stories and motivation.
Tesco joined forces with Cancer Research UK's Race for Life back in 2002, encouraging women across the UK to get active, raise awareness of cancer and raise vital funds for life-saving research. It's so incredibly important, as 1 in 2 people are affected by cancer during their lifetime – Race for Life means that we can make a real difference for colleagues, customers and our local communities.   
Every little help makes a big difference
Since 2013, we trialled selling a small number of products where a contribution from sales goes to CRUK. When we renewed our partnership with CRUK in 2015, we increased the number of products and it's been hugely successful, thanks to the support of our customers; we're hoping to raise over half a million pounds through these activities alone in 2018.
Over the years I've had an amazing time being able to turn ideas into initiatives that support CRUK and help maximise our fundraising impact. I was inspired to launch Tesco Turns Pink after reading about the Australian cricketer Glenn McGrath, who puts on a cricket match every year in memory of his wife Jane who died of breast cancer. To get into the stadium you have to wear pink. It's a glorious sight to see – the ball, cricket stumps and cricketers are also suitably pink! Over the last five years our Tesco Turns Pink weekend has raised nearly £1 million for CRUK – an amazing amount for just 10 weekends!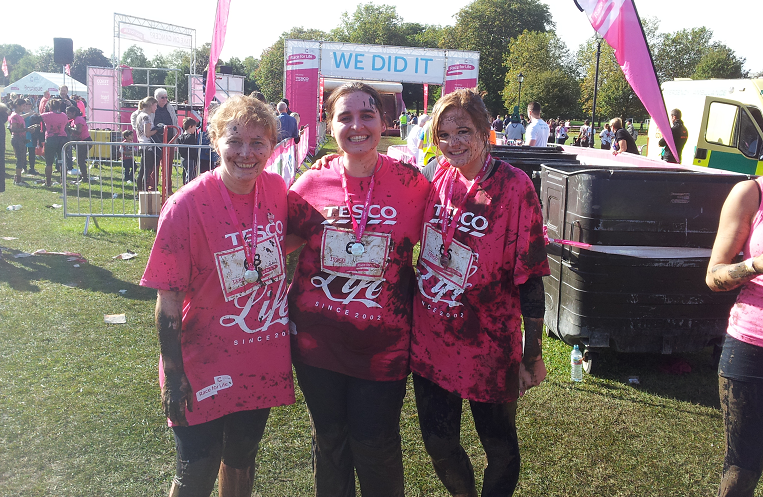 I take part in at least two Race for Life events every year (usually Harlow and Battersea). In the past five years I've been accompanied my dog Rory – he's a show-type cocker spaniel who proudly wears his Cancer Research UK dog Race for Life t-shirt. He has to be encouraged around the course as he'd rather be sniffing for rabbits, but I like to think he plays his part!
A massive thank you to everyone who takes part in or supports Race for Life – even though men can't take part in the event, they can cheer on and support the runners. You can read more and sign up to Race for Life here.
Little Helps for healthier living
Race for Life is an important part of our work with health charities and experts to promote healthy living, and support prevention and cure for the biggest health challenges we face. Our ground breaking 'Little Helps for healthier living' partnership with the British Heart Foundation, Cancer Research UK and Diabetes UK aims to support colleagues, customers and their families to take small steps on their own terms to develop healthier habits, and through working together, make a really big difference to their lives.
You may also like