How do you solve a problem like price match vouchers?
12 October 2015
Picture the scene. You've just unpacked the shopping. You're about to start putting food in the fridge. And then you see it – pinned up with a fridge magnet so you wouldn't forget it…the price match voucher you were given last week, but forgot to take with you when you went shopping today.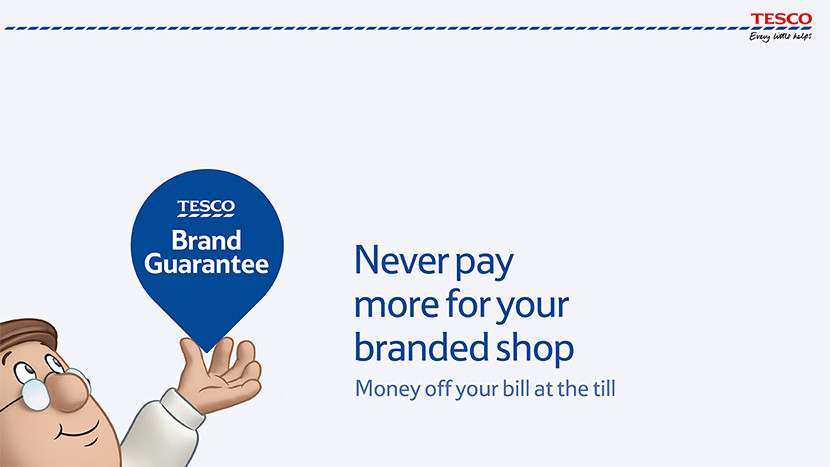 We've all been there. We've all had that same annoying feeling, realising that you had a price match voucher which would have saved you money, but it wasn't in your wallet when you needed it. Wouldn't life be a lot easier if we could get simple, immediate value on the brands we rely on, right there and then, at the till?
Incredibly, almost half of UK shoppers say the main reason for not using these schemes is they simply forget they had the vouchers at all.
The result of all this is that UK shoppers could be missing out on hundreds of millions of pounds of savings. So at Tesco, we've been looking at what we can do to help, by turning those vouchers into something more simple and convenient. The result is our new Brand Guarantee.
It's simple. At Tesco – from today – if your branded shop would have been cheaper at Asda, Morrisons or Sainsbury's, we'll give you the difference back instantly. No vouchers. No hassle.
And crucially, the scheme will also price match against promotions by our main competitors – so customers won't have to carry a calculator round with them to figure out if they're getting a fair deal. You can read the full story here.
The bigger point behind Brand Guarantee is that increasingly what shoppers are telling us is naturally, they want value for money – but they also want us to help make life a little easier too.
With Brand Guarantee, we can help – by offering customers all the brands they rely on, simply, quickly and under one roof, while also making sure they'll never lose out if they'd gone to another leading supermarket. It will also help make life simpler for our colleagues, as instead of giving out multiple receipts, we can serve customers quickly and easily, with money off their bill, at the till.
It's the latest step in a bigger journey we're on to help customers, building on other changes we've been making this year – from making sure the items that matter most are always on the shelf, to hiring more frontline colleagues to serve customers, to cutting prices on over a thousand brand and own-label products.
There's more to do, and we're looking at other ways to help make life simpler for customers, but with this change we can remove one small source of national frustration and serve Britain's shoppers a little better, every day.
You may also like