Tech start-ups work with big business to tackle food waste
17 October 2016
Food waste entrepreneur and founder of FoodCloud, Iseult Ward, shares what she's learned working in partnership with Tesco to tackle food waste.
I've been talking with Tesco at London Food Tech Week about our partnership. We have shared what we've learned about large business and start-ups working together.
FoodCloud has worked with Tesco for the last three years. Together we've built a nationwide programme, Community Food Connection, with FareShare and FoodCloud. It enables Tesco to donate surplus food to charities and community groups. It's been a large feat for a small start-up!
How did we get here?
My co-founder Aoibheann O'Brien and I met at university and realised that we shared a vision for a world where no good food goes to waste. We saw an opportunity to take action. We focused on food that was going to waste within communities. If we could connect businesses to local charities, then good food could be rescued.
Our first donation was from a farmers' market to a local charity. For the last four years that charity has received a donation of organic and gourmet food twice a week.  We saw that the power of establishing strong relationships between businesses and charities could have an impact on reducing food waste and food poverty.
To quickly scale up our operation and access a consistent supply of surplus food, we needed a retail partner. I attended an event about food waste in Ireland and the only retailer present was Tesco. We arranged a meeting and soon we had a trial in one store.
At that point we had a simple version of our FoodCloud app. Tesco Ireland worked with us to further develop it. We expanded the trial to 18 stores in six months. I spent a lot of time in the back of stores and with charities learning how we could create the simplest solution to maximise the food donated.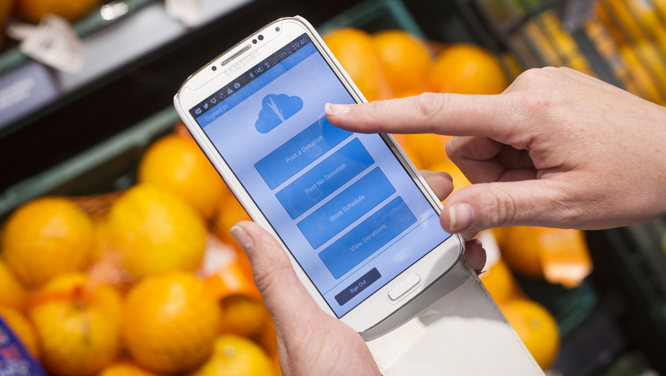 FoodCloud is more than just an app. The app is important as it lets stores and charities talk to each other every day. Our software platform tracks the donation data, allowing our support team to monitor donations and help the charities whenever they need it. A large part of our role is also matching charities to stores and much of this is best done at a very local level. It can be genuinely hard to give surplus food away in a way that maximises the food donated from stores and creates sustainable and meaningful relationships between stores and charities in communities.
FareShare, FoodCloud and Tesco
FareShare was the perfect partner for FoodCloud in the UK. As the largest surplus food redistribution charity in the UK, they had the national scale and links with the UK voluntary sector necessary to recruit thousands of charities for the stores. FareShare is an existing partner of Tesco, and by us working together, we had the answer. Through shared values and complementary strengths, we could help Tesco to donate surplus food from its stores in the UK.
Our joint programme, Community Food Connection, is currently rolling out across all Tesco stores in the UK. We're proud to be part of helping Tesco deliver its commitment that no good food will go to waste in their stores by the end of 2017.
To date, 886 Tesco stores run Community Food Connection and 3,000 charities are signed up. We've donated over 1.4 million meals worth of surplus food. Across Ireland we've donated over 2 million meals from Tesco stores.
It's not always been easy – but together we have taken an issue and turned it into a programme that benefits the community. To me that's not just smart, it's alchemy!
You may also like