Never mind the olive - here's the rapeseed!
19 May 2015
Growers are now starting to find that there's gold in them thar fields as rapeseed oil has become the fastest growing vegetable oil in the UK.
Anyone driving through the British countryside recently can't fail to have noticed the abundant fields of beautiful, bright yellow rapeseed.
Well judging by the soaring popularity of the edible oil produced from rapeseed you're going to be seeing a lot more of it in the coming years.
Growers are now starting to find that there's gold in them thar fields as rapeseed oil has become the fastest growing vegetable oil in the UK.
In fact so much so that it is knocking back imports of extra virgin olive oil.
In the last year demand for cold-pressed rapeseed oil has grown by nearly 30 per cent while sales of extra virgin olive oil have slightly dipped.
It's a rise that experts believe has been driven by growing awareness of rapeseed oil's health attributes.
Nutritionists say that rapeseed oil has more than half the saturated fat content of any olive oil and nearly half that of sunflower oil.
I've been using it at home as it has a higher burn point than olive oil so it can be used for roasting and frying while 'holding' all the beneficial Omega fats.
I've also found it to be very versatile in cooking and have used it in stir fries, for roasting, as part of a salad dressing as well as replacing butter in a flap jack, bread and cakes.
Ethically minded shoppers may also be drawn to it because since it is produced here in the UK it cuts down on the carbon footprint of imported oils.
The growing demand is good news for British farmers who are predicting another good harvest to follow the one last year that saw yield grow by 16 per cent to 2.5 million tonnes (DEFRA stats Dec 2014).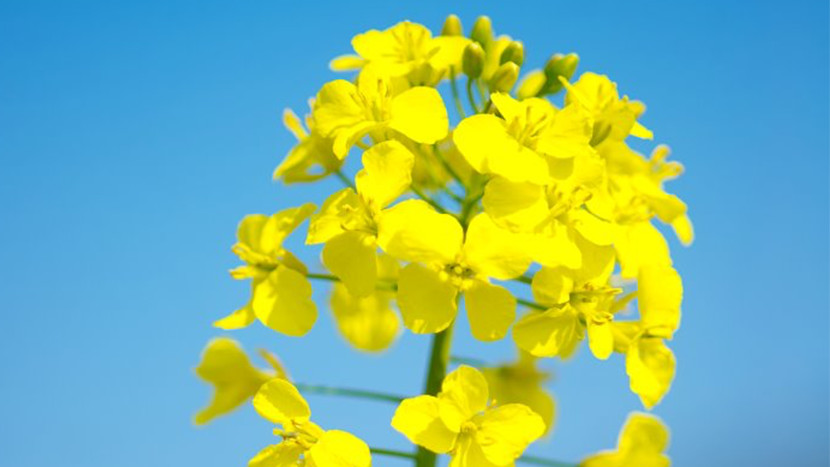 The whole boom for quality vegetable oils, especially extra virgin olive oil, from the Mediterranean, rose dramatically in popularity during the noughties after being endorsed by celebrity chefs, particularly Jamie Oliver who produced his own range.
There are now many local varieties produced around the UK and each has its own regional flavour and look.
One of the UK's biggest cold-pressed rapeseed oil producers is Hills Farm Oils, based in Heveningham, Suffolk.
They were the first company to launch rapeseed oil in British supermarkets and have since become one of the UK's biggest producers – with production growing from just over 2000 litres in 2004 to 500,000 litres last year.
Hill Farm owner Sam Fairs told me: "We realised the amazing qualities of rapeseed oil and started to cold press it, filter and then bottle our own oil.
"As well as more traditional uses like roasting, frying, or dressings, rapeseed oil is ideal for baking. From Ciabatta to choc-chip muffins, and brownies to blackberry and apple cake, it's a great way to make savoury and sweet treats that are lower in saturated fat but still taste divine.
"We believe that once the public weigh up the health benefits and the low food miles they will want to buy a British alternative to traditional olive and vegetable oils."
You may also like