Finest Orange Rapture Tomatoes exclusive to Tesco
9 June 2017
How innovation in tomatoes led to the discovery of the Orange Rapture. Now produced in Britain all-year-round exclusively for Tesco.
At Thanet Earth we trial over 200 tomato varieties a year. All go through rigorous testing in terms of flavour, texture, shelf life, and just as important, agronomic suitability. Through this process, we found this unusually coloured Japanese cherry variety 'Oranjestar'.
Orange Rapture Tomato
This sweet tomato is a bright orange colour, with an attractive lustre that makes snacking hard to resist. The flavour is distinctive, still sweet but packed with a nostalgic, heritage flavour.
Our grower Gert Van Straalen went to Japan to understand more about the variety. Impressed with the growing and selling of this 'Orange Cherry' in Japan we put it through our trial greenhouse at Hadlow College.
Unique tomatoes
'Orange Cherry' is a significant development in the tomato world as consumers look for colour and variety in their tomato basket. Working closely with Tesco we've been able to produce this tomato exclusively for Tesco customers. Between Tesco and ourselves we came-up with the name Orange Rapture and the tomato quickly won the Grocer Gold Medal Own Label Award in 2015.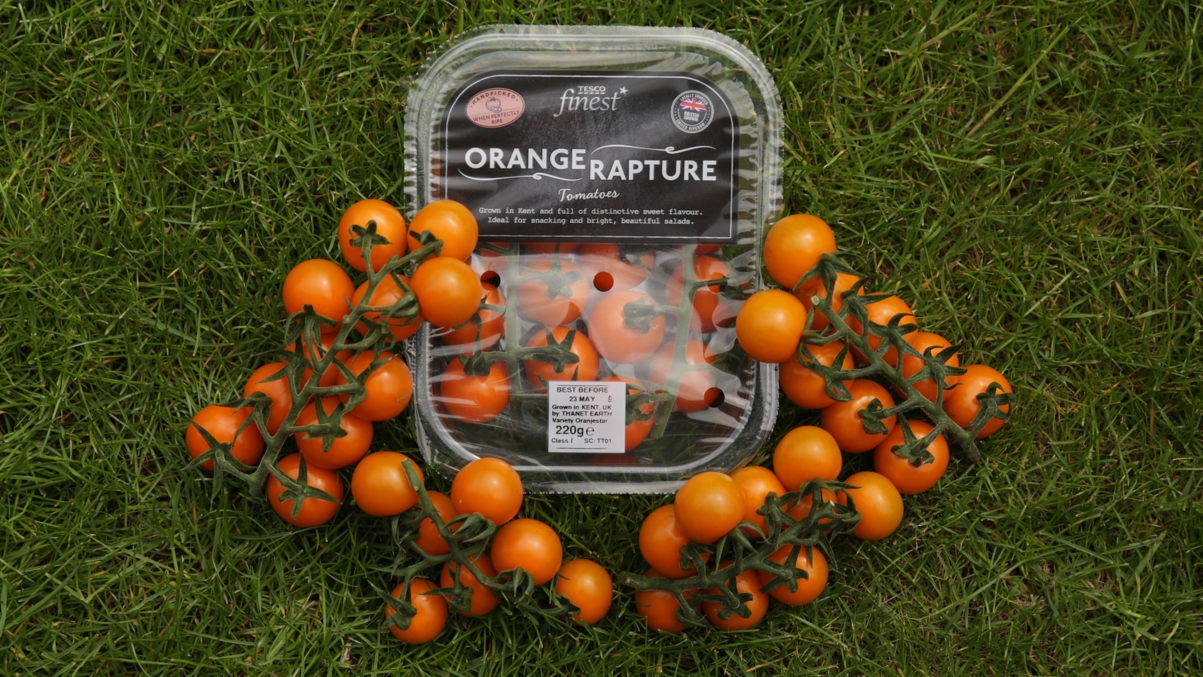 Developing new varieties
What also makes this product unique is that with Thanet Earth's grow lights, we're able to supply British Raptures all year round with the same sweet tangy flavour, on a consistent basis, without the need for imports.
Today's technology meets traditional horticultural expertise at Thanet Earth. Chasing product innovation and developing new tomato varieties is not a quick process. It starts many years before the product hits the supermarket shelves. However, the research is worth it when we can bring new and exciting products to Tesco. Since we started supplying Tesco we have brought five new tomato products to Tesco customers.
Our site is home to five large greenhouses. Inside them we grow tomatoes, peppers and cucumbers. Each greenhouse is a power station too, generating electricity for the National Grid. This means that our produce doesn't just taste delicious, it's also grown sustainably. So to the consumer, you get delicious crops, grown and packed in Kent, from a grower with an excellent environmental record.
Reducing food waste
We support Tesco's No Time For Waste campaign, and want all our tasty crop to be eaten. At Thanet Earth we're working with Tesco to utilise all volumes of exclusive crops so any surplus, and loose fruit will be going into a Tesco Salad Bowl launching this summer.
Working with Tesco we've discovered how sought after this Orange Rapture variety is. We will be extending Orange Rapture into further stores, as well as of course looking for the next new exclusive variety. You can also buy them from www.tesco.com/groceries
You may also like