Running Race for Life in honour of my inspirational friend Elaine
28 April 2017
Tracey has always supported Race for Life but this year a personal loss is driving her to run, fundraise and encourage others to join her.
At Race for Life I'm always inspired by the powerful tributes on the backs of those runners with a story to tell. I think of how cancer affects so many people and how devastating the impact can be.
Losing an amazing friend
This year, I'll be running for my oldest friend Elaine. She was
just
43 when she passed away in January with cervical cancer.
Elaine was an amazing woman.
Having first battled and beaten cancer 13 years ago we
were devastated
last year to learn that it had returned
. This time there was nothing that could
be done
. 
Her hope was that other people would not suffer in the way she did.
She was a massive supporter of Cancer Research UK and The Royal Marsden Hospital where she
was cared
for so well in the last year
.
Elaine was a
truly
vivacious lady, a music, travel and fashion loving Scots lass who lived in Southend-on-Sea.
She was a Director of Crown Vocational Training, a company focused on giving young people the skills of sustainable employment
. Elaine was also a much-loved daughter, partner, friend and Godmother to my two children. Her sense of style and sense of humour were legendary!
Feeling proud
I've run in the Battersea Park Race for Life many times over the last ten or so years. I always enjoy the event and feel
proud of the partnership Tesco
has with Cancer Research UK on Race for Life.
Our support is crucial in raising the much-needed funds for the research needed to battle cancer. The money raised to date has helped so many people receive vital treatment allowing them to go on to live happy and healthy lives. 
I only wish that it could have been the case for Elaine. But it wasn't to be.
I will run Race for Life in Battersea again this year and hope to see as many of you there and at other events around the country.
Thousands of people will be running and walking to remember and support friends and family affected
.
So please, come together, raise money and let's beat cancer. 
I'm doing it for Elaine.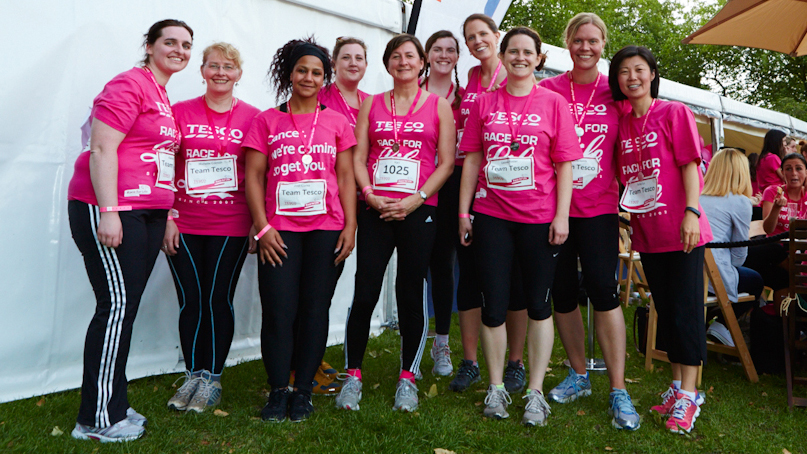 You may also like