Searching for a cancer cure
19 May 2015
I recently visited Bart's Cancer Institute to find out more about the research, which we've helped to fund, bringing Cancer Research UK one step closer to finding a cure.
I've been doing Race For Life on and off for the past 10 years, but 2014 was a special year for our store as one of our much loved colleagues Marion was fighting a losing battle against this horrific disease.
We wanted to show Marion we were with her every step of the way. So 73 women from my store set off from Bathgate to Race for Life in Edinburgh, all dressed in pink and raring to go! In the lead up to the race we held other fundraising events to raise extra money including an 'adopt a teddy' competition, football tournaments for our male colleagues and of course a wear pink day. In total, we raised an amazing £12,231 for Cancer Research UK.
The Community team based in Cheshunt were overwhelmed by the amount we had raised and as a thank you, invited me and my colleague Nadia, down to London to join a lab tour at Bart's Cancer Institute – I was so excited to have the opportunity to find out more about the research.
After a 4am alarm call we set out from Edinburgh airport to travel down. Several trains and countless Tube rides later we finally arrived at the Barts Institute, where we were welcomed by the staff at Barts and CRUK, and met with our colleagues from the Community Team.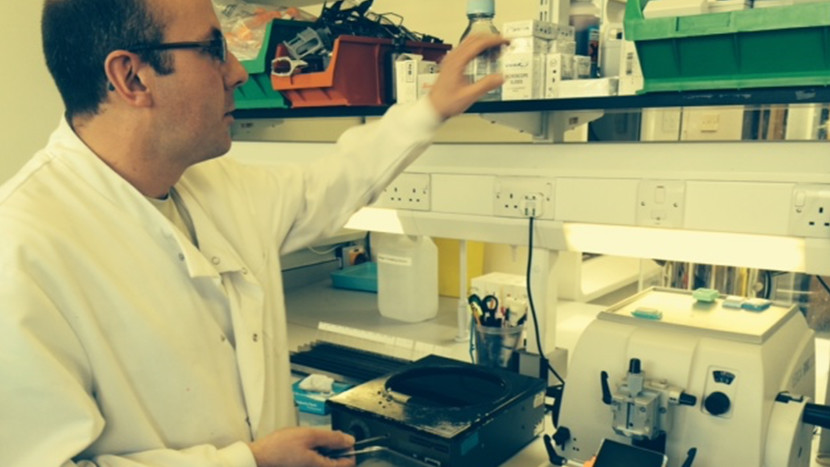 Research facilities at Bart's cancer institute
We were introduced to an amazing man called John Cribben who blew us away with his knowledge and commitment into beating this disease. He told us what progress they are making and their hopes for the future and ultimately finding a cure.
We were then introduced to three different scientists who all individually showed us around there labs and talked about the work they were doing, showing how they work on biopsy samples, cells and DNA; and the high tech machines and microscopes that they need in fighting Cancer. One microscope alone costs £25,000 to purchase, which I'm sure you'll agree is an astronomical amount of money.
We were so inspired by the research and these amazingly gifted people, we felt overwhelmed and humbled by their commitment into finding a cure one day. This tour certainly opened my eyes into just how the research works and the amount of detail and complexity that is involved.
Most importantly, it hit home how much they rely on people like me fundraising to make this research a possibility. I feel so proud to know that I'm helping to bring CRUK closer to finding a cure.
I've signed up to take part in Race for Life again this year – it's not too late for you to get involved too – find out more and sign up here. You can also read more about how the money raised through our Race for Life partnership in 2014 is being used to fund crucial research projects.
You may also like