Supplying milk in uncertain times
13 January 2015
Over the last few weeks, there's been a lot of focus on the challenges the British Dairy industry is facing. Here's what we're doing.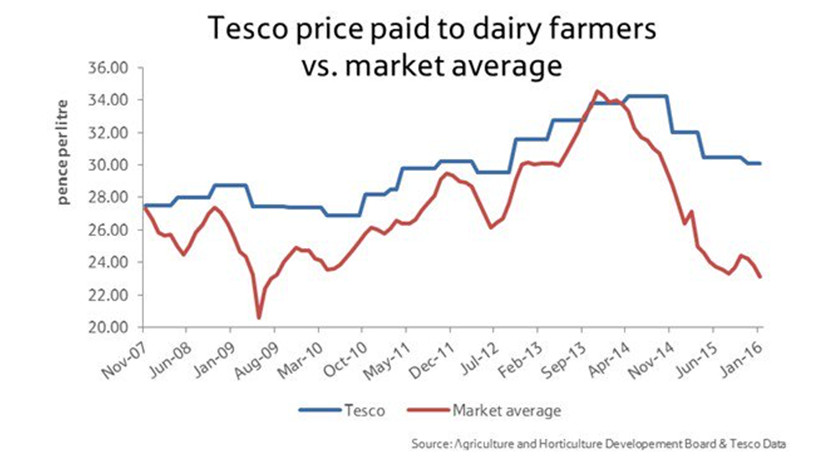 How we've been paying dairy farmers more than market average for seven years
Over the last few weeks, there's been a lot of focus on the challenges the British Dairy industry is facing. The price processors pay farmers for their milk fell faster than we had previously thought possible and a number of global events have shifted the industry landscape enormously. This poses massive challenges for all of us who work as dairy farmers and it's been a seriously difficult time for many of my colleagues.
As a lifelong dairy farmer in Aberdeenshire, I've seen first-hand how susceptible farmers are to the economic climate – not to mention the unpredictability of British weather. All of us as farmers need real stability and support from the retail industry to help us plan for the future.
That's why the Tesco Sustainable Dairy Group (TSDG) is so important for farmers like me. The TSDG has helped to give its members valuable security and peace of mind, which is often lacking in an increasingly volatile industry. I've seen first-hand how other farmers have been forced to stop producing milk due to a lack of support and protection from external pressures. So I know I'm lucky to be part of the TSDG.
Set up seven years ago, the TSDG has established a dedicated relationship between Tesco and the dairy farmers who supply fresh milk directly to them. The group has around 600 producers across Great Britain who share Tesco's aim to deliver the best quality milk possible for customers.
At the centre of the relationship is the way that milk prices are set. Tesco and the TSDG work with an independent consultancy – Promar- to set the price of milk. Promar help to make sure that price paid by Tesco is at least the average cost of production – and that price is then fixed for six months, regardless of what happens in the market. This means all the farmers in the group have certainty over the milk price they'll receive, and is of huge benefit when budgeting and planning for the future.
This pricing mechanism goes some way to help us cope with the ongoing fluctuations in the world market and is independent of what customers pay for milk in stores. Partly thanks to this approach, the average Tesco dairy farmer has grown their milk output by 26% since 2007. 96% of our farmers believe that they've benefited from being part of the TSDG whereas over half are planning on expanding their business within the next five years.
It is essential that food businesses and retailers help to ensure that we have a truly sustainable British dairy industry. Tesco branded milk only comes from British Dairy farmers, and every member of the TSDG is required to meet the nationally recognised Red Tractor assurance scheme, as well as to meet further welfare standards set by Tesco. As well as providing numerous health benefits, British Farmers deliver some of the highest standards of milk quality in the world and some of the best conditions for animal welfare.
After all, we know that's what customers want. Across the UK, customers say they want to buy British milk from cows which are looked after properly – and they want the price that's paid to producers to be fair. Our dairy industry is one of Great Britain's great heritages and the TSDG is one of the ways to support it during this difficult time.
Find out how Tesco has been making sure that milk prices are right for customers, but fair to dairy farmers.
You may also like