Our Fair For Farmers Guarantee
29 June 2016
Tesco's new Fair For Farmers Guarantee shows that every pint of fresh milk sold at Tesco is 100% British.
When our customers buy milk they want a high quality product at an affordable price - but they also want to know our farmers are fairly treated and their animals are well cared for.
Every pint of Tesco milk we sell supports British dairy farmers by guaranteeing them a fair price for their product and helps them to invest in their farms and animal welfare.
While the price of milk may fall or rise in store, depending on the market, we pay our farmers a completely independent price, above the cost of production and set for three months at a time – ensuring they have a stable income.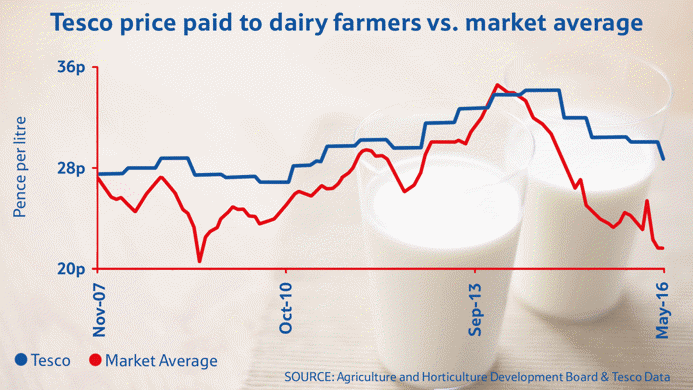 This commitment is not new – for nine years our working relationship with the people who produce our milk has been fair and open. You can hear more from Stuart Heath, who we've worked with since 2007, in the video above. We will continue to contribute to a sustainable future in dairy production for the long term.
We've worked with a group of around 600 dairy farmers known as the Tesco Sustainable Dairy Group (TSDG) since November 2007. In total we have paid £240m over the market price to our milk farmers*. This year I'm proud to say the number will increase to around 800 - the largest group of dairy farmers working directly with a retailer.
Customers can be sure of our commitment, every pint of milk they buy is stamped with our Fair For Farmers Guarantee. That's a guarantee our farmers are paid a fair price for every pint; a guarantee all of our milk is 100% British and a guarantee our milk is produced to high standards and every cow is well cared for.
*£240 million is calculated by taking the total amount we've paid to our farmers compared to the AHDB average market price per litre each month (whether higher or lower), multiplied by the number of litres we purchased that month.
You may also like