Tesco supports Help for Heroes with fundraising Easter egg
18 March 2016
As Tesco and Help for Heroes launch an Easter egg (with 100% of profits going to Help for Heroes) David Richmond explains how every contribution counts.
At Help for Heroes we believe our supporters are the best out there. We're incredibly lucky that Tesco continues to back our brave Servicemen, women and Veterans.
Tesco customers have always risen to the challenge and generously supported our National Collection weekends, or chosen to pop Help for Heroes products in their shopping baskets. We're delighted to announce that this Easter we have taken this one step further by launching our very own Help for Heroes chocolate Easter egg with Tesco.
Tesco are donating 100% of the Help for Heroes Easter egg profits, which not only enables us to give essential support to all our heroes, but also provides moral support that tells our beneficiaries their country remains firmly behind them. No matter how big or small the contribution, it all counts and it all makes a huge difference.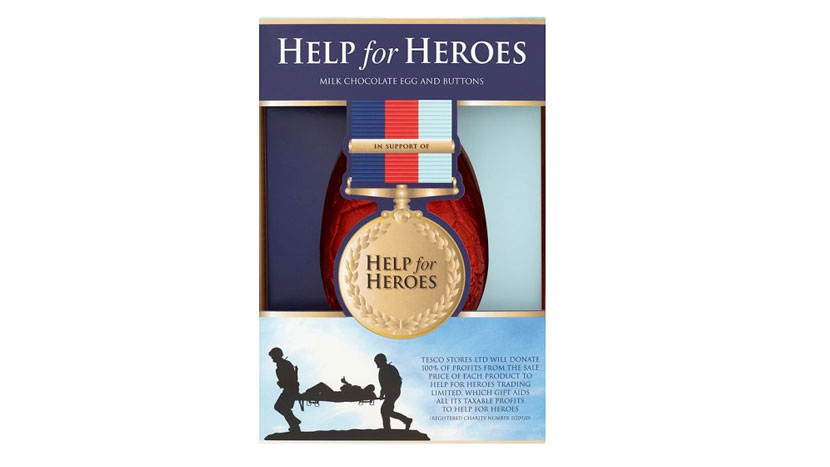 How the money helps
Thanks to the public's support, we've been able to achieve a lot in a short time – establishing an enduring network of support for our wounded and their families through our four Recovery Centres which are the front line of our support for those who need us.
The money raised has enabled us to award 8,866 grants to individuals, totalling £10.6m, to help with things like accommodation and travel costs for families during hospital stays, housing adaptations and specialist equipment. We work with over 60 specialist charity partners, such as Combat Stress and Blind Veterans UK, and provided grants of over £31m to support our Heroes in their recovery. Our Career Recovery Service offers 187 courses across 36 subjects.
Sport plays a hugely important part in recovery both in terms of general health as well as camaraderie and self-confidence; we put on over 350 sporting events across 50 different sports and activities in the last year including supporting beneficiaries competing at the Invictus Games and Paralympic Games. All thanks to the support.
Last year we launched our new psychological wellbeing service, Hidden Wounds, which provides free and confidential support to Veterans and their families, and the families of those serving, in need of psychological support.
Our Band of Brothers and Band of Sisters networks provide fellowship, support and a listening ear. With over 6,000 members we organise regular activities and respite events so that our beneficiaries can meet others who are living through similar experiences. We cannot tell you how important this is to so many of the families.
So, thank-you for your support and please keep going!
Find out more about Help for Heroes
*All figures correct as at September 2015
You may also like