Here to help
.
Site acquisitions: Growing our business for the future
Tesco serves millions of customers across the UK every week and every one of our stores is carefully designed to provide our customers with the products and services they need, when they need it.
Tesco is constantly on the look-out for sites to open new Tesco stores and have ambitious growth plans as we seek to be easily the most convenient retailer.
We are particularly interested in the following opportunities for new Express stores:
Approximately 2,500 to 5,000 sq. ft of retail space.

Sites on busy and accessible roads with parking, in neighbourhood centres, high streets or locations close to transport hubs.
Both leasehold and freehold opportunities.
We are also considering new locations for large format stores large stores comprising of approximately 15,000 to 35,000 sq. ft of retail space.  
Get in touch 
We would like to hear from landowners or developers to help grow our business in the urban and rural areas that need them most.
When considering a new location, Tesco offers:
Competitive terms and excellent covenant strength.
A collaborative approach to design, high standards for environmental sustainability and dedicated support team.
A long term partnership and tangible benefits for the local community
Through our network of stores, Tesco is always looking for ways to support and make a positive impact in our local communities. The Tesco Community Grants scheme has donated a total of £90m nationally to support 37,000 local community projects since 2016 and all new stores will also be part of Tesco's Community Food Connection, which takes surplus food that is still fit to use and donates it daily to local groups and food banks.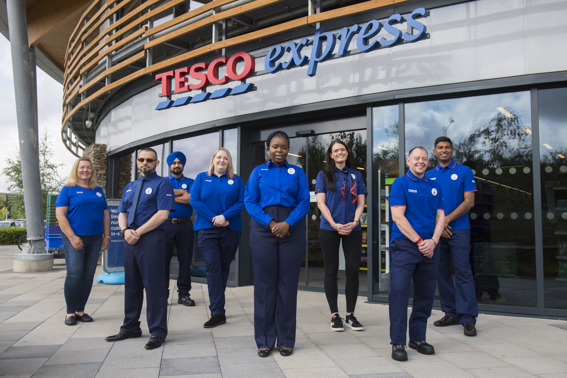 Contact us
If you would like to discuss an opportunity for a new Tesco Express store, please get in touch with the Acquisitions team.
You can download a map of the regional breakdown of the team here
| | | |
| --- | --- | --- |
| Beds, Northants,  Gloucestershire, East London and East Anglia, Leicestershire | Lyndsay Barnes | Lyndsay.Barnes@tesco.com |
| Derbyshire, Staffordshire, West Midlands and Worcestershire | Orla Betts | Orla.Betts@tesco.com |
| Hampshire, Dorset, Somerset, Bristol, Devon and Cornwall | Annelies Bristow | Annelies.Bristow@tesco.com |
| Essex, Kent and South London | Lee Nicoll | Lee.Nicoll@tesco.com |
| South Wales, Gloucestershire, Warwickshire and Oxfordshire | Lorna Quashie | Lorna.Quashie@tesco.com |
| Berks, Surrey, East Sussex, West Sussex and Wiltshire | Harry Long | Harry.Long5@tesco.com |
| North West England and North Wales | Owen Mason | Owen.Mason1@tesco.com |
| Scotland and Northern Ireland | Richard Schmidt | Richard.Schmidt@tesco.com |
| North East, Yorkshire, Lincolnshire and Nottinghamshire | Janine Wood | Janine.Wood@tesco.com |
| Bucks, Herts and North London | Keith Woodruff | Keith.Woodruff@tesco.com |