We're on a journey to halve the 
environmental impact of the average 
UK shopping basket
What is COP26?
COP26 is the United Nations' global climate change summit. Taking place in Glasgow in the first two weeks of November, it's a crucial moment for world leaders to commit action to reduce carbon emissions.
COP stands for 'Conference of the Parties'. These summits have been held around the world since 1995 to coordinate global action on climate change. Postponed from 2020, this latest meeting has been described as 'the world's last best chance to get runaway climate change under control'.
Why is getting to net zero important?
Greenhouse gases are the main cause of climate change. Which is why we need to reduce them in supply chains, our operations and in everyone's homes. We reach net zero when we add no more greenhouse gases to the atmosphere than are taken away, so net zero emissions have a "net zero" impact on the environment.
The global food system is one of the world's largest sources of greenhouse gases. Recognising this, in 2009 we became the first business in the world to commit to net zero by 2050. Last year, we committed to reach this target 15 years early in the UK, by 2035. We are now aiming to be net zero across our total footprint by 2050. This means not only across our supply chain and operations, but also when our products are used.
Read more about our climate action plan
We're focusing on five areas where we can make the biggest difference.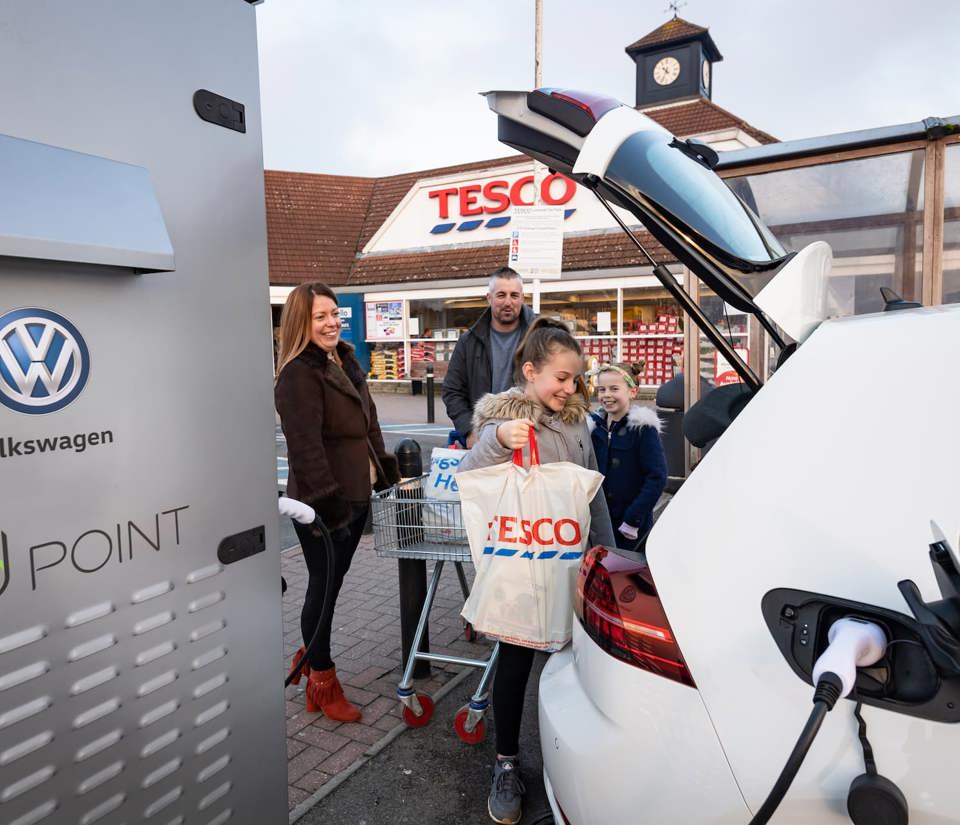 1
.

Green transport

Transport is the UK's biggest emitter of carbon. To tackle this, Tesco is:
Installing 2,400 electric vehicle charging points at stores throughout the UK
Electrifying our entire home delivery van fleet by 2028 - that's 5,500 vans going electric
Investing more in rail freight to make food transportation more sustainable
2
.

Sustainable diets

What we eat can have a big impact on emissions. To make our diets more sustainable, Tesco is:
Committed to 300% growth in sales of plant-based food by 2025 - the only UK supermarket with this ambition
Introducing more innovative plant-based foods, building on the range of over 400 products we sell at the moment
Tackling the amount of animal and plant protein we sell to help close the gap
3
.

Food waste

Food waste is responsible for 8% of global greenhouse gas emissions.
We're committed that no food that's safe to eat will go to waste from our UK retail operations
In 2020, just 0.37% of food handled across the Group ended up as waste
We sell "wonky" fruit and veg in our stores
4
.

Green energy

24% of UK greenhouse gas emissions come from energy supply
100% of the electricity that powers our operations is renewable
Tesco was the first business globally to set the ambition for net zero emissions in its operations by 2050. We have now revised this to net zero emissions across our Group by 2035
We have committed to net zero emissions across our total footprint – in our supply chain, own operations, and the use and disposal of our products – by 2050
5
.

Food production

The way that food is produced emits much more carbon than our operations. To help our suppliers deal with this, Tesco is:
Working with suppliers to meet science-based targets for emissions reduction
Aiming for 35% emissions reduction in manufacturing by 2030
Investing in innovative agricultural methods to reduce the environmental impact of farming