Interim Results 2018/19
3 October 2018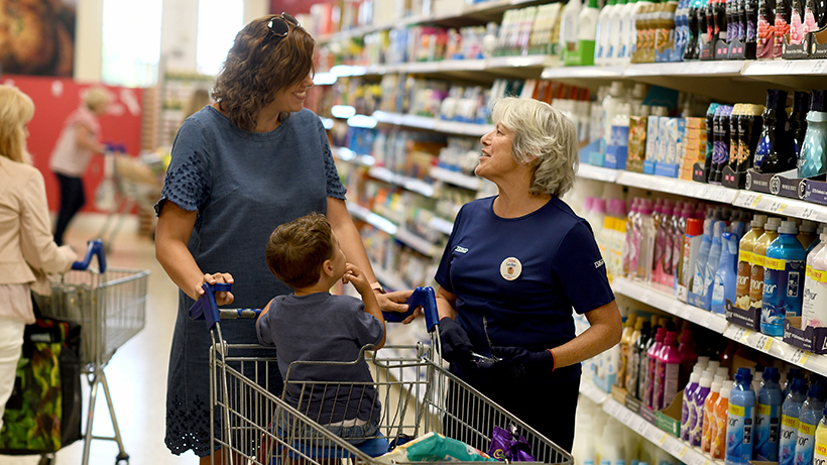 Headlines
Group sales3 of £28.3bn, up 12.8%


UK & ROI LFL sales8 up 3.8%, strengthening from 3.5% in 1Q to 4.2% in 2Q

incl. Tesco UK LFL sales up 2.3% (1Q: 2.1%; 2Q: 2.5%) and Booker LFL sales up 14.7% (1Q: 14.3%; 2Q: 15.1%)
significant investment in 'Exclusively at Tesco' brands; roll-out 81% complete

Central Europe LFL sales declined by (1.5)% due to impact of Sunday trading regulations
Asia LFL sales decline reduced from (9.0)% in 1Q to (4.8)% in 2Q following annualisation of bulk-selling impact; Government-issued welfare cards continue to impact sales in Thailand by c.(2)%

Group operating profit before exceptional items and amortisation of acquired intangibles4 up 24.4% to £933m

UK & ROI profit of £685m, up 47.6%; incl. first-time consolidation of £97m Booker profit and £16m synergies
Central Europe profit of £59m, down (3.3)% reflecting £9m profit on property-related items in prior year
Asia profit of £100m, down (29.1)% due to combined impact of sales deleverage, price investment and renegotiation of promotional investment
Bank profit of £89m, up 6.0% mainly due to increased income and ongoing cost reductions

Group operating margin4 of 2.94% (+29bps); margin of 3.02% excl. Tesco Direct
Retail operating cash flow6 of £1.1bn, down (1.4)% (up 10.8% before £(139)m timing impact of P&H failure last year)
£404m retail free cash flow (after net outflow of £(139)m relating to market purchase of shares)
Interim dividend of 1.67p, up 67% year-on-year; on track to deliver c.2.0x EPS cover in the medium-term
Statutory revenue up 12.0% to £31.7bn; operating profit down (6.5)% to £819m; profit before tax up 2.0% to £564m
Further progress against each of our six strategic drivers
Brand health9 continues to strengthen; quality perception +3.6 points10
In-year cost savings of £241m; savings of £1.1bn to date towards £1.5bn target
Generated £1.1bn of retail operating cash6; net debt of £(3.1)bn is after £(766)m Booker cash consideration
Improving the mix across geographies, channels and product; focus on sustainable general merchandise categories by closing Tesco Direct; on track to achieve 3.5-4.0% margin ambition11 by 2019/20
Released a further £134m value12 from property; further buyback (Cirencester Extra) announced Sept 2018
Innovations including 5,038 of 10,000 own brand products re-launched; eight new 'Exclusively at Tesco' brands; launched 'Jack's' as part of celebrating 100 years of great value at Tesco
Notes
1. Last half-year figures restated for impact of IFRS 15 'Revenue from contracts with customers'. Impacts include a £(9)m reduction in revenue and operating profit.
2. The Group has defined and outlined the purpose of its alternative performance measures, including its headline measures, in the Glossary starting on page 49.
3. Group sales exclude VAT and fuel. Sales growth shown on a comparable days basis and includes an adjustment to last year's figures to reflect a change in the reporting of consignment sales.
4. Excludes amortisation of acquired intangibles and excludes exceptional items by virtue of their size and nature in order to reflect management's view of the performance of the Group.
5. Headline earnings per share measure excludes exceptional items, amortisation of acquired intangibles, net pension finance costs and fair value remeasurements of financial instruments. Full details of this measure can be found in Note 9, starting on page 34.
6. Net debt, retail operating cash flow and retail free cash flow exclude the impact of Tesco Bank in order to provide further analysis of the retail cash flow statement.
7. Net debt includes both continuing and discontinued operations.
8. Like-for-like is a measure of growth in online sales and sales from stores that have been open for at least a year (at constant foreign exchange rates).
9. As per YouGov BrandIndex (customers recommend) August 2018.
10. Reflects year-on-year change in YouGov Brand perception measure of quality.
11. Ambition announced in October 2016 and excludes Booker. Booker contributed 9bps of the Group margin accretion in the half.
12. Value released from property relates to gross proceeds from property disposals in the half.
13. Capex is shown excluding property buybacks. Statutory capital expenditure (including property buybacks) for the 26 weeks ended 25 August 2018 was £0.4bn (LY £0.6bn).
Materials
News release online

Results statement

Watch the webcast

Results presentation

Analysts' call transcript