Preliminary Results 2017/18
11 April 2018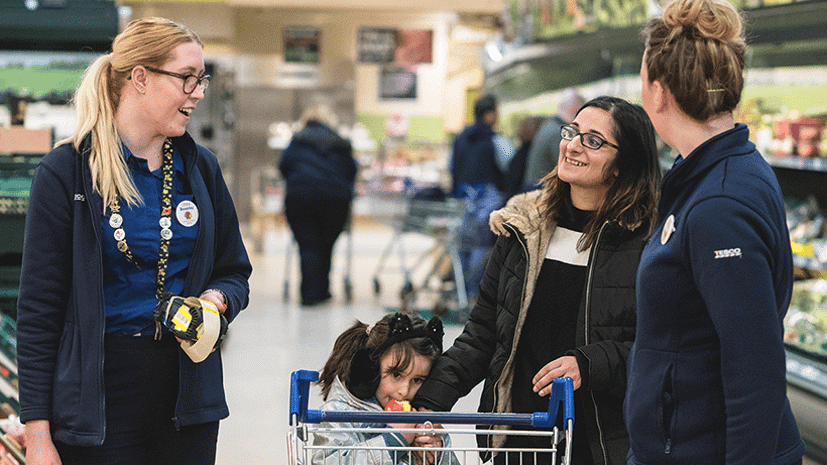 Headlines
Positive sales2 and profit3 growth, strong cash5 generation
Group sales2

 

up 2.3% to £51.0bn; ninth consecutive quarter of like-for-like sales growth in Q4
UK like-for-like sales7

 

up 2.2%; consistent strength in fresh food; (0.4)% drag from GM changes
Group operating profit before exceptional items3

 

up 28.4% to £1,644m

Includes £31m full year profits arising on property-related items (£(2)m net loss in second half)

Group operating margin3

 

2.9% (+57bps); 3.0% (+64bps) in 2H, well on track for 3.5-4.0% 2019/20 ambition
Retail operating cash flow5

 

up 21.7% to £2.8bn; Retail free cash flow5

 

of £1,377m
Net debt reduced by £1.1bn during the year to £(2.6)bn; total indebtedness £4.4bn lower to £(12.3)bn
Final dividend of 2.0p, giving FY dividend of 3.0p - reflects improved performance and Board confidence
Statutory revenue up 2.8% to £57.5bn; Profit before tax up £1,153m to £1,298m
Further progress against each of our six strategic drivers
Brand

 

health8

 

continues to strengthen; quality perception +2.7 points and value perception +2.0 points9
In-year

 

cost

 

savings of £594m; savings of £820m to date towards £1.5bn medium-term target
Generated £2.8bn of retail operating

 

cash5; £499m underlying working capital10

 

inflow
Improving the

 

mix

 

across geographies, channels and product; 16% GM range reduction in the UK
Released a further £290m value11

 

from

 

property; 109 sites sold; 1.1m sq. ft. space re-purposed
Innovations

 

including contactless Clubcard; own brand re-launch: new Wicked Kitchen vegan range
Booker merger completed
Booker FY results12

 

show continued customer satisfaction, top line growth, and strong cash generation
On track to deliver recurring run-rate of at least £200m pre-tax synergies; c.£60m in first year
1. The Group has defined and outlined the purpose of its alternative performance measures, including its headline measures, in the Glossary on page 55.
2. Group sales exclude VAT and fuel. Sales growth shown on a comparable days basis.
3. Excludes exceptional items by virtue of their size and nature in order to reflect management's view of the performance of the Group.
4. Headline earnings per share measure excludes IAS 39 fair value remeasurements as well as exceptional items and IAS 19 net pension finance costs.  Full details of this measure can be found in Note 9, starting on page 38.
5. Net debt, retail operating cash flow and retail free cash flow exclude the impact of Tesco Bank in order to provide further analysis of the retail cash flow statement.
6. Net debt includes both continuing and discontinued operations.
7. Like-for-like is a measure of growth in Group online sales and sales from stores that have been open for at least a year at constant foreign exchange rates.
8. As per YouGov BrandIndex (customers recommend) February 2018.
9. Reflects year-on-year change in YouGov Brand perception measures of quality and value.
10. Working capital excluding the impact of exceptional items.
11. Value released from property relates to gross proceeds from property disposals in the year.
12. Booker unaudited results for the financial year to 30 March 2018. Further details can be found on page 13 of this release.
Materials
View the release

Results statement

Watch the webcast

Results presentation