Our carbon footprint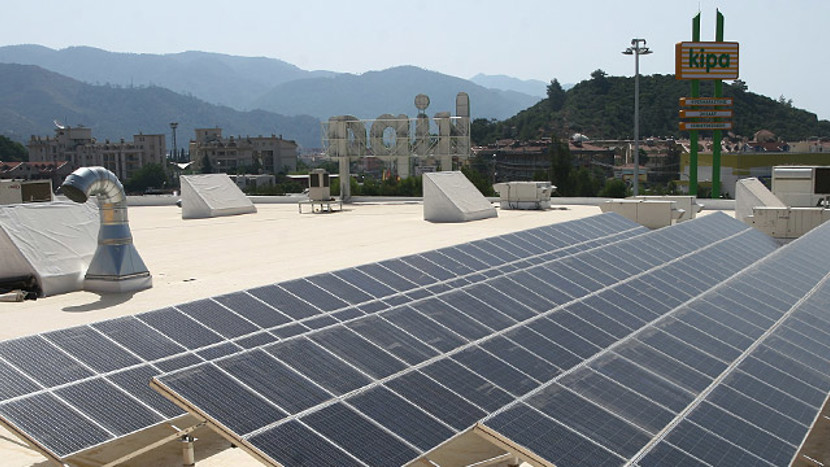 Our greenhouse gas (GHG) net emissions in 2016/17 totalled 3.9 million tonnes of CO2e.
We have continued to reduce the carbon intensity of our stores and distribution centres defined as kgCO2e per square foot, and the emissions per case of goods delivered in our distribution network.
Some highlights from our work this year include:
Reducing our absolute carbon emissions by 16.7% since 2006/07 using the market-based method for calculating our electricity impacts.
Reducing our Group refrigerant emissions by 14% since 2015/16.
Investing in energy efficiency programmes that are reducing both our carbon footprint and costs.
We have continued to make progress towards our 2020 property and distribution targets and we are currently exceeding our glide path trajectory towards each of these goals:
| | | |
| --- | --- | --- |
| 2020 Commitment | Baseline year | Progress to date |
| Halve the carbon intensity per square foot of our stores and distribution centres | 2006/07 | -40.6 ◆ |
| 25% reduction carbon intensity per case of goods delivered | 2011/12 | -19.7% ◆ |
We measure and report our carbon emissions following the Greenhouse Gas Protocol. For more information about how we calculate our carbon footprint, including reporting standards, a more detailed definition of Scope 1, 2 and 3 emissions, and the current emission factors visit our disclosures page.
 2016/17 total carbon footprint (million tonnes CO2e)
 
GHG emissions data for period 29 February 2016 to 25 February 2017
 
Global tonnes of CO2e
 
2016/17
2015/16
Base year 2006/07
Scope 1
1,236,980 ■
1,301,746
1,345,507
Scope 2 (Market-based method)
1,582,275 ■
2,004,992
 -
Scope 2 (Location-based method)
2,357,245 ■
2,528,323
 2,259,984
Scope 1 and 2 carbon intensity (kg CO2e/sq. ft. of stores and DCs)
22.95

■

26.33
51.14
Scope 3
1,073,721 ■
1,097,491
1,063,460
Total gross emissions
3,892,977
4,404,230
4,669,951
CO2e from renewable energy exported to grid
1,154 ■
1,513
 -
Total net emissions
3,891,822
4,402,717
4,669,951
Overall net carbon intensity (total net emissions kg CO2e/sq. ft. of stores and DCs)
31.69 ■
35.06
66.23
UK Field-to-Tesco footprint
The graph below shows the estimated breakdown of our emissions from field to Tesco for our UK operations excluding emissions associated with land use change.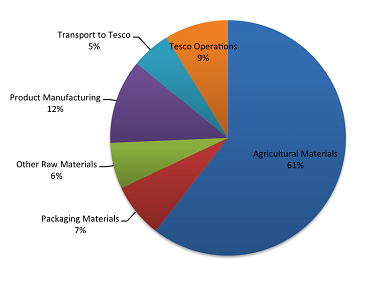 Comment from our independent assurance provider, KPMG LLP
Independent limited assurance over selected data highlighted on this website with a ◆ has been provided by KPMG LLP using the assurance standards ISAE 3000 and ISAE 3410. We have issued an unqualified opinion over the data highlighted on this page with a ◆ and our full assurance opinion is available at: www.tescoplc.com/carbonfigures. A summary of the work we performed is included within our assurance opinion. Non-financial performance information, GHG quantification in particular, is subject to more inherent limitations than financial information. It is important to read the data in the context of our full statement and Tesco's reporting guidelines available at www.tescoplc.com/carbonfigures.
■ Data extracted from Tesco's Annual Report which, under a separate opinion, was included within our independent limited assurance scope. See www.tescoplc.com/carbonfigures