UK Food Waste Data
UK Food Waste Data
As the first UK retailer to publish food waste data we're helping to stop good food from going to waste.
One way we reduce food waste, is through our store redistribution programme, Community Food Connection. 
So far, we've donated 10 million meals to more than 5,400 charities
We've scaled up the programme from 111 stores donating their surplus food in April 2016, to over 1,700 stores donating today
Donations in the last year have more than doubled compared to last year – from 2,303 tonnes to 5,700 tonnes (+148%)
Community Food Connection will be rolled out to all UK stores by end of 2017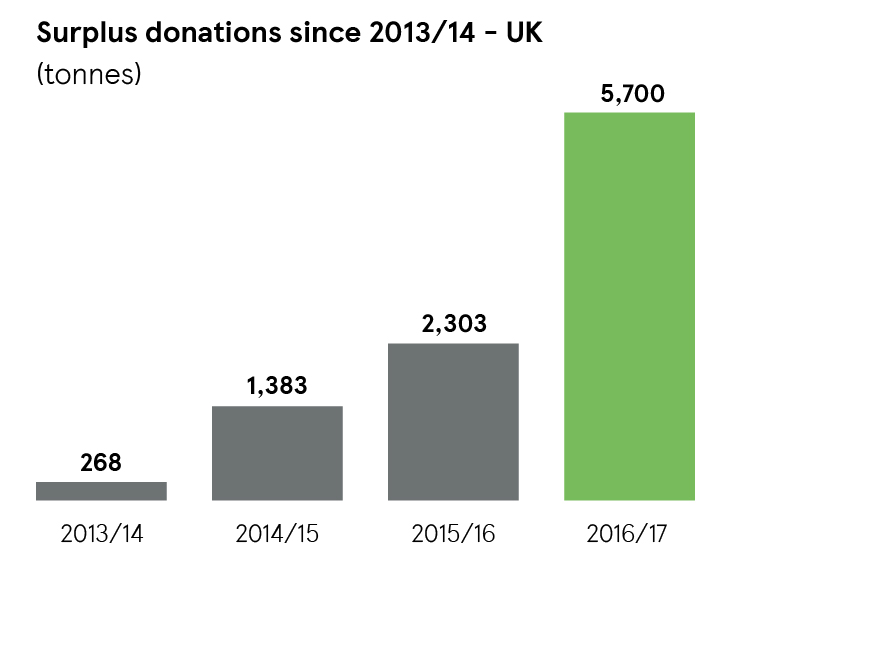 We also have a shared responsibility to tackle food waste from farm to fork. By working with our suppliers we've sold 68 million portions of fruit and veg, which may have otherwise been wasted, through our Perfectly Imperfect range.

With farmers, we are helping reduce farm waste by bringing crop flushes to stores. This is where farmers have bumper crops, due to weather for example. We buy the whole crop and sell to customers at reduced prices. In the last 12 months, crop flushes included apples, cherries, carrots, cauliflower, lettuce and strawberries.

Innovative new packaging in meat and produce has helped customers reduce food waste in their homes. We've made a range of changes with our suppliers, such as 'buy one keep one' chicken breast packaging, which keeps food fresher for longer in customers' homes saving waste and saving customers' money.
We've also worked with suppliers to improve the speed of products from tree to table, for example Citrus, again giving customers extra freshness for longer.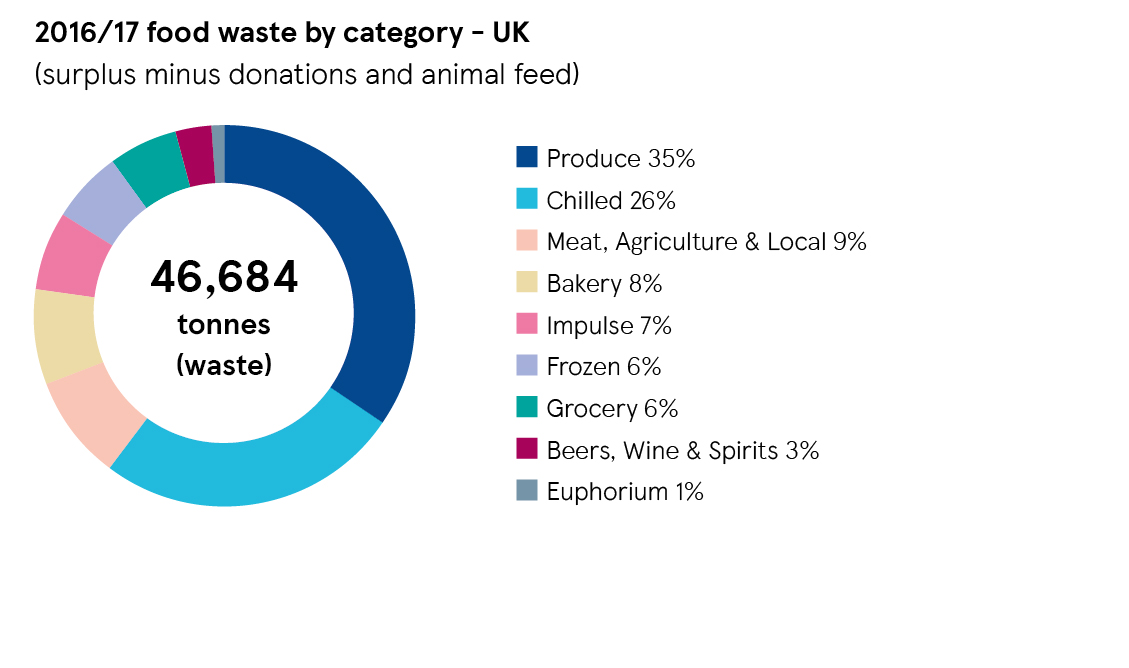 In May 2017, the House of Commons EFRA Select Committee published a detailed report into food waste that highlighted Tesco's leadership in publishing its food waste data, and encouraged other retailers to follow suit.

Transparency and measurement is essential for identifying hotspots, and in tackling the causes of food waste. It helps everyone understand how much, where, and why food is being wasted.

As we grew our business in 2016/17, total food sales increased by over 100,000 tonnes. Despite this growth, the level of waste remained broadly flat at 0.5%.
| | | | |
| --- | --- | --- | --- |
|   | 2015/16 | 2016/17 |   |
| Total UK food sales | 9,850,324 tonnes | 9,957,374 tonnes | Up 107,050 tonnes |
| Total food waste | 42,680 tonnes | 46,684 tonnes | Up 4,004 tonnes |
| Waste as % of food sales | 0.43% | 0.47% | Broadly flat |
| Donations | 2,303 tonnes | 5,700 tonnes | Up 148% |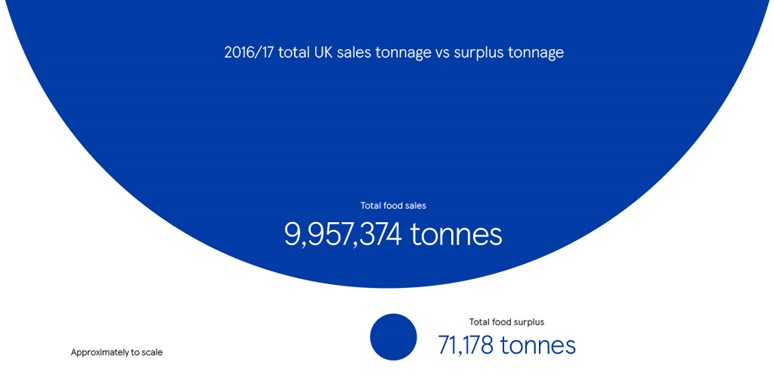 In total in 2016/17, we sold 9,957,374 tonnes of food to customers through our UK operations. This generated:
71,178 tonnes of surplus (not sold to customers)
38,696 tonnes of this was fit for human consumption
22,305 tonnes of this was donated or redistributed for animal feed
With only 16,391 of food fit for human consumption going to Energy Recover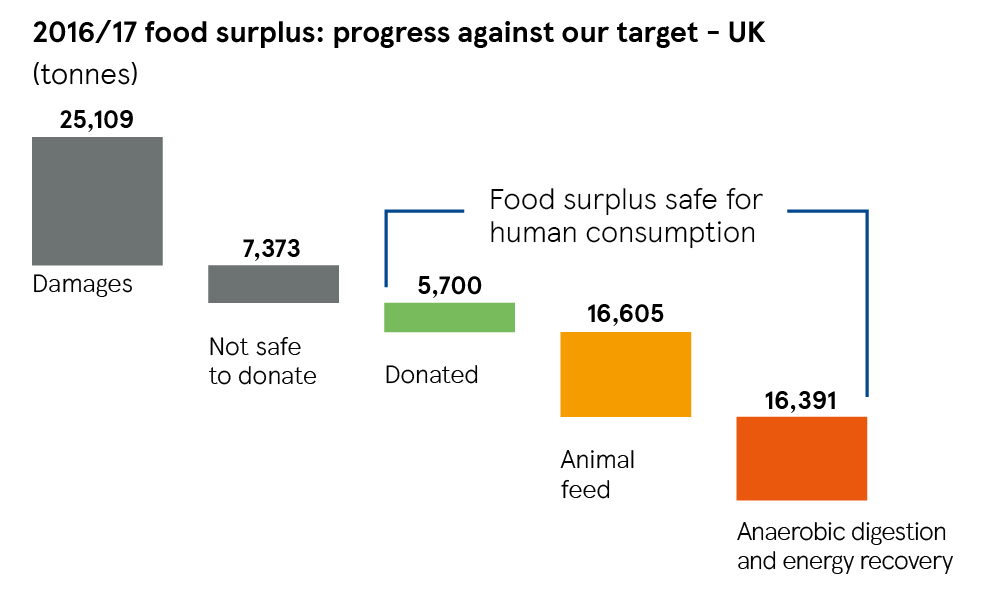 We're committed that no food that's safe for human consumption will go to waste from our UK retail operations by the end of 2017/18.
While we have made progress in tackling food waste, there is still much we need to do. We won't stop trying. We have no time for waste.
Find out how we calculate our food waste data here
See our data for Republic of Ireland operations here
See our data for Central Europe operations here