Reducing our impact on the environment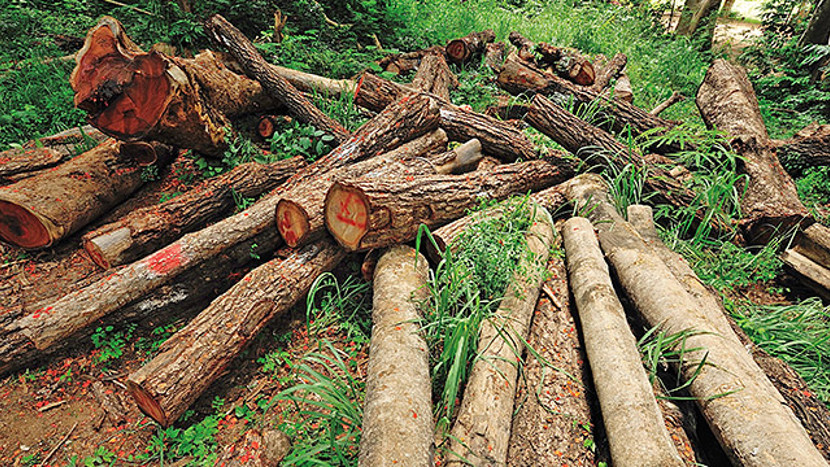 Why it matters
As a food business, our long-term success depends on the health of the natural environment. From the fresh fruit, vegetables, meat and fish we sell to the raw materials that go into our other products, they all come from natural ecosystems. We therefore have a role to play in protecting the environment – starting from understanding and addressing the impacts in our operations and supply chain. Doing so can also increase our resilience to risk, help secure the supply of our products and provide opportunities to save money.
Our approach
Since the end of 2013 we have been working with external experts and colleagues to update our environmental strategy, ensuring it remains credible in meeting our commitments to reduce our impact on the environment. From this consultation process we have identified five key environments that we have an impact on, either through our direct operations or through our sourcing activities.
Climate
We continue to recognise climate change as the biggest environmental threat the world faces and one which could pose particular challenges to a number of our supply chains. We also recognise the impact our own operations also have on the climate and in 2017 we set new science-based targets for carbon reductions. Further information about these targets and our own operational carbon footprint can be found here.
Following the Paris Climate Agreement, we will encourage suppliers and work with them to set their own credible science-based targets on a 2-degree trajectory. Or alternatively aim to achieve 'absolute' reductions, based on 2015 levels of:
7% by 2020 and
35% by 2030 (15% for agricultural emissions) 
We believe these targets balance the need to produce more food to feed a growing global population with the need to embrace restorative farming practices and reduce field emissions.
We are working with our suppliers to achieve these targets through our Tesco Supplier Network where we can collaborate on carbon reduction measures. Further information about how we will achieve this target can be found below under 'Farmlands'.
Forests
We have pledged to help achieve zero net deforestation by 2020, starting with the four global drivers for deforestation that are relevant for our business: palm oil, cattle products, soy and timber. For each commodity we are mapping our supply chains to understand our exposure, and putting in place sustainable procurement policies. For example, 93% of the total palm oil used in all our own-brand UK products comes from a certified sustainable source, which we define as being a Roundtable on Sustainable Palm Oil (RSPO)-certified 'segregated' supply chain, or a 'mass balance' system where 'segregated' is not available. This includes palm oil used as an ingredient in food products, such as biscuits, and in health and beauty products, such as shampoo. In terms of our own-brand food products only, as much as 99% is from a sustainable source. 
Marine
To ensure the future of the seas around us and the fishermen who depend on them, Tesco is committed to sourcing seafood sustainably. As part of this, we are working in partnership with the Marine Stewardship Council (MSC) to increase our range of certified sustainable counter, pre-packed and frozen fish. By mid-2016 we will have over 80 MSC-certified seafood products on sale in our stores, and we plan to add even more MSC lines before the end of the year. We also work with the Sustainable Fisheries Partnership (SFP) to map and risk assess all our seafood supply chains. This enables us to ensure that all of our wild-caught seafood is on a path towards achieving MSC certification.
For farmed fish, we have established Aquaculture Requirements which outline standards that apply to all our own brand aquaculture producers to ensure good farming practices. These requirements address animal health and welfare, environment, ethics and feed.
Finally, we also participate in sector-wide improvement initiatives wherever possible – for example we are working with fishermen, processors, brands and other retailers to take the iconic North Sea cod fishery to MSC certification, and we are part of the Shrimp Sustainable Supply Chain Taskforce in Thailand, which is working to ensure that workers throughout the supply chain are treated fairly.
Farmlands
We source a huge variety of fresh food which is grown and produced on farmlands across the world, from grapes in South Africa to potatoes in the UK. Agriculture accounts for approximately 60% of our supply chain carbon footprint, 97% of our water footprint and the vast majority of our impact on biodiversity. Therefore it's vital that we address the indirect impact we have from agricultural supply chains globally, which is why we have set ourselves the following target:
To achieve a sustainable footprint on climate, water and biodiversity from our biggest agricultural products by 2020, specifically:
- 7% reduction in GHG emissions
- Reduction in water use including local reduction targets for water-stressed areas
- Improvement in farmland biodiversity (soil health, pollinators and off-field biodiversity)
An important part of this work is ensuring that the arable and livestock standards used throughout our supply chains will help us meet our environment targets and align with industry best practice. We are also starting to work with some suppliers to roll out tools and strategies to measure impact and drive improvements in key agricultural products.
To support both areas of work we joined the Sustainable Agriculture Initiative (SAI) Platform in April 2016. The SAI Platform is a non-profit organisation founded over ten years ago by a small group of food and drink companies to facilitate the sharing of knowledge and best practice in regards sustainable agriculture. It now has over 80 members, including companies with a strong environmental track record. Membership of SAI Platform will enable us to work with like-minded companies and partners across industry we can help define, drive and implement environmental best practice in our agricultural supply chains, both through growing standards / guidance and on-the-ground collaboration.
Our wider work with suppliers to reduce food waste, both on farms and in sites such as pack houses, is another important way in which we can reduce our impact on farmlands. Further information can be found here.
Freshwater
Although we do use water in our stores and distribution centres, the vast majority of our water use is embodied in our supply chains. Freshwater bodies such as lakes, rivers and aquifers are essential for the safe and quality production of a vast number of our food, and in some cases non-food, products. We are now mapping our key supply chains to understand their exposure to water risk, including their overlap with key environmentally sensitive river basins. This will help us to prioritise action such as by setting local reduction targets for water-stressed areas or establishing on-the-ground collaboration with other stakeholders in a particular area.
In addition to water use, some of our food and non-food supply chains can impact on water quality too. That's why we want to achieve zero discharge of hazardous chemicals (ZDHC) into freshwater bodies across our supply chains and reduce other water quality impacts from agriculture, textile and leather processing by 2020. For further information as to how we're doing this in our clothing supply chain, such as supplier training and testing waste water from processing sites, click here.
Reduce, Reuse and Recycle
As part of our commitment to reduce our impact on the environment, we also continue to offer our customers a mix of recycling options in our stores. Click here for more detail.
Our performance
Direct water consumption
2016/17
23.5 million

m

3
2015/16
25.5 million

m

3
2014/15
32.6 million m3
2013/14
32.9 million m3
Percentage of waste (food and non-food) we produce that is recycled, reused or converted to energy across the Group
| | |
| --- | --- |
| 2016/17 | 93% |
| 2015/16 | 88% |
| 2014/15 | 84% |
| 2013/14 | 86% |