As demand for bottled ale continues to soar a unique map reveals the UK's brewing hotspots
23 March 2016
When it comes to producing the UK's favourite bottled beers Suffolk is the UK's champion – a unique ale map of Britain can reveal. The East Anglian county is home to five of Britain's most popular bottled ales including the No 1 top seller, Old Speckled Hen.
Other Suffolk ales making it into the top 25 list include Old Crafty Hen, Abbot, Broadside and Old Golden Hen.
The map of 'Brew-tain' was created by Tesco after it recently carried out a geographical review of all its most popular bottled ales.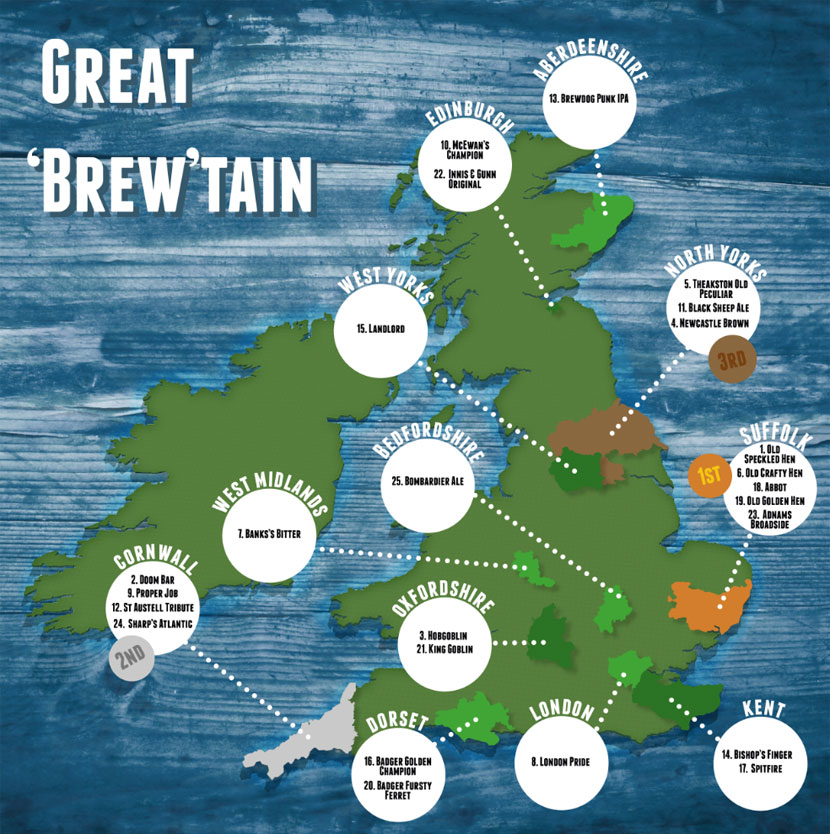 Ale has never been more popular and last year demand for bottled ales grew by 14 per cent.
At Tesco the growth was even higher – rising by over 17 per cent – that's nearly an extra 9 million bottles sold at Tesco in the last 12 months to 30 January 2016 (Nielsen Scantrack data).
Tesco ale buyer Chiara Nesbitt said: "We offer a fantastic range of quality ales at Tesco and it's great to see Suffolk crowned as the UK's ale brewing capital, producing five of Britain's 25 most popular bottled ales including the country's top seller, Old Speckled Hen.
"But Cornwall is right behind it with four top sellers and as our map reveals, there is now a fantastic diversity of different tasting, quality ales that are popular across the British Isles – a beer for just about every palate and every occasion.
"The ale revival, which started 10 years ago, shows no sign of slowing down and has actually gained momentum in the last few years with more and more of our customers now matching the beer we offer with our food.
"In the last few years demand for bottled ale at Christmas and Easter has rocketed and that's because of its growing status as a drink, like wine to complement the taste of food."
With Easter around the corner Tesco is helping customers by matching ales from the list with some of the most popular foods enjoyed by customers over the Easter weekend.
Lamb – This Easter classic is ideally paired with a strong tasting beer such as Hobgoblin to complement the richness of the meat.
Salmon – A  light ale will bring out delicate flavours of the salmon.  A good recommendation is Proper Job or Badger Golden Champion.

Sweet dessert such as sticky toffee pudding – a golden ale such as Fullers London Pride to bring out the sweetness of the pudding.

Chocolate Easter eggs – For any adults enjoying a chocolate egg this Easter the dark, rich and fruity aromas from Theakstons Old Peculiar will enhance the taste of the chocolate.

Hot cross buns – A sweet ale with spicy notes such as Old Speckled Hen would be a good match.
Vegetarian roast dinner –A perfectly balanced beer such as Doom Bar would suit any meal including foods made with nuts, Quorn or falafel.
ENDS
You may also like