Brits create all-time record demand for pumpkins – to eat as well as carve!
24 October 2019
Brits are creating record demand for pumpkins in the run up to Halloween - because they're buying them to eat instead of just carve.
Since going on sale three weeks ago Tesco has sold nearly twice as many culinary pumpkins, as they are officially known, than it did last year.
And the demand for the culinary variety has helped push up general pumpkin sales by nearly 10 per cent compared to last year.
Pumpkin experts say the new demand is being helped by the plant-based revolution which has become the biggest food trend this decade.
Tesco pumpkin buyer David Tavernor said:
"We offer several different types of pumpkin with the carving varieties traditionally more popular.
"But this year instead of binning the carved out flesh, more shoppers are cutting down on their food waste by eating the delicious fruit.
"Until now shoppers have bought pumpkins mainly to carve and although we've always stocked the smaller culinary variety, demand for those has always been lower compared to the larger ones grown for carving."
Oakley Farms, based near Wisbech in Cambridgeshire are one of the UK's largest suppliers of pumpkins, growing about five million each year.
Steve Whitworth of Oakley Farms commented: "We actually planted about 20 per cent more culinary pumpkins this year as we anticipated that demand might be up because of the plant-based food revolution."
Tesco sells six different pumpkin varieties – Novelty, Giant, Large, Standard, Culinary and Munchkin.
ENDS
Notes to editors
Pumpkin Pie Recipe created by Tesco Plant-based Director of Food Innovation Derek Sarno
Ingredients
For the pastry:

200g plain flour

1 tsp ground cinnamon (optional)
125g butter
2 tbsp icing sugar
For the filling:
180g (6oz) caster sugar
1 ½ tsp ground cinnamon
½ tsp ground ginger
½ tsp mixed spice
3 eggs
1 x 425g can solid pack pumpkin or 450g diced pumpkin, cooked and sieved
200ml double cream
For the topping
200ml (1/3pt) double cream
1 orange, zested
Method
Heat the oven to gas 7, 220°C, fan 200°C.
To make the pastry, mix together the flour and the cinnamon, if using. Rub in the butter and stir in the icing sugar. Add enough water (about 7 tsp) to mix to a stiff dough.
Roll out the pastry until it is large enough to line a 23cm x 23cm x 5cm deep pie dish. Pinch the edge of the pastry. Roll out any trimmings and, using a small cutter, stamp out leaf shapes. Attach to the rim of the pastry using a little water. Chill for 15 minutes.
Line the pastry with foil and fill with baking beans. Bake blind for 8 minutes. Remove the foil and beans and return to the oven for 2-3 minutes.
Reduce the oven temperature to gas 3, 150°C, fan 130°C. To make the filling, put the pumpkin and all other filling ingredients in a bowl and mix well. Pour into the pastry case and bake in the oven for about 1 hour until the filling is set. Remove and leave to cool.
To serve, whisk the cream until thick. Spoon onto the pie and scatter over the orange zest.

Pumpkin/Squash & Chickpea Curry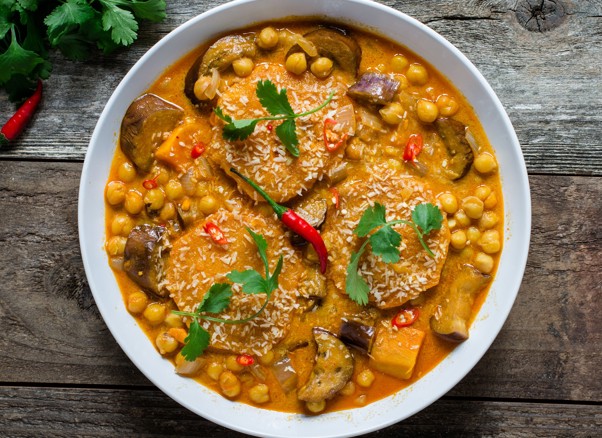 Serves 2-4
Cook time 45 mins
Ingredients
3 cups cubed pumpkin or squash, peeled
1 medium onion, diced
2 tins Chickpeas, drained
1 Aubergine, cubed bite sized
4 tsp yellow (or red) Thai curry paste 
2 tsp grape seed oil
2 tsp minced fresh ginger
2 tsp minced garlic
1 small red chili, chopped (optional – for heat add birds eye chili)
2 Cans light coconut milk 
2 tsp Brown sugar 
1 tsp ground turmeric
2 tsp lemon juice
Pinch of salt & black pepper
1 tsp macerated coconut, garnish sprinkle
¼ Bunch of coriander, to garnish
1 cup veg broth to thin as/if needed
Method
Preheat oven to 180 and pre roast cleaned and chopped pumpkin for 20 minutes until soft.
Heat a large sauce pot on medium high heat, add oil ginger, garlic and onion and sauté for 2 minutes.
Add Aubergine and curry paste and stir to cook for couple minutes.
Add cooked cubed pumpkin, coconut milk, brown sugar, turmeric and pinch salt and bring to simmer then add chickpeas and lemon.
Simmer cook for a good 10-15 minutes to meld flavours, add veg broth for thinner consistency
Remove from heat, let settle and serve over brown rice with additional veg for added boom!
Serve with added chilies and coriander
You may also like