Seaweed flakes with your fish and chips?
6 November 2019
Super healthy seaweed could soon be replacing salt on the nation's dinner tables after Tesco teamed up with a tiny innovative Scottish food producer.
Mara Seaweed was originally set up by two friends, both passionate about popularising the superfood as a healthy alternative to salt and versatile flavour enhancer.
From this week Tesco will begin selling sachets of three of Mara's ground seaweed products at stores across the UK and for those wishing to cut down on their salt intake there are several benefits:
Seaweed is, on average, 85 per cent lower in sodium than salt. Excess sodium can raise blood pressure which in turn can lead to heart disease and strokes
It is also rich in other 'salty' minerals such as iodine, potassium, magnesium, calcium, iron, and zinc
Health chiefs recommend that no more than 6g of salt should be consumer per day but currently daily consumption for UK adults is 8g.

Tesco Herbs and Spices buyer Angus McSporran said:
"Using seaweed as a seasoning is not only a great way to cut down on your sodium intake but one that can add a real 'wow' factor when added to other foods.
"It is already hugely popular in the Far East where it has been part of the national diet as a treat as well as a wonderful tasting food enhancer.
"We think it will appeal to food lovers seeking a new taste thrill. It has a subtle salty taste and which has been compared to umami – the fifth basic taste we can sense after salt, sweet, sour and bitter.
"Umami is the overwhelming savoury taste sensation found in Parmigiano Reggiano cheese, soy sauce, mushrooms, shellfish, Worcestershire sauce and balsamic vinegar."
After impressing Tesco food bosses with her products Mara founder Fiona Houston signed up to the supermarket's Incubator Programme which helps young, innovative suppliers meet their business potential.
The same programme has already seen food and drink industry giants such as Brew Dog, Fever Tree and Graze flourish.
Mara Seaweed owner Fiona Houston said:
"The Tesco deal is not only a game-changer for us but for the whole growing seaweed industry.
"It will mean seaweed as a healthy and tasty alternative to salt being introduced to more shoppers than ever before.
"Our goal has always been to be a household name – Mara Seaweed on your table alongside Heinz Ketchup, Marmite…maybe one day soon people be will be shaking our products on their chips instead of salt!"
The seaweed is harvested sustainably around the Fife shoreline, under license from the Crown Estate, and roughly two large handfuls are eventually ground down to make one 20g sachet.
Mara also partners with other seaweed producers throughout the North Atlantic to ensure a sustainable supply.
After being harvested, water is extracted from the seaweed and it is then milled into flakes so it is easy to use.
Mara's three seaweed flake products go on sale this week in more than 550 Tesco stores and will be sold in 20g sachets, all priced at £2.99 each. These are:
Shony, a 100 per cent pure seaweed blend that can be used a seasoning as it has a mix of salty and sweet flavours
Sea-Spice – A Scottish/Asian blend of seaweed, sesame seeds and chilli flakes with a salty, spicy umami kick
Mara Variety Pack – 10x2g single use sachets featuring five each of Shony and Sea-Spice.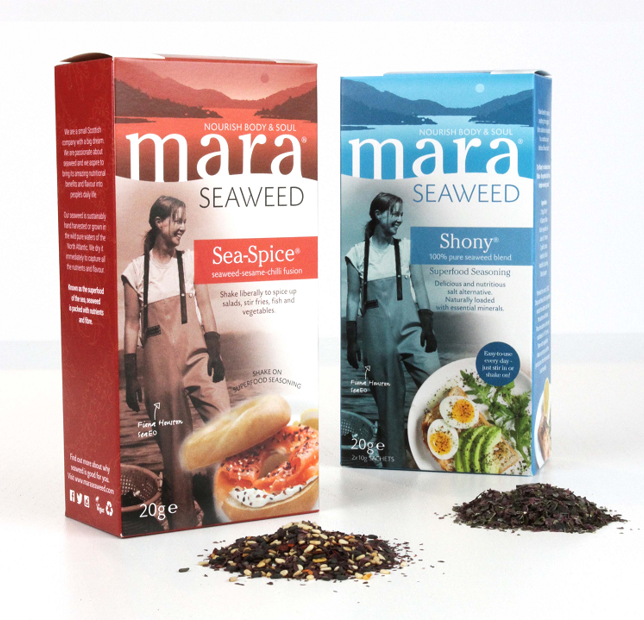 You may also like