Bananas
Bananas are one of our bestselling products and it is important for our customers that they are sustainably sourced. The majority of our bananas sold in the UK and Ireland come from Costa Rica, Ecuador and Colombia.
Certification and Labour Conditions Audits
At Tesco, all our conventional bananas sold in UK and Ireland are from Rainforest Alliance certified farms and all our organic bananas are from Fairtrade certified farms. Certification ensures that farms meet comprehensive ethical and environment requirements including:
Biodiversity conservation
Improved livelihoods and human well-being
Natural resource conservation
Effective planning and farm management systems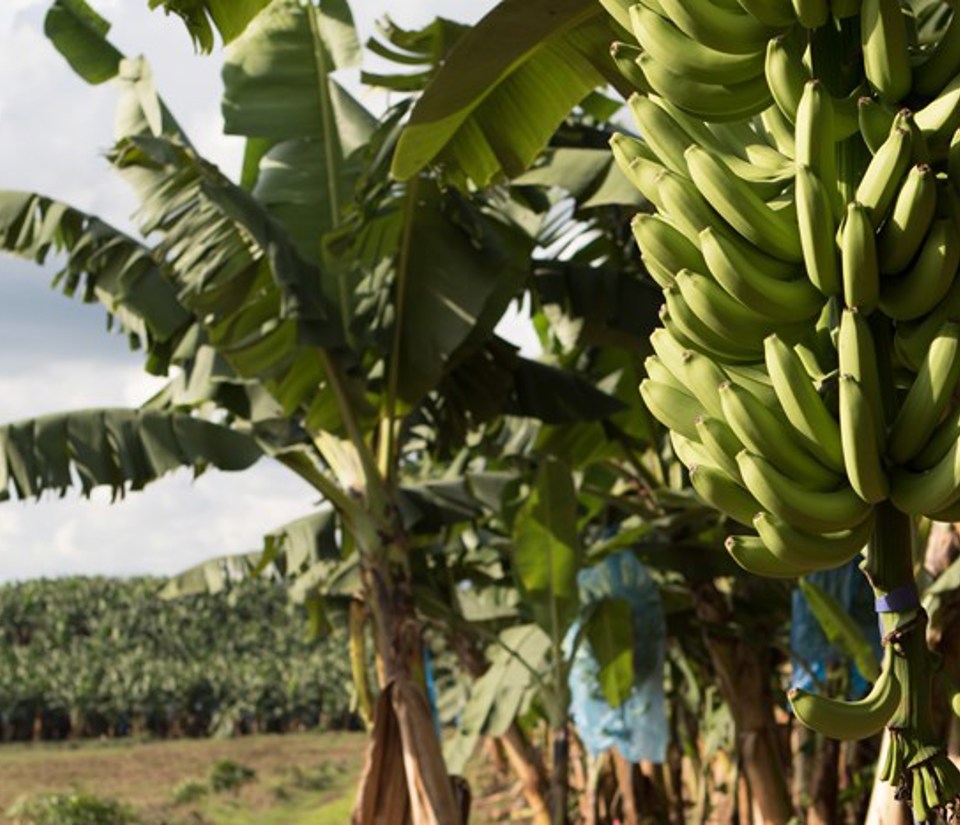 100%
of bananas sold in UK and Ireland are sourced as sustainable and are certified
As well as being certified, our banana suppliers must also undergo SMETA audits. These detailed assessments of working conditions complement the Rainforest Alliance certification to ensure a more thorough assessment of labour conditions. Examples of improvements as a result of SMETA audits include workers receiving paid holidays, written contracts and payslips, better control of working hours and overtime pay, and improved health and safety conditions.
However, some challenges within supply chains cannot be addressed through certification and audits alone. Where challenges are complex, embedded and industry wide, we need to collaborate with producers, traders, governments, trade unions, other workers organisations and NGOs to find solutions and implement these at scale.
Living wages for workers
Growing bananas provides an essential source of income for thousands of rural households in developing countries.
With industry bodies, such as the World Banana Forum, and other stakeholders we have worked hard to agree living wage benchmarks in all major banana producing countries. These benchmarks tell us the total pay a worker needs in order to afford decent standard of living including food, water, housing, education, health care, transportation, and clothing.
Tesco have also supported the development of important tools for suppliers to measure living wage gaps such as the IDH salary matrix. We are pleased to see from the latest data collected from our suppliers that many are already paying the living wage to all their workers. However, for others, some workers are receiving salaries below the living wage benchmark for their region.
We recognise our shared responsibility to support suppliers to close these living wages gaps. That is why in 2021 we conducted a review of our purchasing practices and updated them to embed living wages. As part of this work we have also made the following new commitments:
As of January 2022, Tesco commits to paying the living wage gap to banana producers (equivalent to the volumes we source).
Tesco shall ensure that producers have in place a timebound commitment to pay all workers a living wage.
We will reward those who continue to make progress on closing living wage gaps with higher volumes as part of a balanced scorecard.
Our ambition is that from January 2024, we will only source from banana producers who pay a living wage to all workers no matter the volumes sourced by Tesco.
Many of our suppliers do not only supply Tesco but also sell bananas to other retailers and buyers. Our 2024 ambition, which is about ensuring that all banana workers earn a living wage, requires suppliers to make investments into wages that go beyond Tesco volumes. That is why it is important we continue to work in collaboration with other retailers, buyers and wider industry to make this ambition a reality. 
Worker representation and gender empowerment
Freedom of association, collective bargaining and social dialogue in the workplace are important rights all workers should enjoy for a respectful work environment where workers and management work together to guarantee continuous improvement of labour conditions. As part of our living wage strategy, where living wage gaps are identified, we expect our suppliers to engage worker representatives in the development of wage improvement plans.
In recent years, we have been reinforcing the importance of worker committees where there is low trade union affiliation amongst workers; ensuring that worker representatives are democratically elected and that there are women representatives.
The collection of wage information from suppliers has also enabled us to gather greater insights into gender pay differences:
Base pay rates are the same for men and women doing the same job.
Benefits-in-kind did not differ between men and women.
For suppliers where there were living wage gaps, the percentage of women below the living wage benchmark was higher than men. Women also tended to have larger living wage gaps. This may be because a higher proportion of women are in lower paid roles.
We recognise that women play a crucial role in food supply chains yet face several social and economic barriers that prevents them from realising their full potential. In partnership with COLSIBA (Coordinating body of Latin American Banana and Agro-Industrial Unions) we have supported the increase women's participation as worker representative and specifically in national trade unions and collective bargaining forums in Latin America through labour rights education. In addition to these efforts, during SMETA audits, we have promoted enhanced auditor training to ensure women are properly represented in all worker committees.
Greater inclusion of women in worker representation will enable challenges that women face at work to be more frequently highlighted with employers and discussed with workers, leading to improvements being made. For more information on our gender strategy, click here.