Reward
Our approach to Reward
At Tesco, we have 345,000 colleagues worldwide, including 300,000 in the UK. All our colleagues serve customers in a variety of roles and all using different skills and expertise.
For every role in the business, we apply the same principles of Reward. These are applied across our whole reward package, which includes a number of benefits as well as the basic rate of pay. 

Always investing in our colleagues
We have a very strong track record of making substantial investments in pay, and over the last 10 years, Tesco's hourly rate of pay for store and customer fulfilment colleagues (CFC) has increased by more than 40% from £7.14 to £10.10. The most recent increase was announced in April 2022 of 5.8%, the biggest single-year investment in hourly store/CFC pay in at least a decade – representing a £200m investment in our colleagues.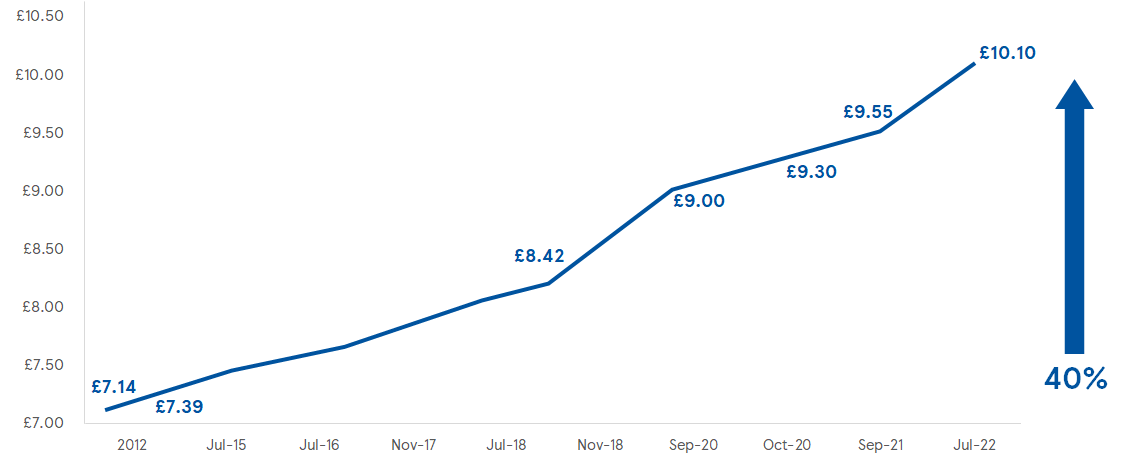 We believe that we are positioned very competitively for both basic pay and total reward; and our colleagues have a very positive view of their reward package. In addition to base pay, we offer a package of highly competitive benefits. Including the value of these benefits gives an equivalent hourly rate of £11.16 – or £11.89 for colleagues working in London.  
Competitive pay combined with unique Tesco benefits
We feel a duty of care to provide our colleagues with a balanced benefits package that supports their different needs. Across every one of our markets we offer a competitive package of rewards and benefits. Benefits available to colleagues in our UK business include:
A competitive pension
We offer a retirement savings plan for all our colleagues. As well as savings for retirement, the plan also provides valuable life cover for every member. The retirement savings plan is managed by Legal & General. Tesco has also set up a Governance Committee to provide robust oversight and ensure the plan meets the needs of our colleagues. At retirement, members are able to choose how to take their savings, in a way that suits them.
Colleague discount
After three months of service, colleagues receive a discount card for themselves and a second card for a family member. In 2022, we extended our Colleague Clubcard discount allowance by £500, taking the annual total allowance for all colleagues to £1,500 and helping them to keep down the cost of their weekly shop.
The benefits, currently enjoyed by 97% of colleagues, include: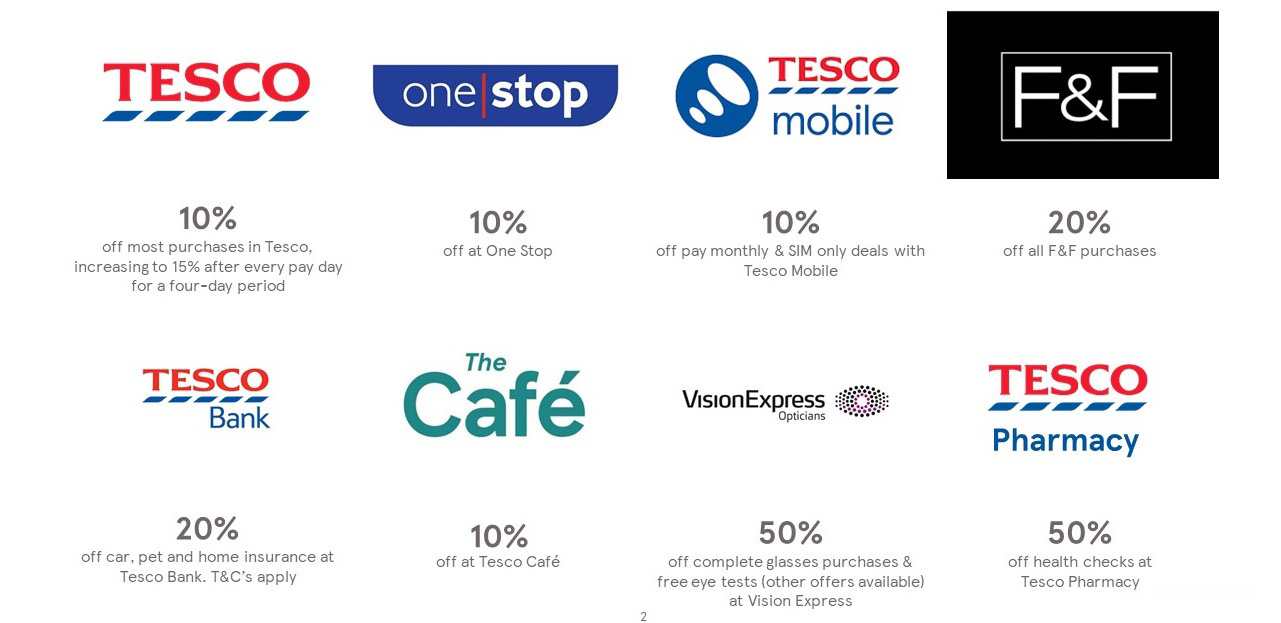 Buy As You Earn
The Buy As You Earn scheme is an opportunity for colleagues to buy Tesco shares on a regular basis, from their gross salary. There is total flexibility to start, stop and change the amount of salary used to buy shares at any time.
Save As You Earn
Save As You Earn (SAYE) is our Tesco share savings scheme that gives colleagues the opportunity to save direct from their pay for three or five years. Once they have finished saving, they can choose to buy Tesco shares at a discounted Option Price or get their savings back.
It's our longest running share scheme with thousands of colleagues participating for nearly 40 years.
Cycle to Work scheme
The Cycle to Work scheme is a salary sacrifice scheme, designed to encourage healthier and greener journeys to work by providing access to bikes and safety accessories as a tax-free benefit. It is a government supported initiative.
Employee Assistance Programme
Every colleague in the UK has access to our free, confidential Employee Assistance Programme. Services include:
Mental health experts
Structured clinical counselling (available in a language of your choice)
Financial information
Legal information
Career and life coaching
Bereavement counselling
Financial Wellbeing
Our Financial Wellbeing Hub contains tips and tools to help colleagues manage their finances. It shares information on how to make the most of your money, borrow responsibly and find the best options for you and get help identifying your savings goals and discover ways to help you achieve them.
Headspace and SilverCloud
Since April 2020, Tesco colleagues have had free access to Headspace and Silvercloud to support them in their mental wellbeing.
Since then we've collectively spent over 4 million minutes doing mindful activities through the Headspace app.
SilverCloud gives colleagues access to a number of programmes, offering the skills and techniques to maintain mental wellbeing, helping people feel better and, more importantly, stay better.
Engaging with our Unions
Our reward package is extensively discussed and negotiated with our unions and colleague representatives.
We have full recognition and collective bargaining agreements in place with USDAW, Unite and URTU for all our hourly-paid colleagues across the UK. Our robust process for engagement ensures that colleagues and union representatives are involved throughout the process and are consulted before any decisions on reward are finalised.
We listen to our colleagues and union representatives and make changes based on their feedback. For example, as part of our 2022 negotiations, we agreed to always offer any vacant hours to colleagues working fewer than 16 hours a week, before recruiting externally. When we do recruit externally, all new contracts will be based on a minimum of 16 hours per week.