Gender equality - supply chain strategy
Gender equality - supply chain strategy
Last updated 14/4/2020
Introduction
Women play a critical role in food supply chains yet face several social and economic barriers that often prevent them from realising their full potential. We want to lead the change for women both in our workplace and in key communities we source from by focusing on the root causes of gender inequality, and driving innovative solutions to build an inclusive economy and a sustainable future for the food industry.
We know that focusing on empowering women in our workplace and supply chains is not only the right thing to do, but it is also good for business. An overwhelming number of studies have demonstrated the benefits that women bring to businesses in the form of innovation, increased productivity and financial returns[1]. We are committed to playing our part in unlocking this potential, leveraging a wide range of resources to ensure that women within our own business and across the value chain can thrive.
Strategy
We have been working to improve gender equality in some of our supply chains over a number of years. In March 2019, Tesco signed up to the UN Women's Empowerment Principles[2] to reaffirm our commitment to achieving gender equality. We have also reviewed our Human Rights policy,where gender equality is now one of four key focus areas (together with sustainable livelihoods, worker representation and forced labour).

An external consultation on our human rights strategy confirmed the importance of focusing our attention on supply chains and countries which experience the greatest risk of gender inequalities and where we can make the greatest impact. By identifying the overlap between our supply chains and international mapping tools such as the World Economic Forum Gender Gap Reports[3]as well as The Woman Stats Database[4],we have identified 4 priority product supply chains.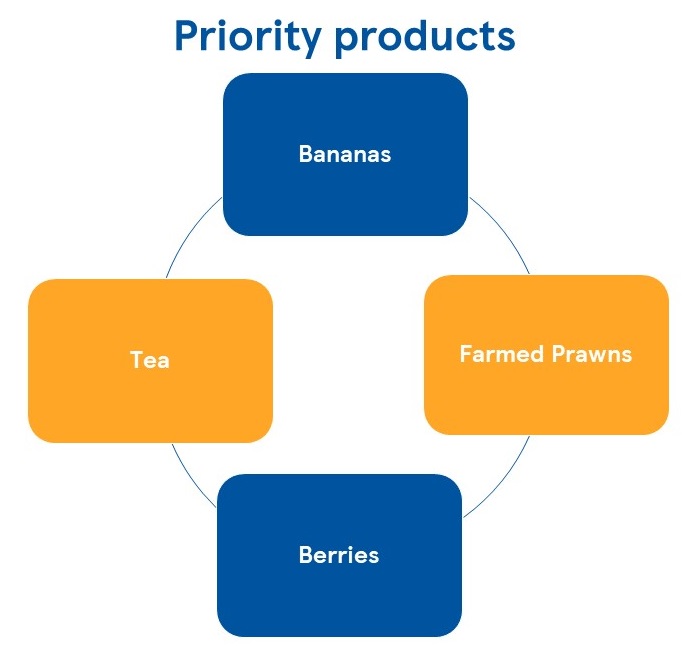 We are committed to building a collaborative and comprehensive approach with our key suppliers to ensure that they can deliver effective workplace programmes for both men and women. Through engagement with stakeholders, desk research and internal and external consultations, our activities in these food supply chains concentrates on 4 focus areas with the following key outcomes:
Addressing sexual harassment and discrimination: Empowered workers who are aware of sexual harassment and discrimination, and where there are breaches, have access to remedy
Increasing women's voices in the workplace: Increased participation of women in workplace dialogue
Enabling women in leadership: Increased representation of women in senior management and technical roles
Addressing gender stereotypes: Gender diverse teams within workplaces
Our approach within each of these supply chains is defined by three pillars:
1. Improve
We are already partnering with NGOs and the wider industry to address challenges facing women in our supply chain. We have worked with UNICEF on the Assam Tea Project[5] which protects girls and young women from exploitation. To date the programme is directly and indirectly improving the lives of an estimated 250,000 women, girls and boys. In Malawi [6]we have supported the establishment of women's welfare and gender committees on tea plantations to ensure gender issues are raised and acted upon.
In South Africa we have funded a number of mentoring and leadership programmes specifically aimed at empowering women in our grape, stonefruit and topfruit supply chains.
As part of our strategy to increase women's voices in the workplace we have supported COLSIBA's (Coordinating body of Latin American Banana and Agro-Industrial Unions) initiative to increase women's participation in representative fora, specifically national trade unions and collective bargaining fora in Latin America.
We are committed to tracking the gender profile in our priority supply chains and to this end joined Sedex's Gender Working Group in 2019 as part of the Sedex Stakeholder Forum. The aim of the working group is to tackle the lack of gender-disaggregated data in supply chains and help gain a better understanding of women's roles in supply chains and of their working conditions. Using the data gathered through the SEDEX platform, we are better placed to respond to the challenges facing women in our supply chains, with an initial focus on bananas, berries, farmed prawns and tea.
2. Transform
As members of the World Banana Forum Taskforce on Gender Equity we have highlighted the lack of gender-disaggregated wage data in living wage benchmark studies undertaken thus far. The Anker living wage methodology have now developed a draft gender module which we will pilot in 2020 as part of the living wage benchmarking process in Ivory Coast and Cameroon, Africa's two leading banana exporting countries.
Tesco chairs the Ethical Tea Partnership Gender Working Group (GWG) which aims to drive gender equality and women's empowerment within the tea industry. The 2030 Tea Commitment represents a ground-breaking new alliance which is working together to achieve a prosperous and sustainable tea industry. One of the 2030 goals focus on developing empowered, safe tea communities with good opportunities for women and young people. The GWG is currently developing a gender strategy that will support the 2030 Tea Commitment.
3. Advocate
Convention 190 on Ending Violence and Harassment in the World of Work (C.190) was recently adopted by the ILO in June 2019, yet many countries are yet to ratify it. As a responsible retailer we have an important role to play in using our convening power to engage governments in our global supply chains to actively support the ratification and implementation of Convention C.190. We are committed to continuing to work with civil society actors and other businesses, including other signatories to the UN Women's Empowerment Principles, to identify further opportunities for advocacy.
Targets and ambitions
Outlined below are some of the actions and targets we are taking in each of our priority supply chains. Over the next 3 years we commit to supporting our banana, berry,farmed prawn and tea suppliers to address the following challenges
Addressing sexual harassment and discrimination
In 2020 ensure that suppliers have developed workplace policies to tackle harassment and violence and have implemented training and support programmes on sexual harassment and discrimination that include both men and women.
Support the establishment of gender sensitive grievance mechanisms and ensure that women employees who come forward as victims of sexual harassment and discrimination are safeguarded.
Increasing women's voices in the workplace
Encourage women's committees and/or women's participation in elected worker committees, through the dissemination and implementation of new Worker Representation Guidance, and other targeted interventions
One of our key banana suppliers in Latin America has made good progress in this area, which we hope to see replicated in other supply chains. An agreement with major trade unions and the LA UITA (The International Union of Food, Agricultural, Hotel, Restaurant, Catering, Tobacco and Allied Worker's Associations) to increase women's participation in representation forums at farm level in 2020 has been agreed, representing an increase of 100% on the current levels.
Enabling women in leadership
By 2021, work with key suppliers to develop appropriate retention policies that are gender sensitive including targeted programs that provide progression paths for women.
Develop mentoring and training programmes that support women to fulfil their potential in accessing leadership positions.
Work with suppliers to measure progress in increasing the numbers of women in leadership positions and develop strategies to make further progress.
Addressing gender stereotypes
Map roles and sectors where gender stereotypes are creating challenges for women.
In 2020, work with key suppliers to develop recruitment policies that are gender sensitive, especially for non-traditional positions.
Invest in training and education for men and women to tackle gender stereotypes.
We commit to reporting on progress regularly; sharing examples of where there are gaps, the steps we have taken to address those gaps, as well as highlighting any learnings to drive good practice.
[1] https://www.huffpost.com/entry/the-business-case-for-gender-diversity-update-2017_b_590658cbe4b05279d4edbd4b
[2] Tesco signs up to UN WEP (8 Mar 2019)
https://www.tescoplc.com/updates/2019/tesco-signs-up-to-the-un-women-s-empowerment-principles/
[3] World Economic Forum Gender Gap Reports http://www3.weforum.org/docs/WEF_GGGR_2017.pdf
http://www3.weforum.org/docs/WEF_GGGR_2018.pdf
[4] http://www.womanstats.org/maps.html
[5] https://www.tescoplc.com/sustainability/taking-action/human-rights/tea/
[6] https://www.tescoplc.com/sustainability/taking-action/human-rights/tea/