Gender equality - supply chain strategy
Gender equality - supply chain strategy
Last updated 25/01/2022
Introduction
Women in food supply chains face several social and economic barriers that often prevent them from realising their full potential. This past year has further amplified those barriers by deepening pre-existing inequalities as economic impacts of covid-19 pandemic are felt especially by women and girls generally earning less, the adverse impact of on sexual and reproductive health services as resources are relocated and increased unpaid care work. This has reinforced the need for decisive action to ensure we are building supply chains that are inclusive and equitable.
We know that focusing on empowering women in our workplace and supply chains is not only the right thing to do, but it is also good for business. An overwhelming number of studies have demonstrated the benefits that women bring to businesses in the form of innovation, increased productivity and financial returns[1]. We are committed to playing our part in unlocking this potential, leveraging a wide range of resources to ensure that women within our own business and across the value chain can thrive.
Strategy
We have been working to improve gender equality in some of our supply chains over several years. In March 2019, Tesco signed up to the UN Women's Empowerment Principles[2] to reaffirm our commitment to achieving gender equality. We have also reviewed our Human Rights policy, where gender equality is now one of four key focus areas (together with sustainable livelihoods, worker representation and forced labour).

Our external consultation confirmed the importance of focusing our attention on supply chains and countries which experience the greatest risk of gender inequalities and where we can make the greatest impact. By identifying the overlap between our supply chains and international mapping tools such as the World Economic Forum Gender Gap Reports[3] as well as The Woman Stats Database[4], we have identified four priority product supply chains.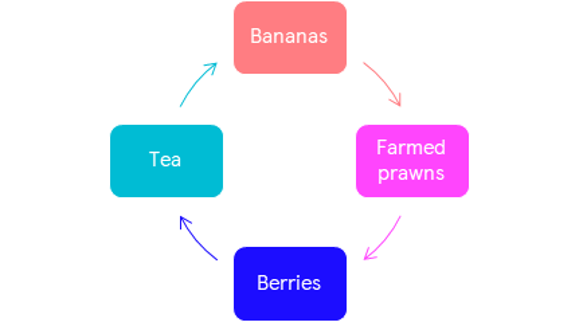 We are committed to building a collaborative and comprehensive approach with our key suppliers to ensure that they can deliver effective workplace programmes for both men and women. Through engagement with stakeholders, desk research and internal and external consultations, our activities in these food supply chains concentrates on four areas with the following key outcomes:
Addressing sexual harassment and discrimination: Empowered workers who are aware of sexual harassment and discrimination and where there are breaches have access to remedy.
Increasing women's voices in the workplace: Increased participation of women in workplace dialogue.
Enabling women in leadership: Increased representation of women in senior management and technical roles.
Addressing gender stereotypes: Gender diverse teams within workplaces.
Our approach within each of these supply chains is defined by three pillars: improving standards for people working in our own operations and our supply chains through continuous improvement programmes with suppliers, driving transformative industry-wide efforts to address endemic labour and community issues, and using our convening power to advocate for change.
1. Improve
We partner with NGOs (Non-Governmental Organisations) and the wider industry to address challenges facing women in our supply chains. We are working with IDH and Unilever to create the Women's Accelerator Safety Fund that enables safe and empowering workplaces for women workers in the Tea sector.  The initiative will implement the Global safety framework for rural spaces to ensure that women and girls are socially, economically and politically empowered, build capacity of local stakeholders to strengthen services for victims of sexual harassment and other forms of violence as well as establish a private public platform to advocate for sustainable change. This will include engagement with government to ensure effective policy implementation. The fund will focus on reaching 200,000 women in Assam with the ambition to scale and replicate this beyond the tea sector.
Amongst our human rights priorities is a key belief that women should be fairly represented in management in all workplaces, including our own business and throughout our supply chain. In October 2021 we announced that we are working with our direct food and non-food suppliers to ensure that at least 30% of supervisory and management roles are occupied by women by the end of 2025. We want to increase representation in leadership and ensure those previously disadvantaged, particularly women in low paying jobs with limited security, have opportunities for development and progression. As part of this we have asked our suppliers to
Analyse the current breakdown of their total workforce down to farm level where applicable which will include seasonal workforce.
Develop action plans to improve representation where it currently falls short.
Report annual progress to ensure 30% is reached by 2025.
To support this ambition, we ran several supplier webinars focusing on gender inequalities in supply chains, encouraging solutions such as the Women Empowerment Principles (WEP) to drive progress in this area. Through these workshops we have shared learnings with suppliers and demonstrated the benefits that WEP have provided in shaping our gender strategy to focus on areas where we could leverage maximum impact.
In 2019 we joined Sedex's Gender Working Group as part of the Sedex Stakeholder Forum. Sedex is a membership organisation that provides an online platform for companies to manage and improve working conditions in global supply chains. The aim of the working group is to tackle the lack of gender-disaggregated data in global supply chains and help gain a better understanding of women's roles in supply chains and of their working conditions.
A key outcome of this work is the development of the gender data report which enables us to analyse gender disaggregated data down to farm level. The analysis will not only increase our understanding of challenges facing women in our supply chains but will help us develop appropriate responses including improvement plans with our suppliers to address these gaps.
We have analysed data for the past 2 years to ensure we capture all active suppliers. This serves as our baseline where we have found a higher proportion of male workers 651,622 (54%) vs 562,984 female workers (46 %) in our UK- meat fish and poultry supply chains as well as our UK fresh produce and prepared foods supply chains. Further analysis shows that on average in the above supply chains
40% of female workers participated in worker committees
37% of promotions were awarded to female workers
46% of grievances were raised by female workers
This analysis informs our gender strategy to ensure increased access to leadership positions for women workers in our supply chains as well as addressing barriers that prevent women from realising their full potential.
Following our living wage commitment on bananas, analysis of wage data has shown that although base rates as well as in-kind benefits were the same for men and women, there was a greater proportion of women who experienced living wage gaps. This is mainly because more women are found in lower paid roles. One challenge regarding comparative analysis of the data is the differentiation of worker roles between suppliers. We need to improve the data collection process moving forward to address this shortcoming.
We recognise the value in engaging with trade unions to support worker's rights globally. Our MoU (Memorandum of Understanding) with IUF (International Union of Food, Agricultural, Hotel, Restaurant, Catering, Tobacco, and Allied Workers Association) launched in 2022 is a shared recognition of the challenges faced by workers in global food supply chains, including workers exercising their rights to be in a trade union and to negotiate collectively. This joint commitment outlines how Tesco and IUF can work together to support workers' rights globally, with a specific focus on how women in global food supply chains can benefit from effective grievance mechanisms, freedom of association and trade union representation. Initial focus of this initiative will focus on key priority supply chains such as bananas, tea, and meat.
 2. Transform
This past year has compounded the challenges that workers face. To mitigate the impact of the pandemic on workers, particularly women workers, we participated in the Vulnerable Supply Chain Facility which is a rapid COVID-19 response fund set up by the UK Foreign, Commonwealth and Development Office (FCDO) together with other stakeholders including seven not for profit organisations This fund has supported over 100 suppliers and 1 million women and men workers both directly and indirectly and covered the following sectors:  flowers, coffee, avocados, berries, herbs, seasonal vegetables as well as smallholders. One of the projects specifically targeted purchasing practises with Coventry University setting out key recommendations for building a more resilient flower sector.
Understanding root causes of gender inequalities is critical for sustainable solutions which is why we have embarked on two key pieces of work that firstly increases visibility of these inequalities through our Human rights due diligence processes and starts to address the systemic changes needed to resolve these issues.
We are working with Partner Africa and Sedex to pilot a new gender sensitive auditing methodology in Africa. The aim of the project is to identify how standard audit methodologies such as SMETA (SEDEX Members Ethical Trade Audit) can become more gender sensitive and therefore in turn, better identify gender discrimination risks within supply chains. The pilot will be finalised by June 2022 and the results shared with key stakeholders.
We are exploring with the The AnkerLiving Wage and Income Research Institute the piloting of the gender pay gap framework in 2022. The pilot will investigate root causes behind gender pay gaps including the impact of unpaid care work, societal and cultural norms to develop sustainable solutions for closing those gaps.
3. Advocate
Convention 190 on Ending Violence and Harassment in the World of Work (C.190) was adopted by the ILO (International Labour Organization) in June 2019, yet many countries are yet to ratify it. As a responsible retailer we have a key role to utilise our convening power to engage governments and other stakeholders in our global supply chains to actively support the ratification and implementation of C.190. We have demonstrated this commitment through:
Running a series of webinars as part of the World Banana Forum on creating workplaces safe from harassment and violence through the implementation of C.190. Experts including the Ministry of Labour Ecuador and the ILO shared insights around implementation of C.190.
Making a joint commitment together with Unilever and IDH (The sustainable trade initiative) as part of the Generation Equality Forum Action Coalitions. These innovative, multi-stakeholder partnerships are focused on the most critical areas in gender equality to achieve concrete change for women and girls worldwide.
Targets and ambitions
Outlined below are some of the targets we have set and actions  we are taking in each of our priority supply chains.
Addressing sexual harassment and discrimination
By 2022: ensure that suppliers have developed workplace policies to tackle harassment and violence and have implemented training and support programmes on sexual harassment and discrimination that include both men and women.
Support the establishment of gender sensitive grievance mechanisms and ensure that women employees who come forward as victims of sexual harassment and discrimination are safeguarded.
Increasing women's voices in the workplace
By 2023: Implementation of the MoU between Tesco and the IUF that focuses on:
- Improving access to effective grievance mechanisms, with a specific focus on women workers.
- Identifying concerns and allowing for effective resolution/remediation of issues.
- Increasing women's voices and representation in the workplace.
Enabling women in leadership
By 2025: Work with direct suppliers to ensure that at least 30% of management and supervisory roles are occupied by women.
Work with suppliers to measure and report on progress in increasing the numbers of women in leadership positions and develop strategies to further progress.
 Addressing gender stereotypes
Harmful social norms and gender stereotypes foster inequality and discrimination. By joining the UN women convened UK chapter Unstereotype Alliance we are driving change in the way we market our products and across industry by addressing stereotypes across all brand communication and content including digital, social media and ecommerce.
In our supply chains we have committed to:
Mapping roles and sectors where gender stereotypes are creating challenges for women.
Investing in training and education for men and women to tackle gender stereotypes.
We commit to reporting on progress regularly; sharing examples of where there are gaps, the steps we have taken to reduce those gaps as well as any learnings to drive good practice. To this end we have established a dedicated gender resource platform on The Tesco supplier network to engage and help build capacity of our suppliers.
[1]     https://www.unwomen.org/en/what-we-do/economic-empowerment/facts-and-figures#notes
[2] Tesco signs up to UN WEP (8 Mar 2019)
https://www.tescoplc.com/updates/2019/tesco-signs-up-to-the-un-women-s-empowerment-principles/ 
[3] World Economic Forum Gender Gap Reports
https://www.weforum.org/reports/global-gender-gap-report-2021
[4] http://www.womanstats.org/maps.html