Modern Slavery strategy
Introduction
Tesco is committed to taking a leading role in tackling modern slavery in both our own operations and supply chains. This commitment is affirmed in our Human Rights strategy where Modern Slavery is one of four key areas of focus.
Recognising that the risks of modern slavery are constantly evolving, in 2020, we began a review of our modern slavery strategy. We engaged a number of key stakeholders in this process including representatives from the Ethical Trading Initiative (ETI), the Office of the Independent Anti-Slavery Commissioner, the Consumer Goods Forum (CGF) and key suppliers. The outcome of the review is a stronger approach that considers the longer-term impacts of the COVID-19 pandemic and labour market changes linked to Brexit on workers in our own operations and supply chains.
We are committed to continuing to work transparently and collaboratively on this topic. We will report progress against our strategy in our annual Modern Slavery Statement including sharing examples of where we have identified issues and the steps we have taken to address these.
Strategy
1. Priorities
To identify our areas of risk, we considered the regions, products, supply chains and known drivers of risk, such as worker demographic and in-country legislation. These priority areas can be seen in the map below.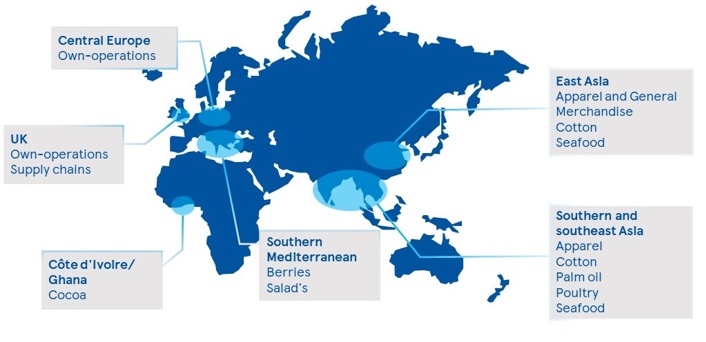 We then considered our leverage (volume of products we buy, cost of goods sold and our direct and indirect relationships) with the known areas of risk. This enabled us to identify four regions or supply chains where we believe we are best placed to take a leading role - taking action ahead of others and using our convening power to advocate for change.
The four regions or supply chains are:
Thailand and Malaysia - Primary sites and Poultry end-to-end
Priority fisheries*
UK and Central Europe own operations
UK seasonal workers - Produce
For our remaining known areas of risk, we will address these through existing programmes and supplier requirements.
Where we have minimal leverage to make effective change and deem the risk to be unacceptable, we will ultimately prohibit sourcing.
2. Our Approach
Our approach to preventing, identifying and mitigating modern slavery is based on the five factors which we believe create the enabling environment to eradicate modern slavery.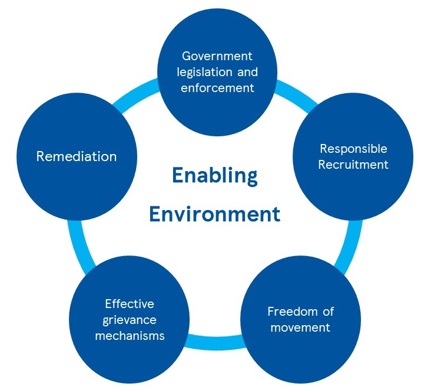 All five factors are important and we continue to work collaboratively to drive progress across each of them. However, in the first instance we have decided to focus more heavily on responsible recruitment given that recruitment fees and costs, which can lead to debt bondage, are the most common Modern Slavery indicator in our business and supply chains. This also aligns with the broader commitment within our Human Rights strategy, to provide decent, fair and safe work to all. Decent work starts with responsible recruitment.
We take a three pillar approach to mitigating human rights risks in our supply chain – Improve, Transform and Advocate. Outlined below is our approach to talking the risk of Modern Slavery under each of these pillars: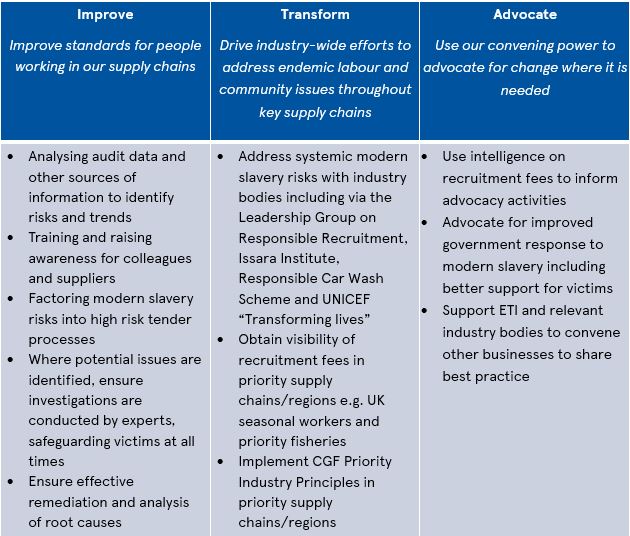 Key milestones and key performance indicators
Under this strategy we have set the following key performance indicators and targets for delivery between now and the end of 2022:
By end of

Target

Measure

 2021

 

100% priority colleagues* and primary suppliers in the UK trained on modern slavery

% of in-scope Tesco colleagues and primary sites trained in the UK on modern slavery

2022

 Zero workers pay for a job in 100% of primary sites in Thailand and Malaysia (food)

 % of in-scope sites compliant with the Responsible Recruitment requirements – Thailand and Malaysia
In addition to the above measures, we will also continue to report annually within our modern slavery statement on the below metrics and measures of success.
Number of cases with modern slavery indicators identified
Number of modern slavery cases successfully remediated
Amount of recruitment fees or costs remediated in our own operations
Amount of avoided wages paid back to workers
Ranking within relevant external benchmarks and indices
In our 2020-21 Modern Slavery statement we communicated a third goal: 'Zero workers' pay for a job in 100% of primary sites in priority supply chains/regions' to be achieved by the end of 2023. We remain committed to eradicating all recruitment fees and costs across our supply base however the hidden nature of many recruitment fees and costs means this can be challenging. Additionally, in supply chains and regions where we have less leverage, we are more reliant on industry-wide action and government engagement. We continue to engage our key stakeholders to build comprehensive timebound action plans and we are reviewing how we track progress against this goal in a robust way. In the meantime, we will not be reporting progress against this goal.
* Priority fisheries are defined as fisheries that employ migrant workers from Least Developed Countries (LDCs), and those identified through the risk assessment process developed with the Seafood Ethics Action Alliance.
** Priority colleagues defined as Tesco UK Technical Managers and Technologists, Distribution Centre Managers, People Partners and Security Managers.
To read our Modern Slavery statement click here