Sustainable livelihoods - supply chain strategy
Sustainable livelihoods - supply chain strategy
UK Stores. Last updated 14/4/2020
Introduction
Customers want the peace of mind that the products they buy from us are sourced with respect for the people who help make them.
None of us – including customers, suppliers, investors or governments worldwide – want to see people living in poverty, and we're proud that the jobs our business creates can, in the right environments, allow people to improve their circumstances. Everyone at a minimum should have access and be able to afford the basic needs required for themselves and their family to prosper.
However, in many parts of the world, having a job does not guarantee a decent living. 8% of the world's workers and their families were estimated still to be living in extreme poverty (using UN definitions) in 2018[1]. In some countries and sectors, legal minimum wages are set at levels that leave families unable to afford all their basic needs such as food, education, healthcare and decent accommodation.
Around three-quarters of the world's extreme poor live in rural areas, with most dependent on agriculture for their livelihoods[2]. Smallholder farmers – for example in cocoa, coffee, rice – often rely on the income from their harvest to support the family throughout the year.
Receiving decent wages and incomes is an essential part of achieving sustainable livelihoods and therefore a primary focus of this strategy and our work.
The starting point for our work on wages is to ensure that everyone is paid in accordance with their contracts of employment, for all hours they work, that the wages are legally compliant and that there are no unfair deductions. Through our sourcing of certified products, such as Rainforest Alliance, we are also supporting farmers to adopt more efficient farming practices, which can reduce costs and improve incomes.
But to go even further we have developed this Sustainable Livelihoods Strategy. It recognises that, in some supply chains, wages and incomes are too low and demonstrates our commitment to supporting workers and small-scale farmers in our supply chains to increase their resilience and prosperity. Only by working together with suppliers, NGOs, Governments, unions and the wider industry can we increase incomes and reduce poverty on a sustainable basis.
Strategy
Sustainable Livelihoods is one of four pillars of our Human Rights Strategy and is also an important part of our Little Helps Plan commitment; affordable, healthy, sustainable products for all.

Our work on sustainable livelihoods focuses on products and ingredients where both poverty is most severe and where we can make the most impact. By identifying the overlap between the UN Multi-dimension Poverty Index, our supply chains and where there is already other stakeholder support to leverage our action for the greatest impact, we have identified 6 priority product supply chains.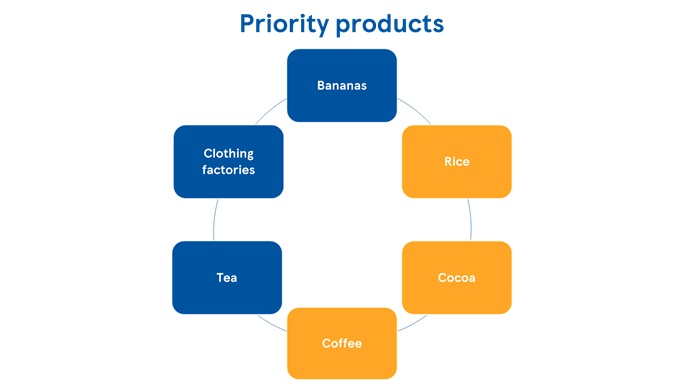 For three of these product supply chains our focus is on ensuring employed workers earn a decent wage; bananas, tea and clothing factories. Whereas for cocoa, rice and coffee supply chains we need to look more broadly and, as well as supporting small-scale farmers to increase their income, we need to understand what community support and infrastructure is needed for them to become more resilient and prosper.
Our approach within each of our priority supply chains is defined by three pillars:
1. Improve
We are reviewing our purchasing practices to ensure they support producers to pay living wages to workers and for smallholder farmers to receive a fair income. This includes looking at how we can ensure quoted prices reflect the costs of sustainable and ethical production, and how our relationships with suppliers support positive changes.
In 2019, as part of our procurement process, we continued to use the Sustainable Procurement Model developed by IDH to ensure that the payments and contributions we made to Malawi tea suppliers supported progress on closing the living wage gap.
We will also continue to collaborate with our certification and standard setting organisations, such as the Rainforest Alliance, to review the role of they can play in improving wages and incomes.
2. Transform
By working with stakeholders, including unions, governments, NGOs and other businesses, we are identifying potential ways to measure wage gaps and increase wages and incomes. We will pilot solutions in collaboration with our partners and share learnings.
For example, in 2019 we joined the IDH Steering Committee for the Salary Matrix and helped to pilot this tool for producers in some of our banana and tea supply chains. The tool defines a consistent method that could be used across different industries and supply chains to assess current wages at a site and compare this to a living wage benchmark.
We are using this tool to work with our suppliers to gain greater visibility of living wage gaps so that we can jointly create timebound actions plans to improve wages.
We are committed to supporting workers and small-scale farmers to organise collectively and this is a key part of our approach. We believe effective worker representation and farmer organisations to the long term solution for workers and farmers to better negotiate wages or the price of their product.
Worker representation has been part of our human rights strategy for many years. In Latin America in particular we closely monitor sites to ensure workers are able to democratically elect their representatives to worker committees and/or Health and Safety Committees. As well as our own direct monitoring, audits assess if workers are aware of who their representatives are and if they are satisfied with their effectiveness. In 2019/20 we have been engaging certification and other standard setting organisations to emphasise the importance of worker representation and improve the auditing processes. For more information about our work under this pillar, click here.
As part this Sustainable Livelihoods Strategy we will be exploring what actions we can take to specifically support small-scale farmers. We will be particularly focusing on understanding the distribution of value in supply chains, what is required to increase income for small-scale farmers and how we can support farmers to organise collectively.
3. Advocate
We need to work with other stakeholders to ensure a level playing field across whole industries and to have long lasting impact. By convening and engaging others, including governments, we can find systemic solutions that will impact all workers or producers in a whole industry or country.
For example, in recent years we have lobbied for minimum wage increases in Bangladesh and, as signatories of the ACT initiative, have participated in discussions to encourage wage increases with manufacturing associations and governments in Cambodia and Myanmar.
Another example is through our membership of the World Cocoa Foundation, who on behalf of members engage the governments of Cote D'Ivoire and Ghana on how to support small scale cocoa farmers to earn a living income. Most recently this has included supporting and consulting on the introduction of the Living Income Differential.
Targets and ambitions
Outlined below are some of the actions we are taking and targets in each of our priority supply chains. As we are in the early stages of implementing this strategy, we will be adding to this list as we continue to develop product specific action plans.
Tea
Continue to use the Sustainable Procurement Model to assess our payments and contributions and enable suppliers to close living wage gaps.
Work with Ethical Tea Partnership and other key stakeholders to develop a timebound industry commitment and action plan to living wages in key producing countries including Malawi, Kenya and India.
Bananas
Support the development of Living Wage Benchmarks for all banana producing countries.
By the end of 2020, work with all suppliers to complete the IDH Salary Matrix to gain greater visibility of living wage gaps.
Review purchasing practices and incorporate requirements that enable us to have ongoing visibility of living wage gaps and progress in closing these gaps.
Work with the World Banana Forum and other key stakeholders to develop a timebound industry commitment to living wages.
Rice
Explore opportunities with our suppliers to support the uptake of the Sustainable Rice Standard by farmers in key sourcing regions.
Become members of the Sustainable Rice Platform and better understand our role to advocate within the industry and with governments.
Cocoa
As members of the Retail Cocoa Collaboration, continue to engage global traders of cocoa on their efforts to increase farmers' incomes.
Explore ways to obtain better visibility of the gaps between farmer incomes and living incomes, and understand how this links to the broader distribution of value along our cocoa supply chains.
Clothing
Using the ACT assessment tool, review purchasing practices to ensure they support long term partnerships with manufacturers committed to ethical trade and enable the payment of a living wage to all workers.
Work with suppliers and IndustriAll to facilitate workers negotiating wages towards a living wage.
We commit to reporting on progress regularly; sharing examples of where there are living wage gaps, the steps we have taken to reduce gaps as well as any learnings.
For the latest updates and information on particular supply chains, view our product specific webpages:
[1] https://www.un.org/sustainabledevelopment/poverty/
[2] http://www.fao.org/sustainable-development-goals/goals/goal-1/en/