Tesco Lotus Food Waste Data 2018/19
At Tesco, we have no time for waste. In 2019, Tesco Lotus became the first retailer in Thailand to publish its food waste data, joining the rest of the businesses in the Tesco Group in driving progress towards the UN Sustainable Development Goal (SDG) target to halve per capita global food waste by 2030. Tesco Lotus was also a pioneer in driving food waste reduction in Thailand by donating food surplus from all hypermarkets in Bangkok since 2017. The initiative has been expanded to hypermarkets in other big cities with the aim to eventually stop wasting edible food from all stores nationwide.
Transparency and measurement are essential for identifying hotspots, and in tackling the causes of food waste. It helps everyone understand how much, where, and why food is being wasted.
In 2018/19 2,018,976 tonnes of food sold by Tesco Lotus generated 10,586 tonnes of surplus (not sold to customers), equivalent to 0.52% of sales.
160 tonnes of surplus, equivalent to more than 380,000 meals, were redistributed to people in need through our charity partners.
Total food waste (food safe and not safe for human consumption) was 10,426 tonnes. This is equivalent to 0.52% of sales.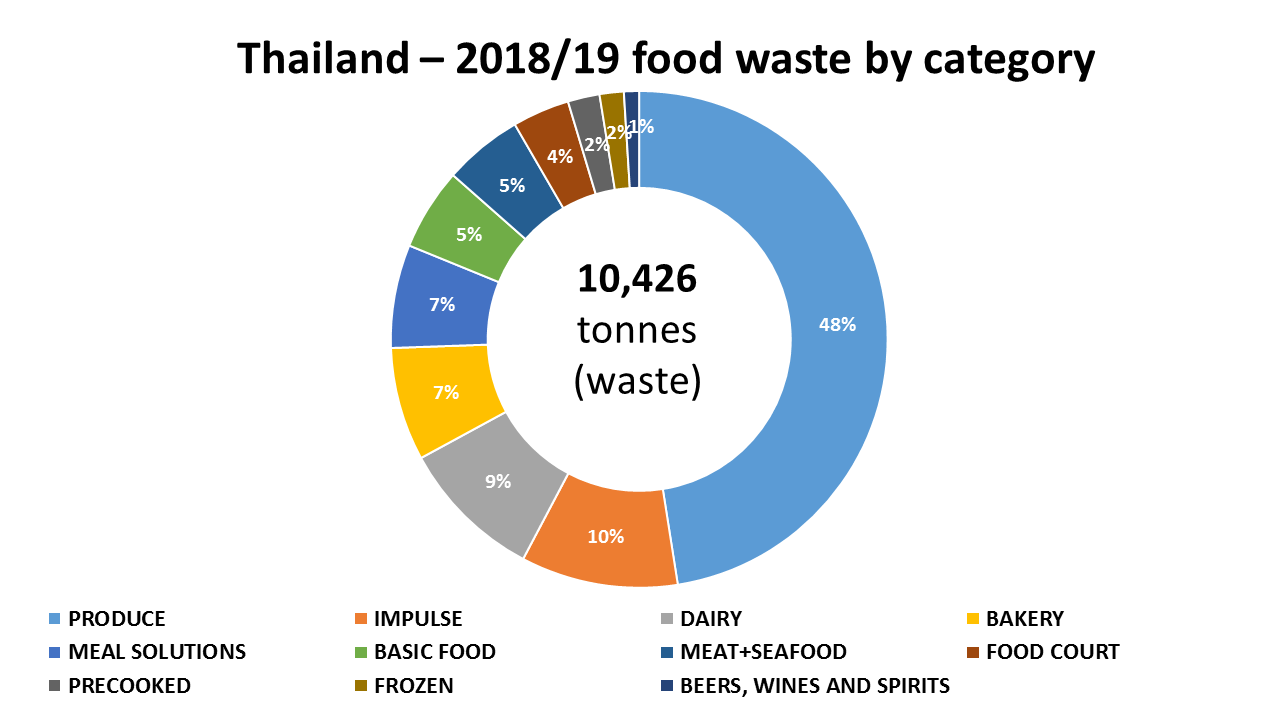 Produce makes up nearly half of our total food waste, due largely to the fact that most of our produce is sold loose without protective packaging and leafy vegetables have a shorter shelf life. A more stringent Reduce to Clear process which marks down prices of food throughout the day has been put in place to help reducing produce waste.
In August 2019, we began trialling redirecting food surpluses from select hypermarkets to be cooked in our canteens for colleagues. The initiative will be expanded to overcome the limitation of not having local charity partners to help making good use of the edible food. Our aim is that no food safe for human consumption will be discarded from all our 160 hypermarkets. 
Alongside initiatives to prevent edible food from going to waste, we are trialling ways to make use of food that is not fit for human consumption, including donating food surplus to sea turtles in a marine conservation centre, working with our partner SCG to compost inedible surplus, and setting up machines in our stores to turn inedible food into bio-fertiliser.
We are proud of the work our colleagues do to reduce waste and encourage other businesses to publish detailed food waste data for their operations.
Find out how we calculate our food waste data here.