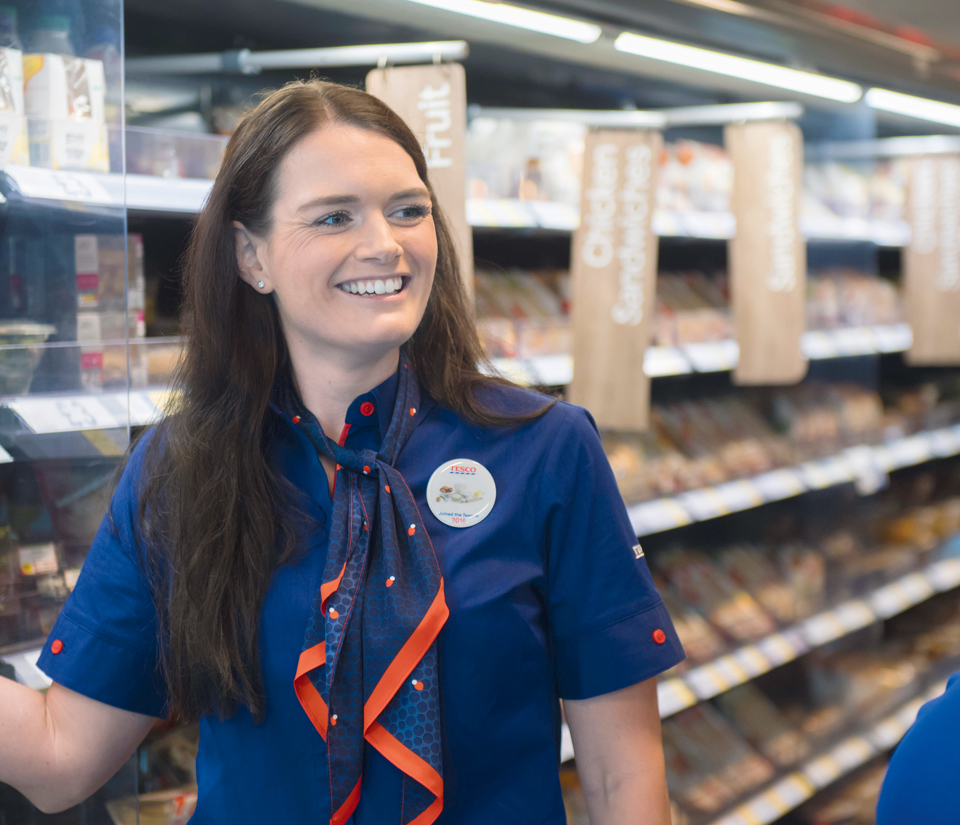 Materiality and Governance
Our approach to sustainability focuses on where we can make the biggest difference - for our customers, our communities and the planet - and is guided by a strong governance framework.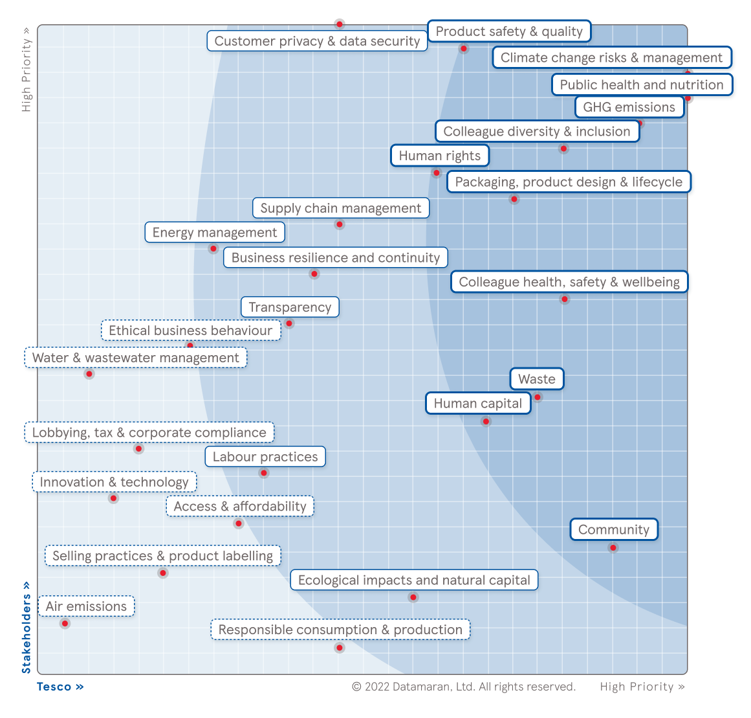 Focusing on what matters.
Materiality helps us to identify and prioritise the issues that matter most to Tesco and our stakeholders. Material issues are those that have the greatest potential to influence our business performance and where we can make the biggest difference. To identify them, we consider risks and opportunities from both a financial and non-financial perspective, in a process called "double materiality".
In 2021, we updated our materiality analysis with input from senior leaders and insight from customers and stakeholders. We also used the Datamaran platform to validate our focus and decision making and produce our materiality matrix.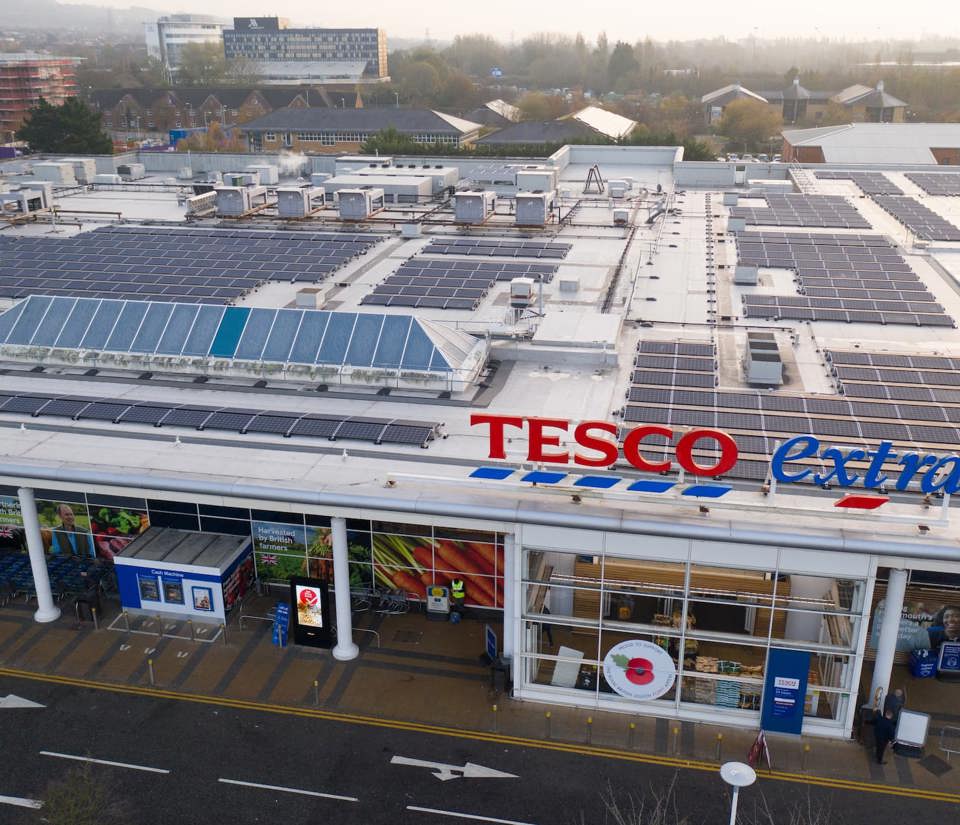 Climate change
.
Climate change is a global emergency. It is a significant risk to society and our business, and is closely interlinked with food systems. Our extensive global supply chain means that Tesco's carbon footprint is substantial. We therefore have an important role to play in influencing suppliers and customers behaviour, and must work collaboratively to achieve net zero across our entire value chain by 2050.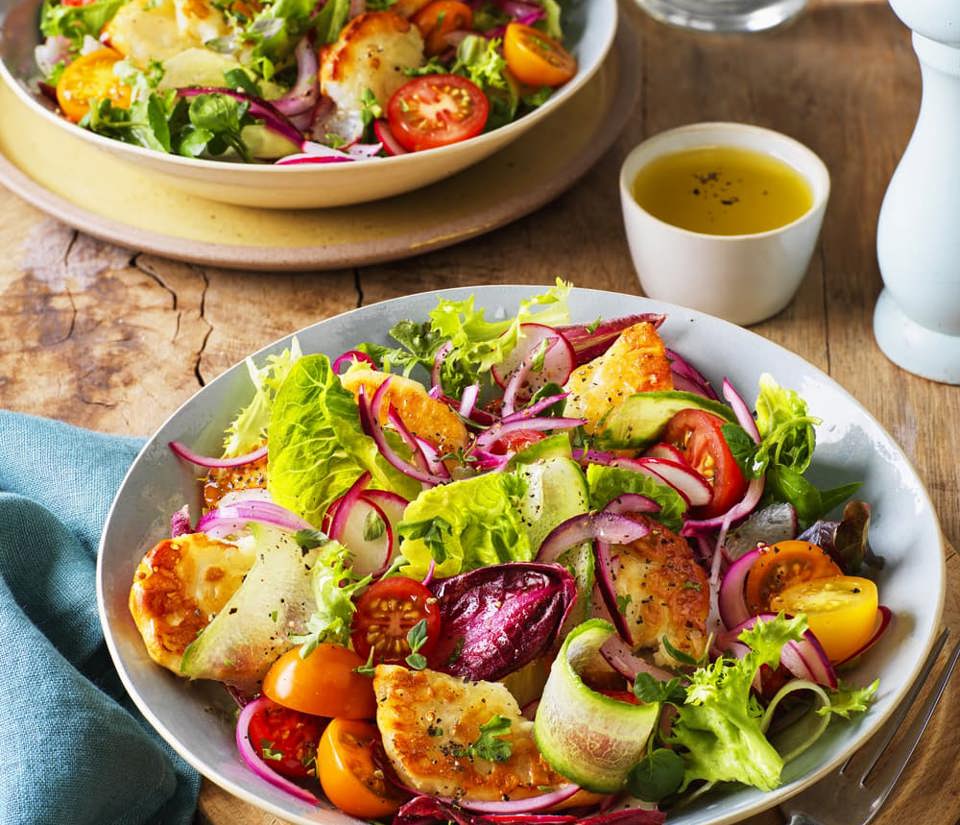 Healthy, sustainable diets
.
Everyone should be able to enjoy an affordable, healthy and sustainable diet. As a leading retailer and by working in partnership with our suppliers and NGOs, we are uniquely placed to help make this possible. We can influence positive change at every point in the food system, from the way food is grown, sourced and made to what our customers choose to put in their baskets.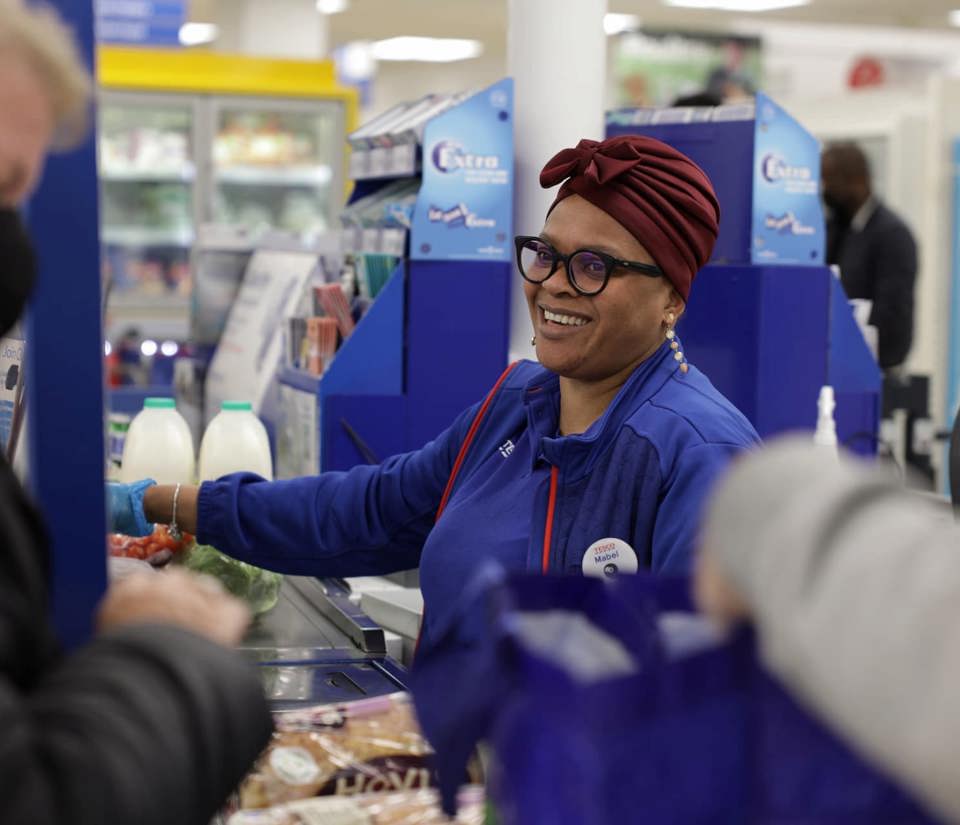 Diversity and inclusion
.
Diversity and inclusion are embedded in our values, which include treating people how they want to be treated. By valuing individuality and uniqueness, we create a sense of belonging. As a major employer across our markets, we aim to attract, retain and develop talent that reflects the diversity of the communities we serve.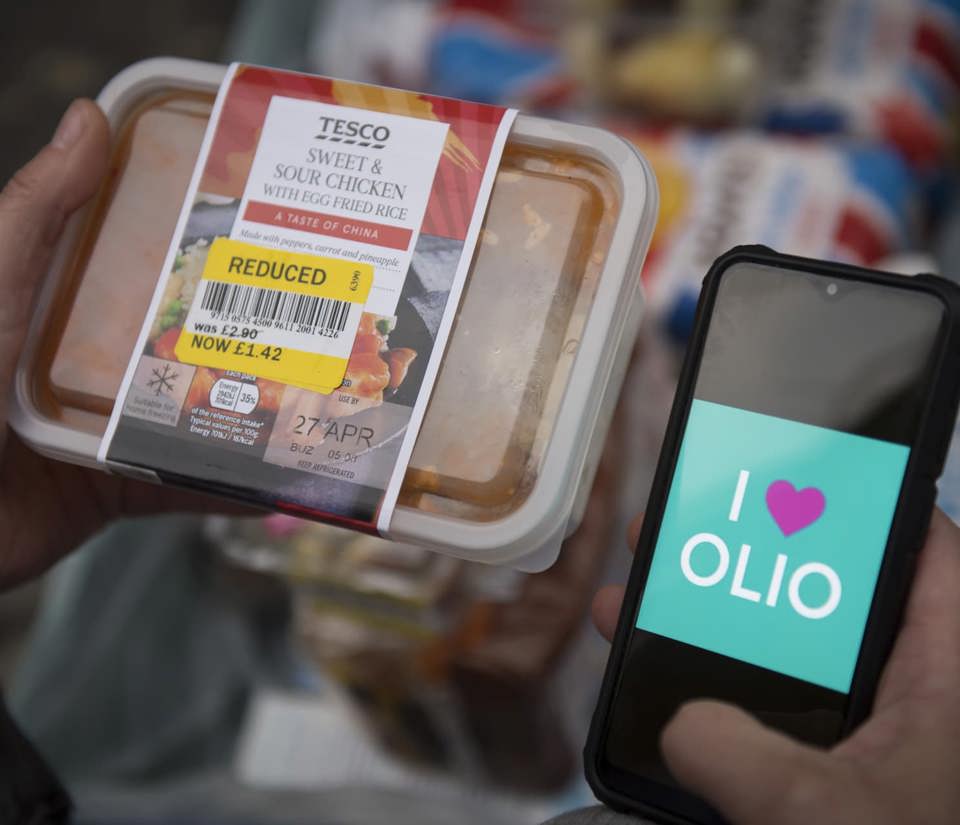 Food waste
.
We have no time for waste. Food waste is inefficient and contributes to climate change and food insecurity. Our scale and reach give Tesco an opportunity to influence food production and consumption to support a system where waste is avoided.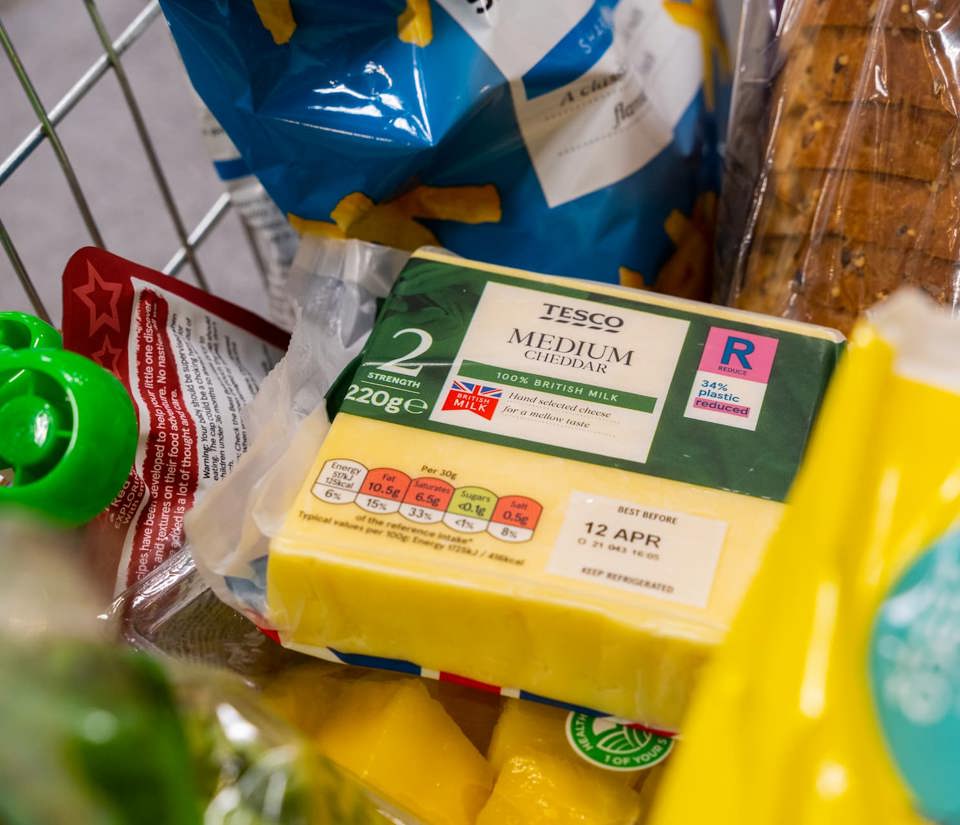 Packaging
.
Packaging does an important job of protecting our products and reducing food waste but packaging waste can be an environmental problem. Our packaging 4Rs strategy aims to remove, reduce, reuse and recycle.
Governance
We have a strong governance framework in place to ensure sustainability is embedded in our business strategy, and that our purpose is delivered every day
Board
The Board is responsible for the long-term success of the Group. Sustainability-related risks and opportunities are a key consideration and the Board has delegated responsibility for overseeing the Group's environmental and social obligations to the Corporate Responsibility Committee.
Corporate Responsibility (CR) Committee
The CR Committee was established in 2012. Chaired by Lindsey Pownall OBE, an independent non-executive director, it includes five Board-level directors. The Committee meets four times a year. Its responsibilities are to:
Assess the performance of our sustainability strategy, ensuring we are making sufficient progress towards goals and targets
Review and approve any changes and make sure they contribute to our long-term objectives
Monitor changes to the external environment and consider how they impact our sustainability strategy and reputation
Oversee the Group's engagement with external stakeholders and other interested parties including reporting, investor engagement and campaigning groups
Terms of Reference for the CR Committee are available here. More information on the issues discussed in meetings can be found in the Corporate Responsibility Committee Report within the Tesco PLC Annual Report and Financial Statements 2022.
Executive Committee
The Executive Committee oversees the delivery of our strategy and routinely discusses sustainability issues that are relevant to the business. We have now redefined how we create value to reflect the relationships between price, quality and sustainability. Executive Committee members are accountable for sustainability topics and have objectives that reflect this. For example, our Chief Product Officer is responsible for championing our climate agenda.
Corporate Responsibility (CR) Steering Group
In 2019, the Committee approved the introduction of a new CR Steering Group to oversee how we communicate and report our sustainability agenda. Group Communications Director Christine Heffernan chairs the CR Steering Group, which meets bi-monthly to review progress against our sustainability commitments and agree reporting and communication plans.
Climate governance
To reflect the importance of tackling the climate emergency, we have created a Group Climate Committee chaired by our Chief Product Officer, Ashwin Prasad. Its aim is to enable the Group to accelerate decarbonisation initiatives and further embed climate in our strategy. The Committee meets quarterly and comprises representatives from business functions that materially influence our ability to achieve our climate targets and regulatory obligations.
From 2022, the Executive Committee will review progress on our climate strategy twice each year and discuss strategic investments needed to achieve our climate objectives.
Further information on our climate governance can be found in the TCFD Report within the Tesco PLC Annual Report and Financial Statements 2022.