Governance
We have an established framework to oversee the delivery of the Little Helps Plan, structured around the core operations of our business.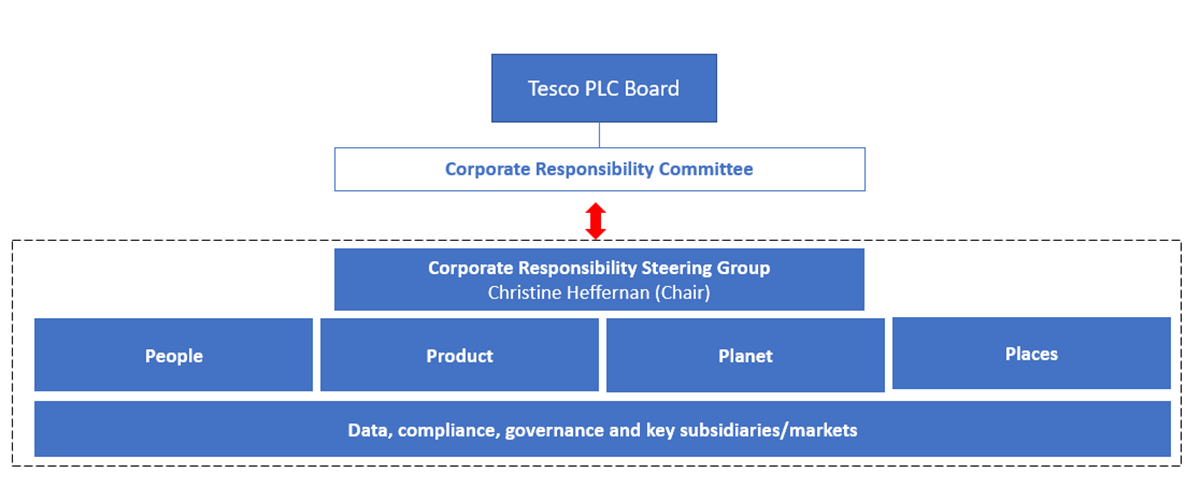 Corporate Responsibility (CR) Committee
The CR Committee was established in 2012 to ensure that the Board maintains an adequate focus on corporate responsibility in its widest sense. The CR Committee is chaired by Lindsey Pownall, a Board level, independent Non-executive Director and includes five Board level directors and two members of the Group's Executive Committee.
The Committee meets three times per year to consider and review the following aspects:
Overall performance of the Little Helps Plan, ensuring sufficient progress towards goals and targets is being made
Review and approve changes, assessing the suitability in meeting our long-term objectives
Monitor changes to the external environment and place due consideration of their influence on the Little Helps Plan commitments and business reputation
Oversee the Group's engagement with external stakeholders and other interested parties including Little Helps Plan reporting, investor engagement and campaigning groups
Terms of Reference for the CR Committee are available here and further information on the  issues discussed in recent meetings, can be found in the Corporate Responsibility Committee Report within the Tesco PLC Annual Report and Financial Statements 2020
Corporate Responsibility (CR) Steering Group
In 2019, the Committee approved the introduction of a new CR Steering Group to ensure the business continues to make advancements toward our Little Helps Plan.
Our Group Communications Director, Christine Heffernan, is the Little Helps Plan's Executive sponsor and chairs the CR Steering Group to oversee progress of our sustainability measures and goals. The CR Steering Group comprises experts at director level of the business, each with responsibility for a Pillar of the Little Helps Plan, to ensure areas have an appropriate strategy and implementation plan.
The CR Steering Group provides updates to the Corporate Responsibility Committee against the Little Helps Plan and equips Committee members with insights on developments within the business or outlines anticipated issues for members to consider.
Implementation for each aspect of the plan is led by specialist teams, working with our partners, key external stakeholders and the wider business to help deliver against our commitments.