Materials and Design
We have been tracking the materials used in our packaging for many years, and have already achieved a 31% reduction in packaging weight per unit sold since 2007. In collaboration with our suppliers we can reduce and simplify the types of materials we use in our packaging so that less is used and packaging is easier for customers to recycle.
In consultation with suppliers and industry experts, we regularly review the materials used in our Own Brand packaging and publish a preferred material list. The preferred materials on the list are already easily recycled and can be made from recycled content. Examples include PET plastics, PP plastics for non-food applications, metal, glass and sustainably sourced board and paper.
We have also identified those that are not easily recycled and most harmful to the environment, such as PVC and polystyrene (sometimes used for yoghurt pots), PLA (polylactic acid - which can be found in films and bags) and rigid water soluble bio plastics.
We first published a preferred material list in 2018 and have since removed all of the hardest to recycle materials from our Own Brand packaging. This has seen Tesco remove more than 10,000 tonnes of the hardest to recycle materials from over 1000 products.  
From 1st May 2020, we will no longer accept any new products into our business with excessive packaging or in the hardest to recycle materials for new Own Brand and branded products. Our full principles for all product packaging can be seen here.
31 %
reduction in packaging weight per unit sold since 2007 (UK)
10,000 tonnes
Hard to recycle materials removed from Own Brand packaging (UK)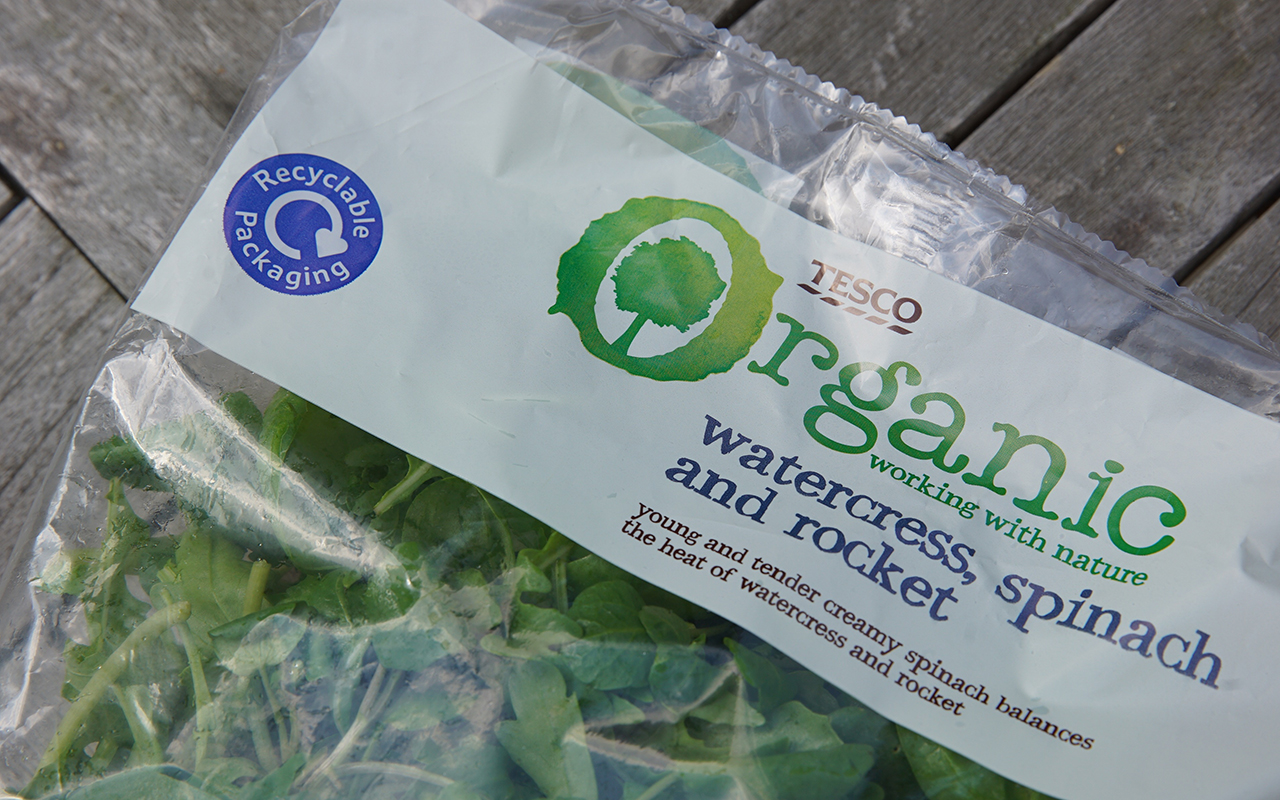 Our organic bagged prepared salads are now made from Polyethylene (Polythene). Recycled PE can make long-life products such as park benches, bollards and waste bins.
PE film is similar to the plastic found in carrier bags and can be recycled in the same way. To help our customers recycle, we have front of store recycling in our larger stores for carrier bags. We have extended this particular service to allow films of the same material type (polyethylene) to be added, for example salad bags. A new logo has been introduced which can be found on bread bags, toilet roll packaging and bags used for frozen products so our customers know what they can recycle at our stores.
Reducing hard to recycle materials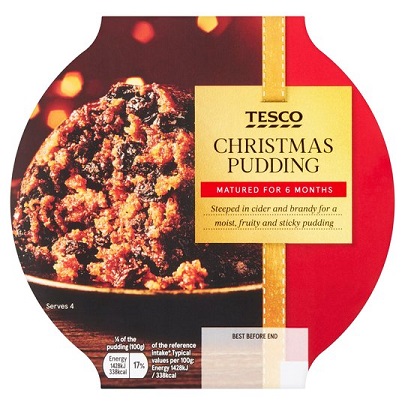 We committed to removing black plastic which is difficult to recycle, so we put the necessary steps in place to stop using black plastic in our Own Brand product packaging by the end of 2019.
Working with our suppliers Designworks, we have recently moved three of our "Go Create" lines from a black Polypropylene cap to clear Polypropylene cap. It means we have moved from a non-recyclable packaging to a recyclable one, removing 1 tonne of black plastic per year.
In addition, our supplier, Matthew Walker has moved thirteen of our Christmas pudding lines from black Polypropylene tubs into other recyclable colours. This means we have removed 33 tonnes of non-recyclable black plastic from our packaging.
To date, we have removed in excess of 1,450 tonnes of black plastic from our packaging.
Removing plastic packaging from our products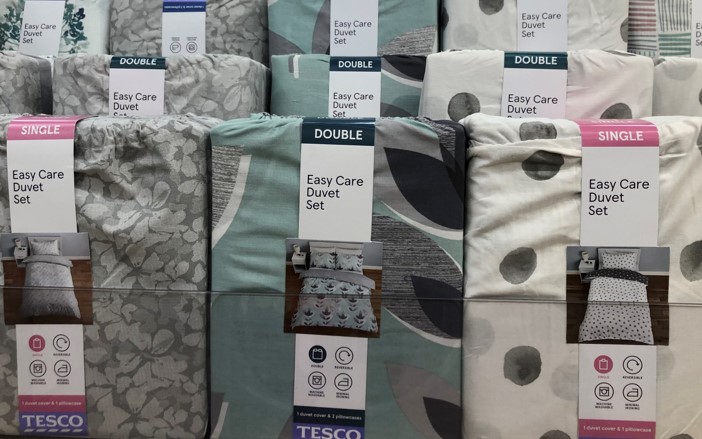 Across our operations, we will remove packaging where we can.
Working with our bedding suppliers KAM and Turner Bianca, we have removed all LDPE (Low Density Polyethylene) bags from 204 adult bedding lines, replacing them with a fabric bag. In bed sets the bag is made in a way to show the front and reverse design and is of exactly the same quality as the set itself. As a result of this change, 65 tonnes of plastic have been removed per year and the new card wrap band is made from FSC certified paper.
We have also changed the Polyethylene terephthalate (PET) tubes with Polypropylene (PP) handles on 3 lines of Kids Stationary, moving to card boxes with an inner PET tray. The weight of the inner PET Tray is 40% lighter than the PVC tubes, this means 1 tonne of plastic has been removed per annum.