Our approach

Our people make our business and are key to serving customers a little better every day. We employ over 440,000 colleagues globally and want to ensure that every one of them has the opportunity to get on.
Getting on means different things to different colleagues. For some, it's about enabling them to be themselves; flexibility that allows them to fit work around their lives and being supported to lead a healthy lifestyle. For others, it means developing the skills they need now and in the future; choices to move roles and opportunities to gain experience. Whatever it is colleagues want to achieve, our aim is to help them succeed by providing them with the flexibility, skills and reward to 'get on'.
Competitive reward
We believe in offering a competitive total reward package. Over the last two years we have made our largest ever investment in UK store colleague pay which has seen hourly rates increase by over 10.5%. We know our colleagues value the wider benefits we offer such as premium payments for Sundays and Bank Holidays, a staff discount, retirement savings plan, share schemes, health support and exclusive deals and discounts.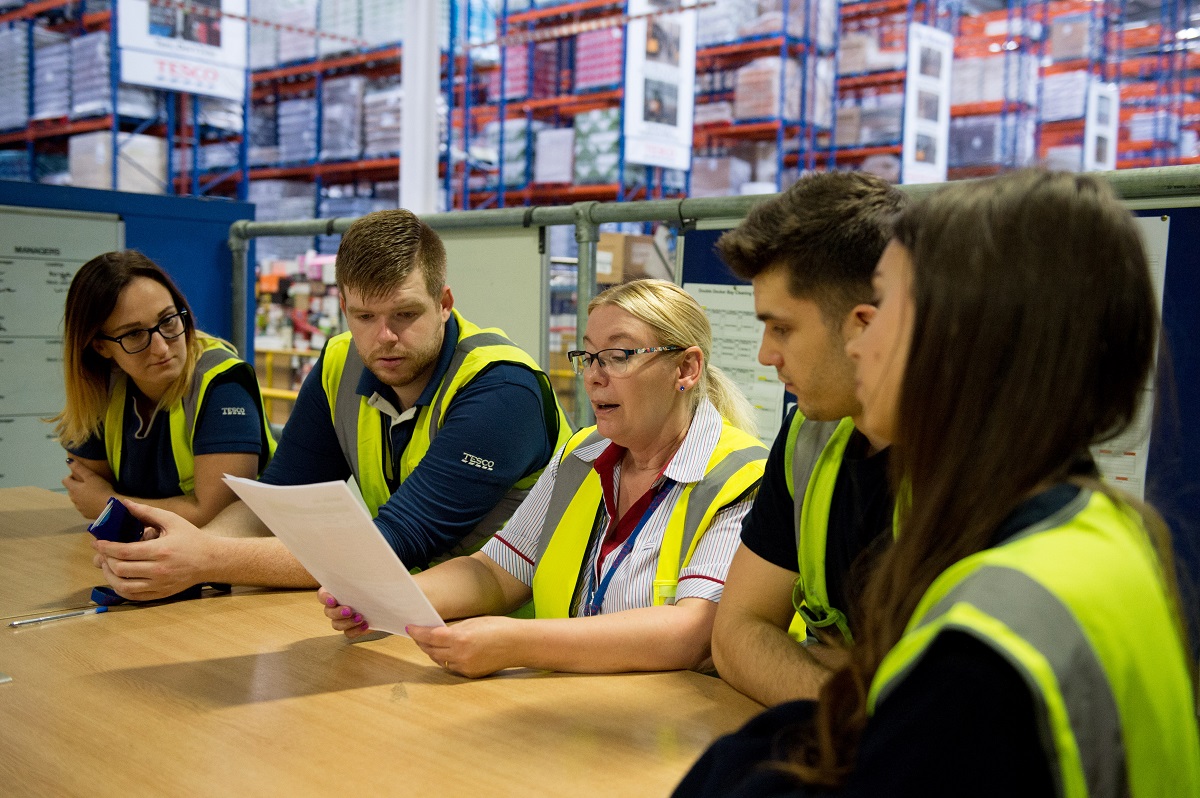 Skills and training
We are helping to equip our colleagues with the skills they need to develop their long term careers, such as digital and management skills. We offer a range of learning opportunities through our Tesco Academy, from face to face courses to online resources, so that colleagues can take ownership for their own careers. In the last year alone we have offered over 1,200 apprenticeships in the UK.  Find out more information here.
Young People
We are helping to develop the next generation of talent through programmes such as Movement to Work, which provides unemployed young people with training and work experience, and our partnership with the Prince's Trust. Find out more information here. 
Inclusion and diversity
Everyone is welcome at Tesco. Whatever their background or personal circumstances, we know it is important to our colleagues to be able to balance work and home life. We have committed to introduce an updated suite of contracts and new technology to give colleagues greater flexibility and control over their work schedules. Our five diversity networks support our colleagues to be themselves at work: Out at Tesco, Women in Tesco, Black Asian Minority Ethnic Network, Tesco Armed Forced Network and Disability Network. We are proud to be members of the 30% Club and are working hard to help women succeed in our business. Find out how we are tackling the gender pay gap.
Health and well-being
We want to help our colleagues look after their physical and mental well-being so they can be at their best at work and at home. We are working with our Health Charity Partners to develop the UK's leading workplace health programme. Find out how we are supporting our colleagues to lead a healthy lifestyle.
Targets and Actions
Target
To help our colleagues succeed by providing them with the flexibility, skills and reward to 'get on'
Targets and Actions

Actions

&

KPIs
1

To have a competitive total reward package that colleagues value

UK 1.05
Tesco average pay versus market median


2

Increase colleague skills and digital confidence so they can access a greater number of roles and develop their long-term careers

Group: 77%
Percentage of colleagues that agree 'I have the opportunity to learn and develop'
Group: 17,156
Number of colleagues who have received manager development training


3

Provide opportunities to help young people develop their employability skills and start their careers

Group: 2,373
Number of opportunities provided for young people


4

Introduce an updated suite of contracts and new technology to give colleagues greater flexibility and control over their work schedules

Group: 82%
Percentage of colleagues that agree 'I am able to work flexibly around my life'


5

Continue to build an inclusive culture where everyone has the opportunity to get on

Group: 84%
Percentage of colleagues that agree 'There is an inclusive culture at Tesco where people are accepted for who they are without judgement'
Board of Directors: 31%
Female share of Board
UK: 11.3% mean
UK: 8.9% median
Average gender pay gap


6

Help colleagues look after their physical and mental well-being so they can be at their best at work and at home

Group: 69%
Percentage of colleagues that agree 'Tesco helps me lead a healthy lifestyle'