Tesco Lotus Food Waste Data 2019/20
At Tesco, we have no time for waste. In 2020, Tesco Lotus published its food waste data for the second consecutive year, thus far the only retailer and food business in Thailand to do so. Tesco Lotus has been a pioneer in driving food waste reduction in Thailand since 2017, when we began donating food surplus from all hypermarkets in Bangkok. The initiative has since been expanded to hypermarkets in other cities outside the Thai capital, with the aim to eventually stop wasting edible food from all stores nationwide.
Highlights from 2019/20 include:
288 tonnes of surplus was redistributed for human consumption, an increase of 80% on the previous year.
19% decrease in food safe for human consumption disposed of compared to last year1.
Total food waste in 2019/20 was 9,109△ tonnes (0.46%△  of sales). This represents a 13% decrease compared to last year.
Transparency and measurement are essential for identifying hotspots, and in tackling the causes of food waste. It helps everyone understand how much, where, and why food is being wasted.
In 2019/20 Tesco Lotus sold 1,988,178 tonnes of food and generated 9,397 tonnes of surplus food (not sold to customers), equivalent to 0.47% of sales. The 11% decrease in surplus from the previous year is due largely to an improvement in our store ordering systems.
288 tonnes of surplus, equivalent to more than 685,000 meals, was redistributed to people in need through our charity partners, an 80% increase compared to last year. In locations where we do not have charity partners food is sent to our colleague canteens. Overall this has resulted in a 19% decrease in food safe for human consumption disposed of since last year.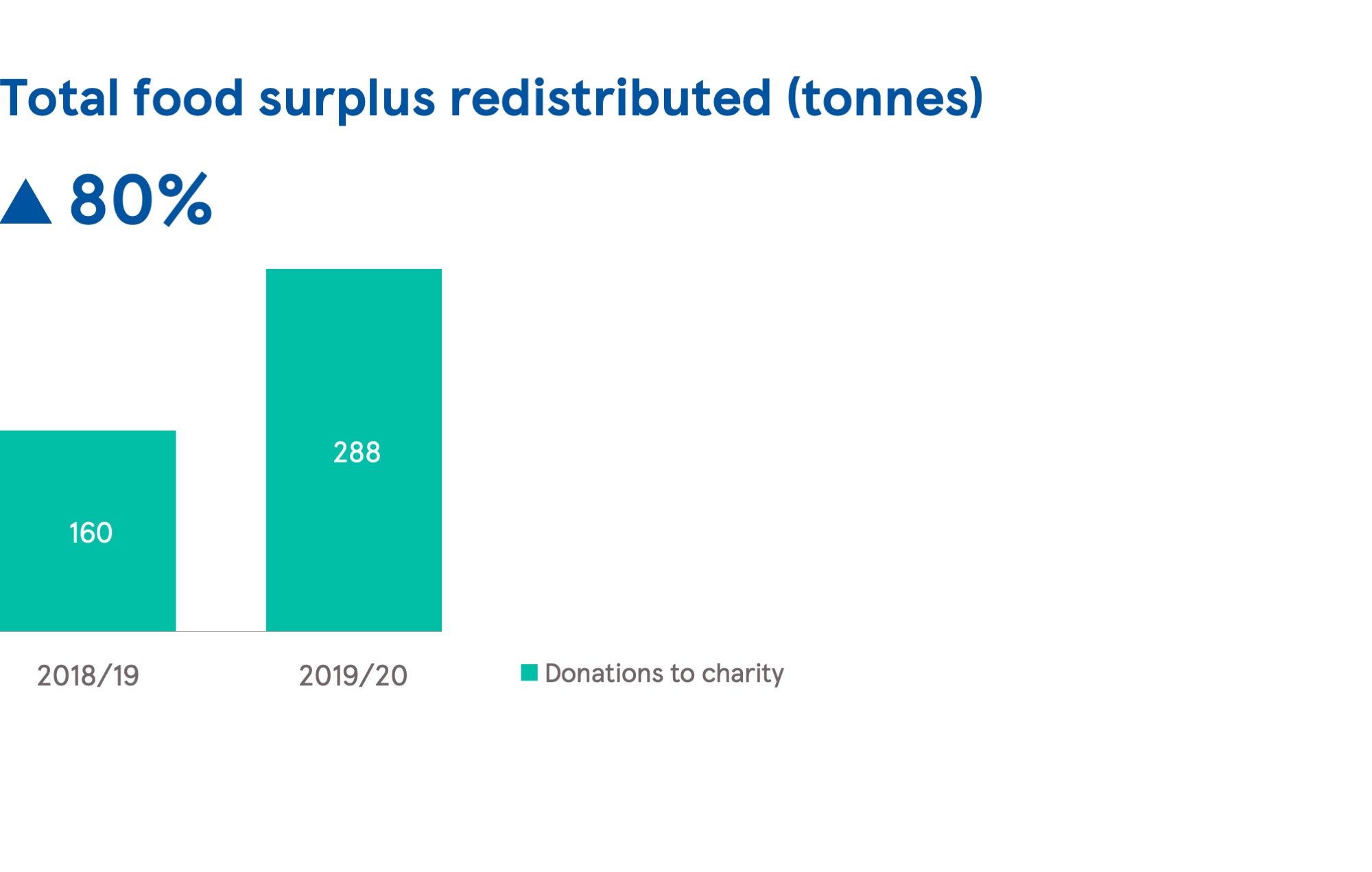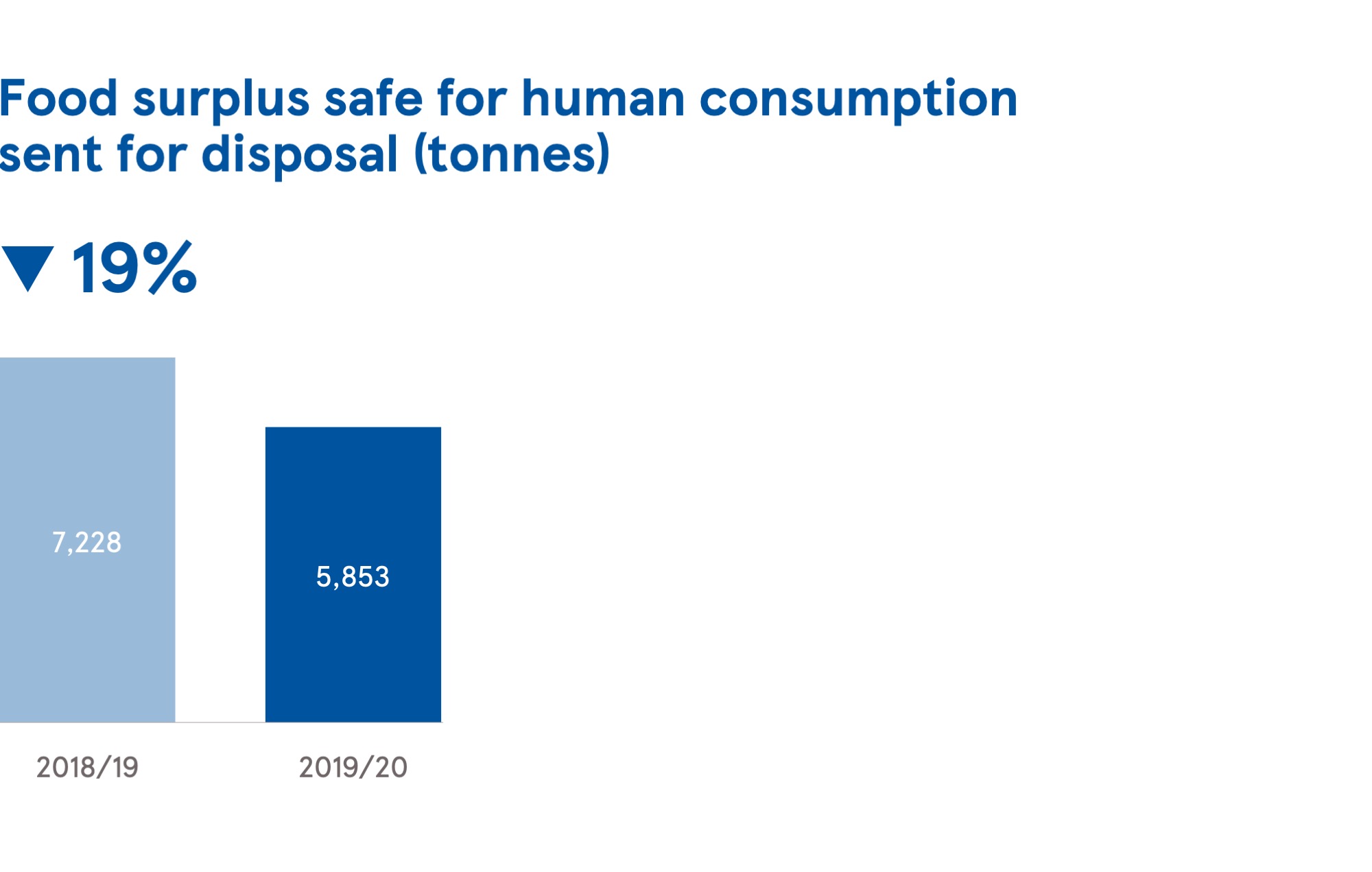 Total food waste (food safe and not safe for human consumption) was 9,109△ tonnes (0.46%△ of sales). This represents a 13% decrease compared to the baseline of last year.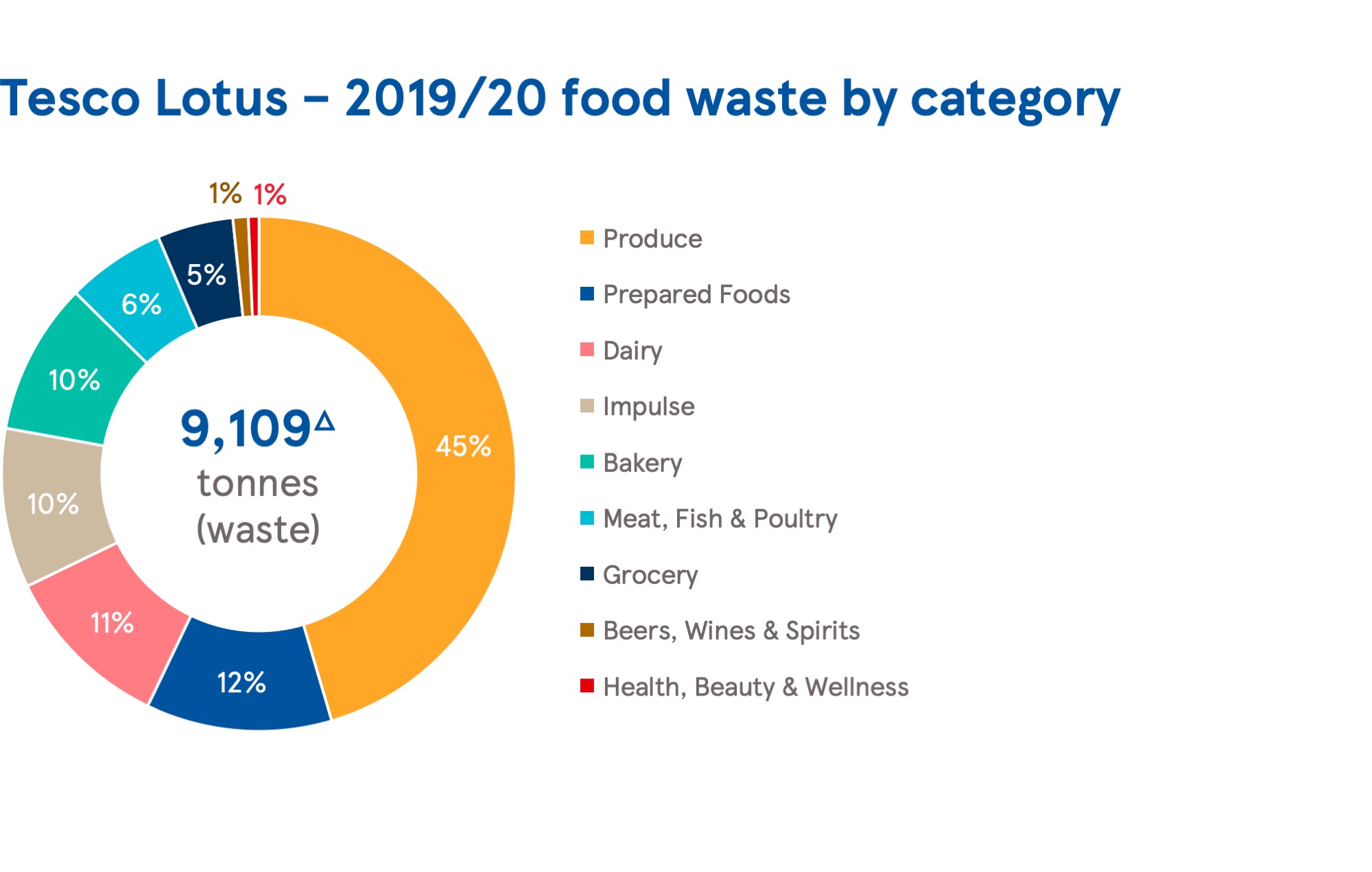 Produce continues to be the category with the highest waste. In 2019/20, as a result of closer partnerships with our producers, improvements to our ordering and in store price reduction processes the amount of food waste in the produce category has reduced by 14%.
Alongside initiatives to prevent edible food from going to waste, we are trialing ways to make use of food that is not fit for human consumption, including donating suitable food surplus to sea turtles in a marine conservation centre and working with our partners to compost inedible surplus.
In November 2019, Tesco Lotus hosted Thailand's first annual conference on food waste, inviting government offices, the private sector, academics, NGOs, thought leaders in Thailand to come together to combat food waste in Thailand. At the conference, Tesco Lotus encouraged the public and private sectors to adopt the "Target, Measure, Act" framework to reduce food waste on the national and organizational level. Our aim in FY2020/21 is to engage our top food suppliers to also adopt the Target, Measure, Act framework and publish their food waste data in 2021.
Find out how we calculate our food waste data here
KPMG LLP were engaged to provide independent limited assurance over the selected food waste data highlighted on this webpage with a △ using the assurance standard ISAE 3000. KPMG has issued an unqualified opinion over the selected data. KPMG's full assurance statement is available here.
 1Food safe for human consumption is defined as suitable for donation to charity.