Bags of Help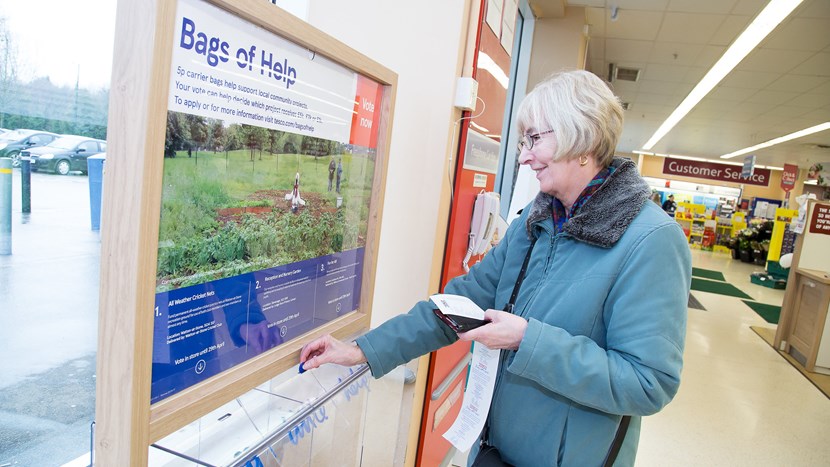 Funding local community projects across Britain
We encourage our customers to bring their own reusable bags to Tesco and in August 2017 we replaced single use carrier bags with new Bags for Life which are now made from 100% recycled and fully recyclable plastic. Customers can have their Bag for Life replaced for free if broken or damaged, in store.
The sale of our Bags for Life raises millions of pounds for good causes across the United Kingdom. Projects range from improving community buildings and outdoor spaces, to new equipment, training coaches and volunteers, and hosting community events. Each time a customer shops they will be offered a blue token at the checkout and be able to vote for the project they want the money to go to. Every three months we hand out grants of up to £2,000, £1,000 and £500 in 575 regions across Britain. 
Through their work in the community, our Community Champions are able to raise awareness of this initiative and encourage local charities and organisations to apply and offer support.
Bags of Help has awarded over £80 million in grants to over 27,000 community projects since launching in October 2015. To make sure the money goes to causes that matter, we work with a charity called Groundwork.
Tesco Bags of Help is responding to the current Coronavirus (COVID-19) crisis by setting up a new short-term fund to support local communities. The fund will provide a single payment award of £500 to organisations who are supporting vulnerable groups.
How do we work with Groundwork?
Groundwork charity working locally and nationally to transform lives in the UK's most disadvantaged communities. Last year, they helped more than 9,000 community organisations across carry out community projects, unlocked 50,000 days of social action, planted 59,000 trees and supported 6,000 learners to achieve qualifications.
One of the key ways Groundwork supports communities is by distributing grants to local groups and charities. They also make sure groups can access support through their network of local enablers. These experienced community workers can help people with their applications and help deliver projects with the funds awarded.
As a charity Groundwork is committed to performing this role in the most cost-effective way possible. To help us administer the scheme we pay Groundwork £1.6 million pa. More than 60% of these management funds are used to provide this front-line support to local groups.
We are proud to be working with Groundwork to help us administer the scheme. To find out how to get involved and how to apply for funding visit: Groundwork Tesco Bags of Help.
Single use carrier bag reporting for 7th April 2018 – 6th April 2019 as reported to Defra
| | | | |
| --- | --- | --- | --- |
|   | England | Scotland | Wales |
| Number of single carrier bags | 121,749,784 | 9,920,784 | 6,137,504 |
| Sales inc vat | £6,087,489.20 | £496,039.20 | £306,875.00 |
| Sales ex VAT | £5,072,907.67 | £413,365.98 | £255,729.32 |
| Reclaimable Costs | £- | £- | £- |
| Charity donation | £5,072,907.67 | £413,365.98 | £255,729.32 |