Food Collection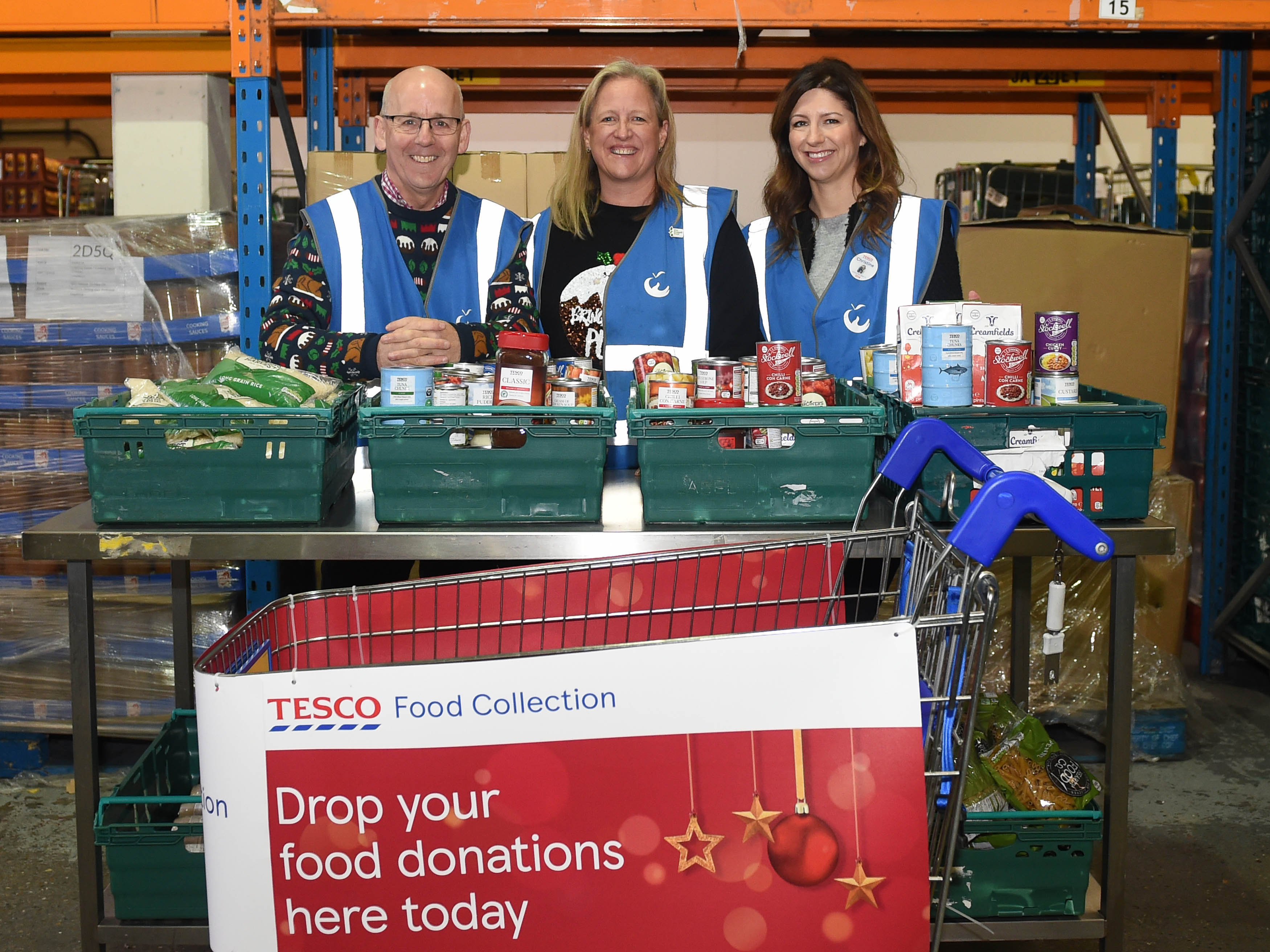 The Food Collection is part of our ongoing effort to encourage customers to donate long life food to charity. Since our first collection in 2012, we have collected over 82 million meals. This includes customer donations as well as the 20% top-up from Tesco and food donated to our permanent food collection points.
Who benefits
Our two charity partners – The Trussell Trust and FareShare – support a wide range of people in the UK who find themselves in desperate need of support. There are many reasons why people find themselves in this situation, from receiving an unexpected bill when on a low income to being alone and struggling to fight an addiction.
How to donate to FareShare and Trussell Trust in Tesco stores
| | |
| --- | --- |
| FareShare | Trussell Trust |
| Tinned meat | Tinned meat |
| Tinned fish | Tinned fish |
| Tinned veg | Milk (UHT or powdered) |
| Tinned soup | Tinned fruit |
| Rice | Tinned puddings |
| Dried pasta & noodles | Pasta sauces |
| Tea bags | Instant coffee |
| Instant coffee | Fruit juice (long life) |
| Tinned fruit | Jam |
Our charity partners
We work with two charities who are helping to feed people in need in local communities around the UK.
Trussell Trust foodbanks provide three days of emergency food to individuals and families in crisis. Frontline, professional agencies like the Citizen's Advice Bureau and children centres refer people in need to their local foodbank. By donating food you can help support local people in a simple practical way. Visit the Trussell Trust website for more details.
FareShare is a UK-wide charity that redistributes food that would otherwise go to waste to charities and community groups, including homeless shelters, children's breakfast clubs, and domestic violence refuges. These organisations turn the food into nutritious meals and provide life-changing support. Visit the FareShare website to learn more.
How to donate to FareShare and Trussell Trust in Tesco stores
20% top-up
We add up how much food our customers have donated, then top this up by 20%.
FAQs
How can I get involved in volunteering?
Volunteers provide essential support to the Food Collection, such as helping to raise awareness with our customers and managing the donated food. To find out more and get involved, visit FareShare and Trussell Trust.
Does Tesco profit from the Food Collection?
No we don't. By topping up all customer donations by 20%, we ensure that we don't profit from any food bought by customers in our stores and then donated to one of our two partner charities. We also encourage thousands of colleagues to take part in collecting and sorting the food, and we deliver all the food collected for FareShare to their 20 regional depots. Furthermore, we pay for all of the marketing materials used to promote the Food Collection.
How do you calculate the 20% top-up?
The 20% top up is a monetary donation based on the weight of the food collected at a cost of £1.75 per kilogram.