Tesco Sustainable Dairy Group
Thank you to our farmers
We are incredibly proud of our British dairy farmers, who continue to produce some of the highest quality milk in the UK for you to enjoy, with the support of the Tesco Sustainable Dairy Group.
The Tesco Sustainable Dairy Group (TSDG), set up in 2007, is the largest group of dairy farmers working directly with a retailer. Herds range from 40 to 1,900 cows, and they supply us with fresh milk. In return, we pay guaranteed prices and agree long-term contracts. The TSDG also helps farmers invest in animal health and welfare, carbon reduction and supporting nature on farm.
Fair for Farmers Guarantee 
The TSDG is in its 15th year, and is one of the ways Tesco provides long-term support and security to British dairy farmers during periods of economic uncertainty.
We pay farmers a fair price based on cost of production. Since the cost of feed, fuel, and fertiliser changes so regularly, our prices are set independently for three months at a time by Promar International. This ensures farmers have a stable income - no matter what happens in the market.
The below graph shows that between April 2010 and December 2021, the price we paid our farmers was typically higher than the average UK farmgate milk price.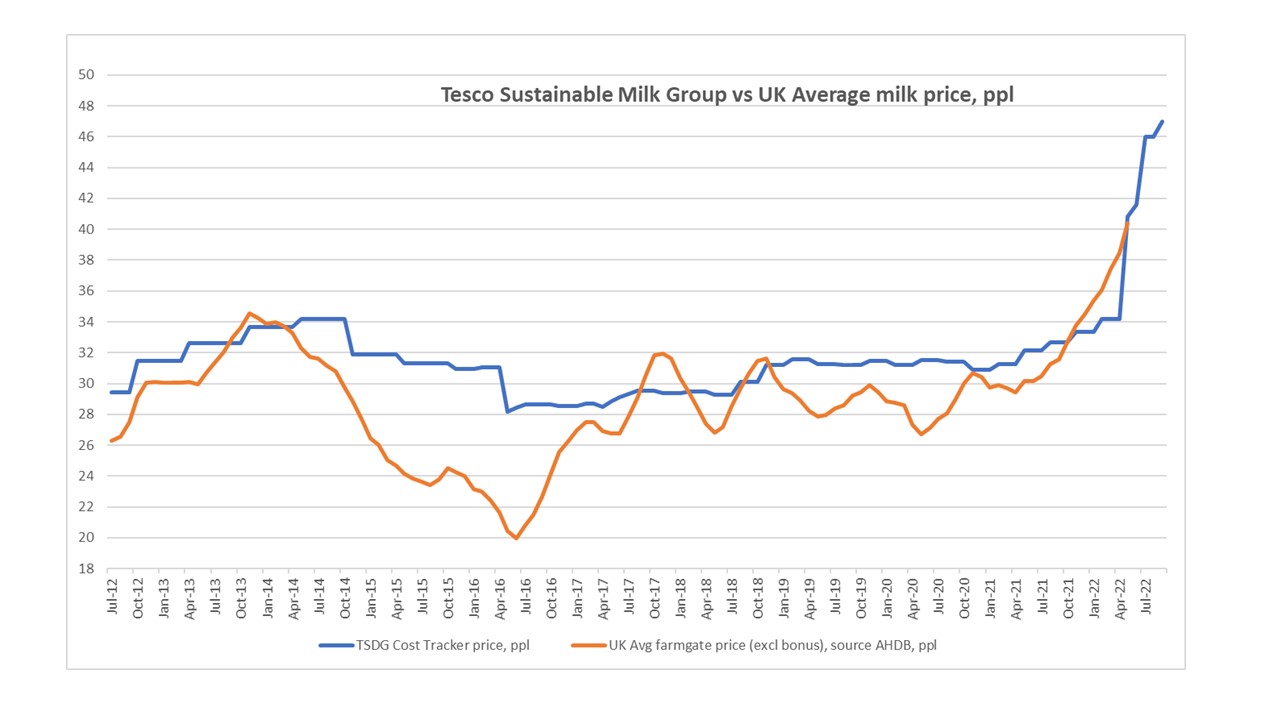 Since November 2007, Tesco has paid £300m over market prices to our dairy farmers. By paying a fair price, Tesco farmers have also been able to invest in animal health and welfare, carbon reduction and biodiversity.
Animal Health and Welfare
We have some of the best, award-winning farmers across the country, whose priority is the health and well-being of their cows.
All Tesco dairy farmers must adhere to the nationally recognised Red Tractor assurance scheme, as well as the additional standards of the Tesco Sustainable Dairy and Cheese Group Livestock Code of Practice.
See more information on our approach to animal welfare in the UK here. 
Carbon Reduction 
Since 2016, the Tesco Sustainable Dairy Group has reduced its carbon emission by 8.5% and is industry leading in this area.
All our TSDG farmers have received a bespoke carbon assessment report each year since 2016 from an expert consultancy who are CarbonTrust-accredited. Farmers are supported in understanding their personalised carbon reports and the emissions hotspots on their farms. Farmers are then able to put in place interventions, such as the optimised application of nitrogen fertiliser, increased animal health, energy efficiency and building soil organic matter.
The TSDG is at the forefront of innovation, supporting trials in new technology to reduce greenhouse gas emissions. 
Biodiversity 
Tesco Sustainable Dairy Group farmers are stewards of over 250,000 acres of British countryside. In 2020/2021, every farm in the TSDG voluntarily completed a biodiversity plan to ensure that nature flourishes on their farms. We continue to work with our farmers on research and development projects both to help reduce our impact on the planet and enhance biodiversity.
We're working with some of our dairy farmers alongside WWF to plant herbal leys in cow fields. This mix of seeds is not only good for the cows, but good for our planet. Carbon dioxide is absorbed from the atmosphere whilst helping insects and wildlife bloom. Find out more here.
The Tesco Sustainable Dairy Group is working to further support swifts, swallows and martins to dairy farms. Swifts and martins are on the Red List for Birds.  Red is the highest conservation priority, with species on it needing urgent action. Each participating farm is aiming to manage 1.5% of their farmed areas for these species. With the potential installation of over 5,000 nest boxes, this will be one of the UK's biggest farmer-led conservation efforts for these species.