Our partnership with WWF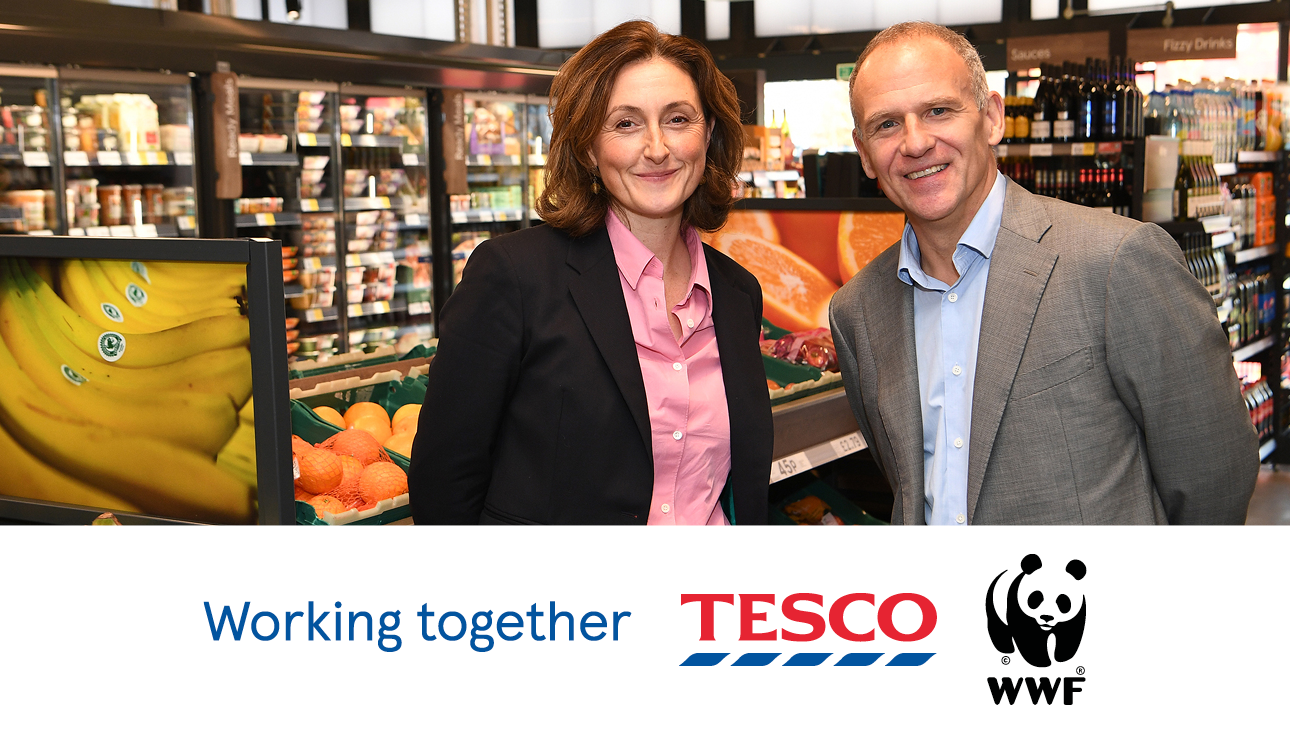 In November 2018 we announced a new four year partnership with WWF to help us deliver our environmental commitments in the Little Helps Plan and accelerate progress.    
With food production at the centre of many environmental issues, Tesco and WWF have come together to make it easier for everyone to access an affordable, healthy and sustainable diet.  Through the partnership we aim to halve the environmental impact of the average UK shopping basket.  In order to deliver this we will focus on three key areas: helping customers to eat more sustainably, restoring nature in food production and eliminating waste.
"Our Little Helps Plan illustrates what we are doing to address the most significant environmental and social challenges facing our shoppers, colleagues, suppliers, and communities. I'm pleased we're making progress, but we want to go further to achieve our goal of providing customers with affordable, healthy, sustainable food."
"Partnering with WWF will help us make our customers' shopping baskets more sustainable. Our shared ambition is to reduce the environmental impact of the average shopping basket by half. By working with farmers, suppliers, colleagues and other experts we hope to develop innovative solutions so shoppers can put affordable, tasty food on their plates today, confident they are not compromising the future of food for generations to come."
Helping customers eat more sustainable diets
Joint research with WWF tells us that nearly 80% of customers want supermarkets to do more to offer food sourced in a responsible, sustainable way, and 75% think cost is a barrier.
To start, we'll create a pioneering industry measure of the environmental impact of the average UK shopping basket, based on key foods and ingredients. We will then act to reduce this impact, with the ambition to reduce by half, while ensuring products remain affordable for our customers.
You can see the steps we've already made in the video below, and how we'll work with WWF to move forward.
Restoring nature in food production
As a business we've committed to leading the industry in addressing the sustainability challenges and environmental impacts in our supply chains, and to help protect our natural resources.
We've already prioritised the five natural environments on which we have an impact through our operations or sourcing of ingredients or raw materials – farmlands, forests, marine, freshwater and climate.
Restoring nature in food production means taking action to protect and sustain these natural environments long term. We'll work closely with WWF to meet some of the commitments we've made, including our journey to 100% certified responsible seafood products and eliminating deforestation in the sourcing of palm oil, soy, wood/paper and Brazilian beef for Tesco own brand products.

Eliminating waste from the retail industry
We always consider the environmental impact of our business on the environment and take the sustainability of our products and packaging seriously.
Packaging plays an important role in protecting products and reducing food waste, but it shouldn't come at an unaffordable cost to the planet. We only use packaging where it serves a clear purpose and are working towards all remaining packaging becoming part of a closed loop system - meaning none will go to waste and end up in the natural environment. 
Our approach to packaging and a closed loop system will play an important role as we work to help eliminate waste with WWF.
For additional information on Tesco and WWF, read our blog from Tanya Steele, WWF CEO UK, here.