Healthier products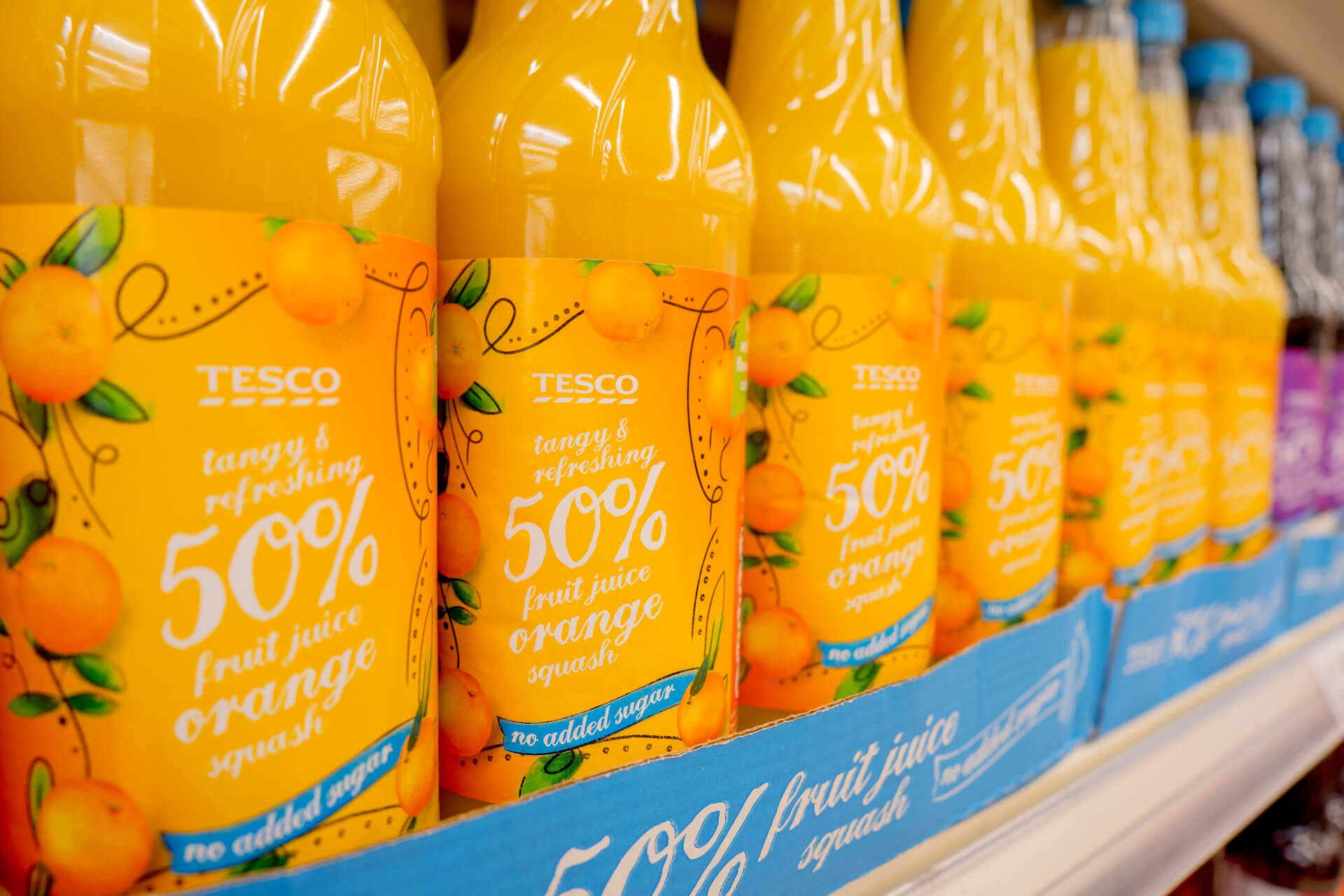 At Tesco, our purpose is to help serve Britain's shoppers a little better every day. One of the ways we do this is by helping our customers, our colleagues, their families and our communities live healthier lives.
Reformulation: Reducing calories, sugar, fat and salt
We believe healthy and nutritious food can still taste great. Our reformulation programme means that customers can enjoy their favourite products knowing they are now better for them. Through reformulation, we've made thousands of the products our customers enjoy a little healthier. We're continuously working to reduce the calories, fat, sugar and salt and increase fruit, veg and fibre content of our products without compromising on taste or quality.
Tesco were the first retailer to reduce sugar in own brand drinks to below the Soft Drinks Industry Levy, but we have been working on sugar reduction for many years. On top of this historical work, we have also supported the PHE sugar reduction programme, focusing on categories that contribute the most sugar to children's diets. In Year 2 of the programme we achieved on average a 5.3% reduction versus a January 2015 baseline across these key categories that includes cereal, yogurts, puddings, cakes and biscuits.
For calories, we have used customer data to identify the product categories that put the most calories into shopping baskets and set out a 50 billion calorie reduction target to be achieved by end of December 2020, versus a January 2018 baseline.
So far, we have removed 24.46 billion calories through our reformulation strategy and are on track to deliver the full 50 billion by the end of 2020. As part of this, we have removed 8.7 billion calories per year from our front of store sandwich range by decreasing the fat content and removing added sugar from the mayonnaise.
In the UK most people do not eat enough fibre. The average daily intake is 17.2g/day for women and 20.1g/day for men, well short of the recommended intake of 30g per day. We've been working to increase fibre content in products where it occurs naturally. For example, we've added whole wheat flour into our garlic bread. Our gluten-free pasta varieties using lentil or chickpea flour provide a higher fibre alternative while also being suitable for those with specific dietary needs.
We know that achieving 1 of 5 a day portions of fruit and vegetables is also difficult for many of us. That's why we've increased the vegetable content of our own brand chilled and frozen ready meals. 42% of our range now contribute at least 1 of 5 a day, up from 26% in 2018.
Cost: Exclusive Ranges and Everyday Low Prices
Innovation in product development makes healthier eating even more affordable for customers. In 2016 Tesco launched its Perfectly Imperfect range of 'wonky' fruit and veg, to help reduce food waste while offering our customers great value fresh food.
More recently, in 2019 we launched 'Fresh 5'– fantastic offers on 5 lines of fresh produce which change every 2 weeks, making it more affordable for our customers to eat additional  fruit and vegetables.
Our 'Exclusively at Tesco' range of good quality fruit, vegetables, meat, fish and poultry brands are also helping to make healthier eating more affordable. They can be found in two thirds of customer baskets.
We've moved away from confusing promotions towards every day, low pricing. We offer great prices on lots of healthy food including fruit and vegetables.
We also offer Free Fruit for Kids in our stores, as a little help for kids to eat more healthily. Over 100 million pieces of fruit have been given to children since 2016. In the UK, all of our store colleagues also have access to free fruit during their working day. On top of this, during  our regular colleague health events we offer all of our colleagues in the UK, Ireland and Central Europe free fruit to help towards their 5-a-day, and have so far given out 8 million pieces of fruit in the UK.
100 m
Pieces of free fruit given to children (UK)
8 m
Pieces of free fruit given to colleagues (UK)
Information: Clear labelling
We've a long history of leading the way with clear nutritional labelling on our food. Labels on the back of packs have displayed nutritional information since 1985. In 2005, we were the first UK retailer to put nutrition information on the front of packs, based on Guideline Daily Amounts.
In 2019 we also launched our 'Healthy Choice' logo to help make the healthier choice the easiest choice. This logo can be found on inherently healthy Tesco own label products which meet a strict set of nutrition criteria.
Online dietary and lifestyle filters are our latest way of providing more information and  highlighting healthier choices to customers. Online customers with special dietary needs are able to quickly filter products by requirements, such as lactose-free, vegan, gluten-free or low salt.
Customers with dietary and lifestyle needs.
We want to make sure there are no barriers to food choices. For the fifth consecutive year, Tesco has been named Free From Retailer of the Year.
Know how and inspiration
In July 2019, we held our fourth UK customer health event. These events are focused on helping customers find affordable and easy ways to make their shopping basket healthier.
Our 'Easy Ways to Eat More Veg' theme featured two healthy and easy recipes from our health ambassador, Jamie Oliver; 'super speedy pea and courgette pasta' and 'super charged corn on the cob'. Jamie also created a meal planner for Tesco magazine with suggestions on how to easily boost traditional recipes with tasty vegetables.
'Helpful Little Swaps' encourage customers to discover and try healthier alternatives of the products they love at the same price or less; and our 'Meat & Veg' range; which combines beef and lamb products with vegetables to help customers include more veg in their meals and reduce time in the kitchen.