Welfare Outcome Measures & Key Performance Measures
Tesco Retail UK
Last updated 1/8/2019
Our Reporting Approach
Customers expect great products and also expect us to take animal welfare seriously when sourcing these products. We are committed to working responsibly in this area and will continue to make progress by supporting best practice in our supply chains. Our Tesco Welfare Approved Standards are industry leading and independently audited.
Being transparent about our policies, standards and progress is important. Increasingly the industry is using outcomes measures derived from animal based indicators to assess the net welfare impacts.  Tesco has embedded a system of reporting for a range of species specific outcome measures.
The indicators we use can be applied under a variety of different conditions (farm, transport and slaughter) and address:
good feeding
good housing
good health
appropriate behaviours
Indicator data is submitted by suppliers on a monthly basis and/or derived as part of our ongoing programme of independent third party inspections. The data allows Tesco to track and trend relative performance within any given sector and monitor individual supplier performance over time. This is pivotal to our supplier engagement and enables us to support improvement and good practice.
Key measures and trends for the global supply chain to Tesco (UK) are reported below. These are reported as sector averages (across the whole supplying geography) unless otherwise indicated. They are given for the reporting period April 2018 – March 2019.
Tesco outcome measure data is collated across all global supply chains for Tesco (UK) Ltd and covers criteria including:
Reporting data is used to evidence compliance with our overarching animal welfare policy requirements e.g. close confinement, maximum transport times and pre-slaughter stunning that are applicable to all species. These are then supplemented with a range of species specific measures.
Unless otherwise specified the data relates to the global supply base to Tesco (UK).
Farm Data
Farm Assurance
In addition to our Tesco Welfare Approved Standard, as a pre-requisite 100% farms supplying us must be certified to an approved independent assurance scheme, which is compliant with ISO 17020 inspection requirements.
All of our British farms are assured by either Red Tractor or RSPCA. Find below a table of the Farm Assurance Schemes Tesco recognise.
| | | |
| --- | --- | --- |
| Scheme | Sector | Higher Welfare Standard |
| Aquaculture Stewardship Council | Aquaculture |   |
| BEIC – Lion Code | Laying Hens |   |
| BIM Certified Quality Aquaculture | Aquaculture |   |
| Bord Bia | Beef & Lamb (Irish) |   |
| British Quality Trout | Trout |   |
| DB Kontrol | Pigs and Poultry (Danish) |   |
| Debio | Aquaculture (Organic) | x |
| Englandsgrise | Pigs (Danish) |   |
| FAWL | Farm Assured Welsh Lamb |   |
| GenesisGAP Chicken | Poultry |   |
| GenesisGAP Duck | Poultry |   |
| GenesisGAP Pig Standard | Pig |   |
| GlobalGAP | Aquaculture |   |
| IKB Kip | Chicken |   |
| IKB Nederlands Varkens | Pigs |   |
| IKB Varkens | Pigs |   |
| Naturland |   |   |
| NIFQAS | Pigs, Poultry, Beef & Lamb |   |
| Organic EU Regulation (EC) No 834/2007 and 889/20081 | Prawns | x |
| Organic Farmers & Growers | All | x |
| Organic Food Federation | All | x |
| Organic Trust | Trout | x |
| PAI International Pig Standard | Pigs |   |
| QS | All |   |
| Quality Meats Scotland | All |   |
| Red Tractor | All |   |
| RSPCA Assured | All | x |
| SKAL | All (organic) | x |
| Soil Association | All (organic) | x |
Close Confinement
The Tesco Animal Welfare Policy stipulates that close confinement systems must actively be avoided. Implementation is ongoing, but there is progress across all sectors. For example, in 2016 we committed that all our shell eggs would be 'cage free' by 2025. Since then there has been a year on year reduction in caged egg production for shell eggs.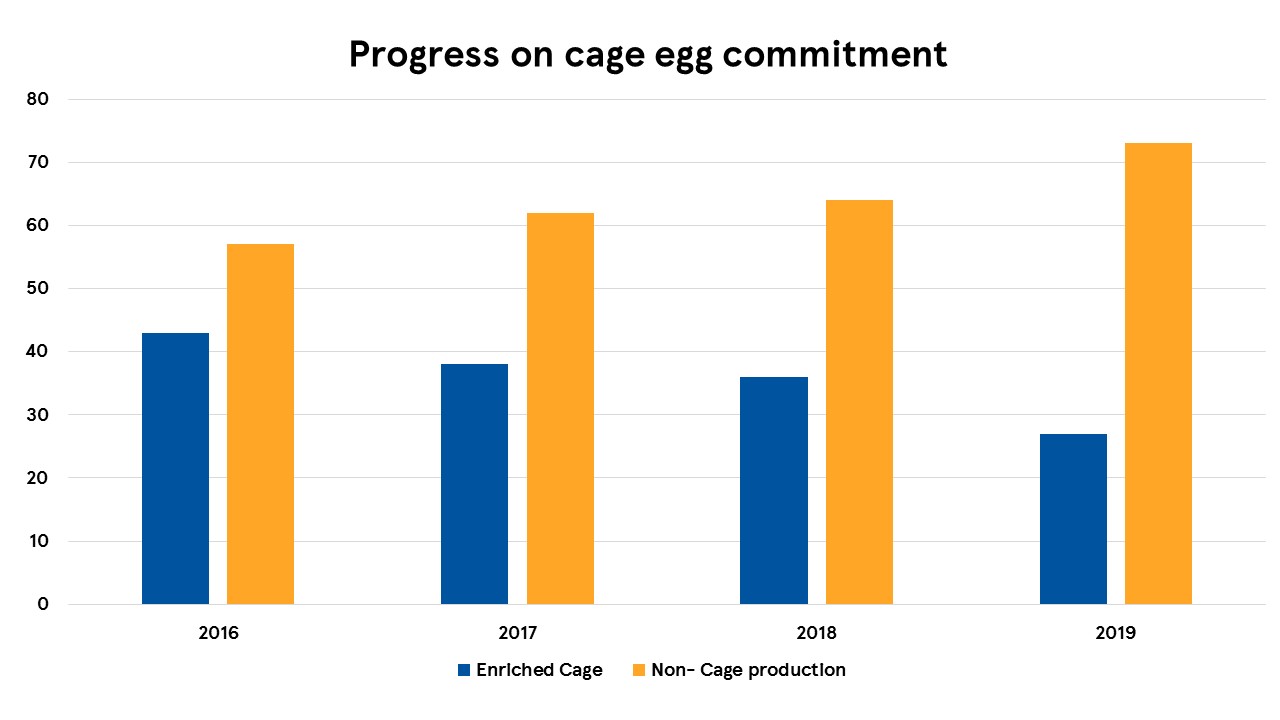 100% of fin fish are either wild caught or farmed in open water systems.
100% of finished pigs are housed in systems which meet or exceed stocking density requirements and are never restrained or housed individually.
100% of breeding females (dairy cattle, sows and ewes) are never tethered
100% sows are not confined in stalls during pregnancy post service.
100% of our Finest* pork (whether sold as a cut, further processed product or recipe ingredient) is outdoor bred in systems where sows farrow in loose housed (arc) accommodation.
100% of poultry species for meat production are never housed in caged systems and meet or exceed the space requirements as defined in EU/UK legislation. 
Routine Physical/Surgical Interventions Policy
Tesco encourages farming practices that reduce the need for management mutilations. At present tail docking of dairy cattle, beak trimming in commercial meat chickens, fin clipping of fin fish, dubbing of cockerels and mulesing of lambs is not practiced by any producers within any of our global supply chains.
None of our UK or Dutch finished pigs are castrated and Tesco supports the work of the EU Pig Innovation Group; exploring methods of raising entire male pigs within EU pig supply chains as an alternative to surgical castration. 100% of our Italian finished pigs used in a range of our specialty continental meats are free from tail docking and teething clipping, as are our Organic pigs.
100% of commercial meat chickens are free of any surgical intervention. 
| | | |
| --- | --- | --- |
| Procedure | Species/Sector | % Free of Mutilation |
| Tail docking | Dairy Cattle | 100% |
| Mulesing | Lamb | 100% |
| Beak Trimming | Meat Chickens | 100% |
| Dubbing | Breeder Chickens (Cockerels) | 100% |
| Castration | Finished pigs (NL and UK) | 100% |
| Tail docking | Finished Pigs (IT); Organic Pigs | 100% |
| Teeth Clipping | Finished Pigs (IT); Organic Pigs | 100% |
| Fin Clipping | Fin Fish | 100% |
Dairy Cattle
Members of the Tesco Sustainable Dairy Group (TSDG) are independently assessed at farm level to track and trend performance against key welfare indicators. Variables and associated compliance targets are provided below.
| | |
| --- | --- |
| Assessment Variable | Target |
| Mobility (lameness) | Herd average <10% |
| Johnes Disease | 100% of farms with Johnes disease not present in 98% of herd |
| Calving | < 8% cows require assistance at calving |
| Skin (Hock) Lesions | < 5% cows demonstrate any form of hock lesion |
| Body Condition Score | Cows to achieve a body condition score of 2 or above. |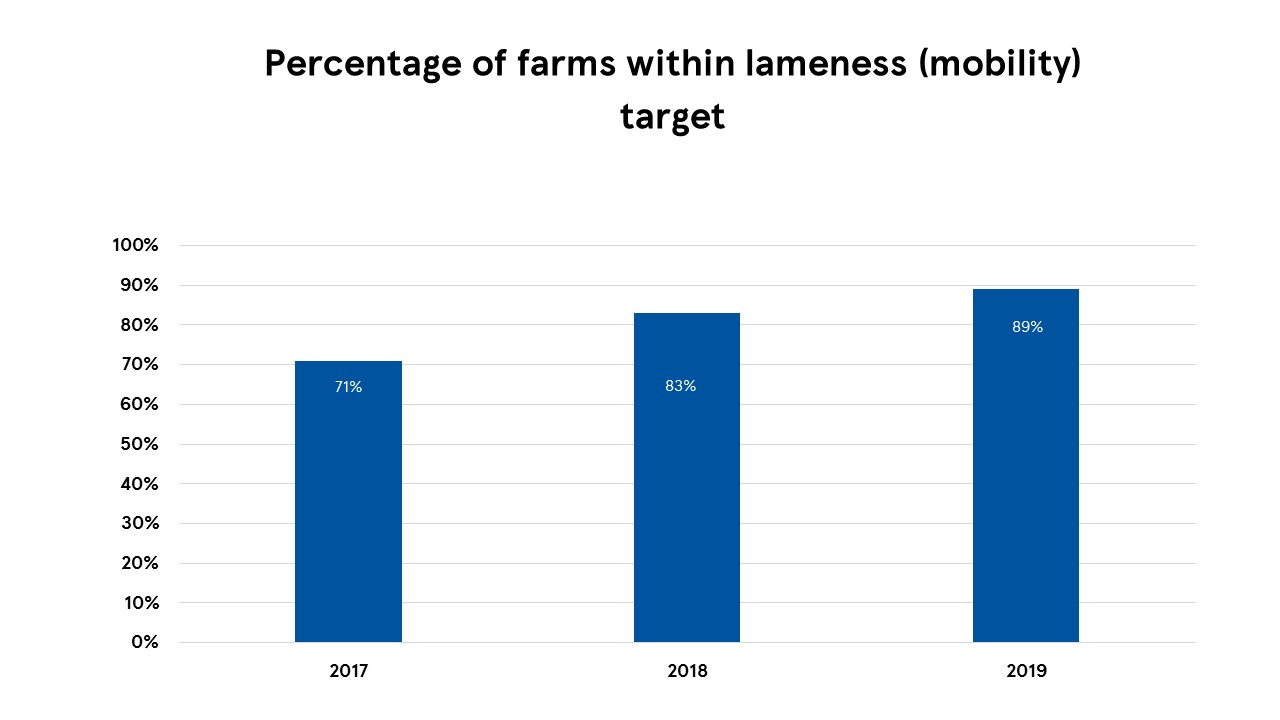 There has been a significant year-on-year improvement in cattle mobility; reflecting the attention to preventative foot care regimens.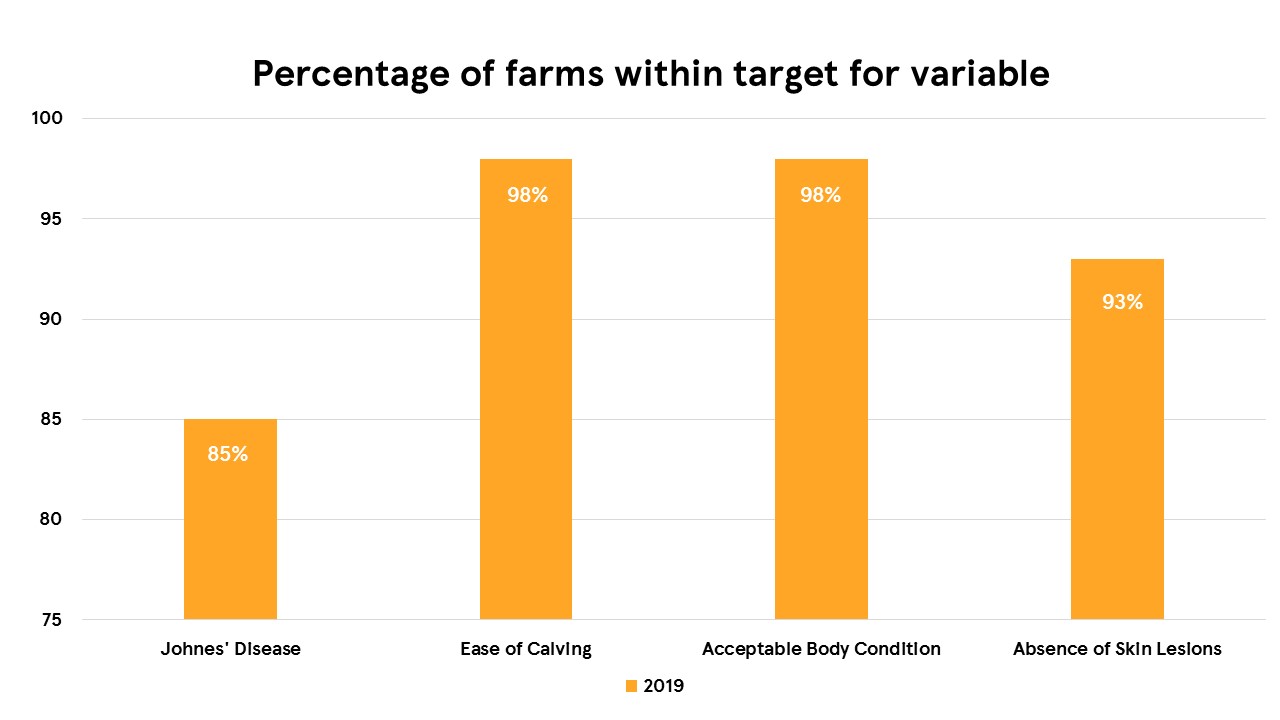 High proportion of farms meeting compliance targets indicating that key management considerations such as nutrition, housing and health care are consistently being met. More exacting targets set for absence of skin lesions and acceptable body condition reflects Tesco Sustainable Dairy Group continued driving of higher standards.
Poultry
Leg Culls associated with leg weakness
Mobility in poultry species is an area of key concern and hence the proportion of birds requiring culling for reasons associated with leg weakness is recorded. The percentage of birds culled for leg issues is consistent across species and is fairly static. It also indicates that sites as a whole take a proactive approach to managing bird mobility.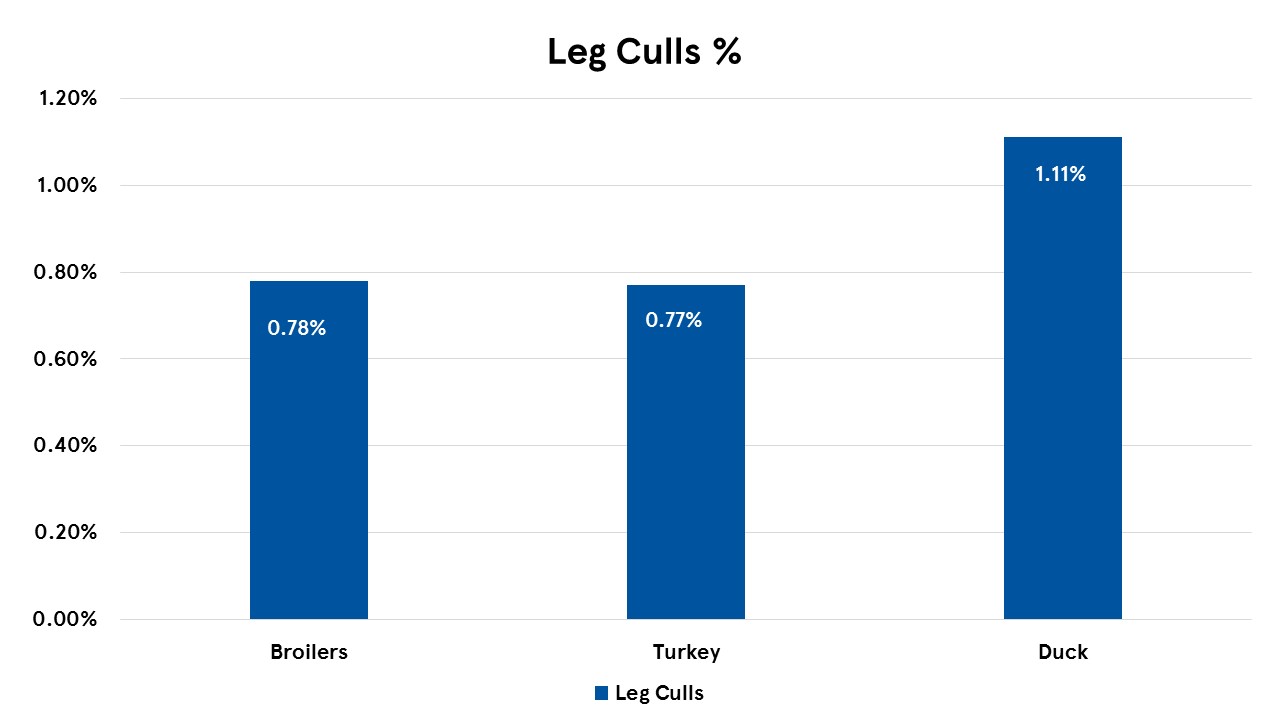 Lesions
Tesco are committed to housing systems and environmental management that ensure the occurrence of foot pad lesions (pododermatitis) in chickens, ducks and turkeys, leg lesions (hockburn) in chickens and breast blisters in turkeys are minimised. Tesco liaise with individual suppliers and communicate evidence of good practice and associated on farm management where individual suppliers are achieving significantly lower figures than the average.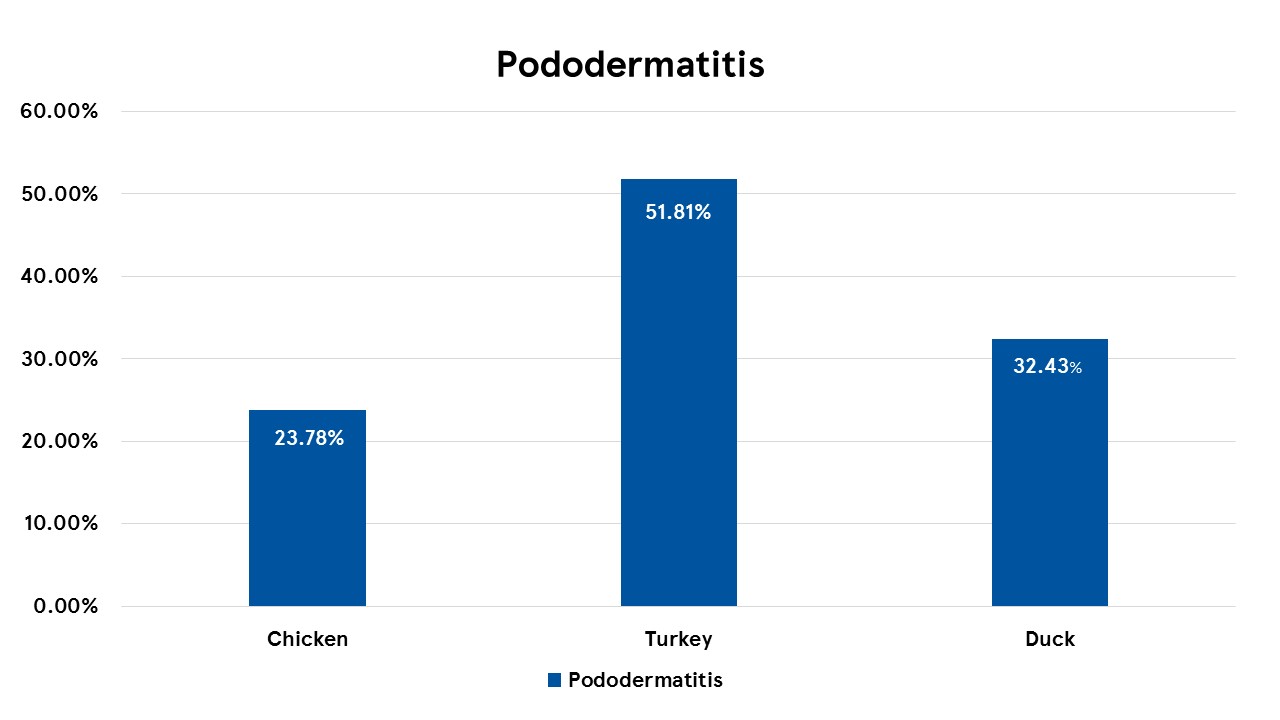 Laying Hens
Feather Coverage
Tesco requires that feather coverage is assessed and scored in all commercial egg laying flocks from 40 weeks of age. This enables producers to monitor conditions or behaviours that may result in feather loss and respond accordingly. A score of 0 indicates complete feather coverage, while a score of 2 indicates a degree of feather loss. These scores are independently verified during assessments. A majority of birds retain all or most of their feather coverage whilst in lay.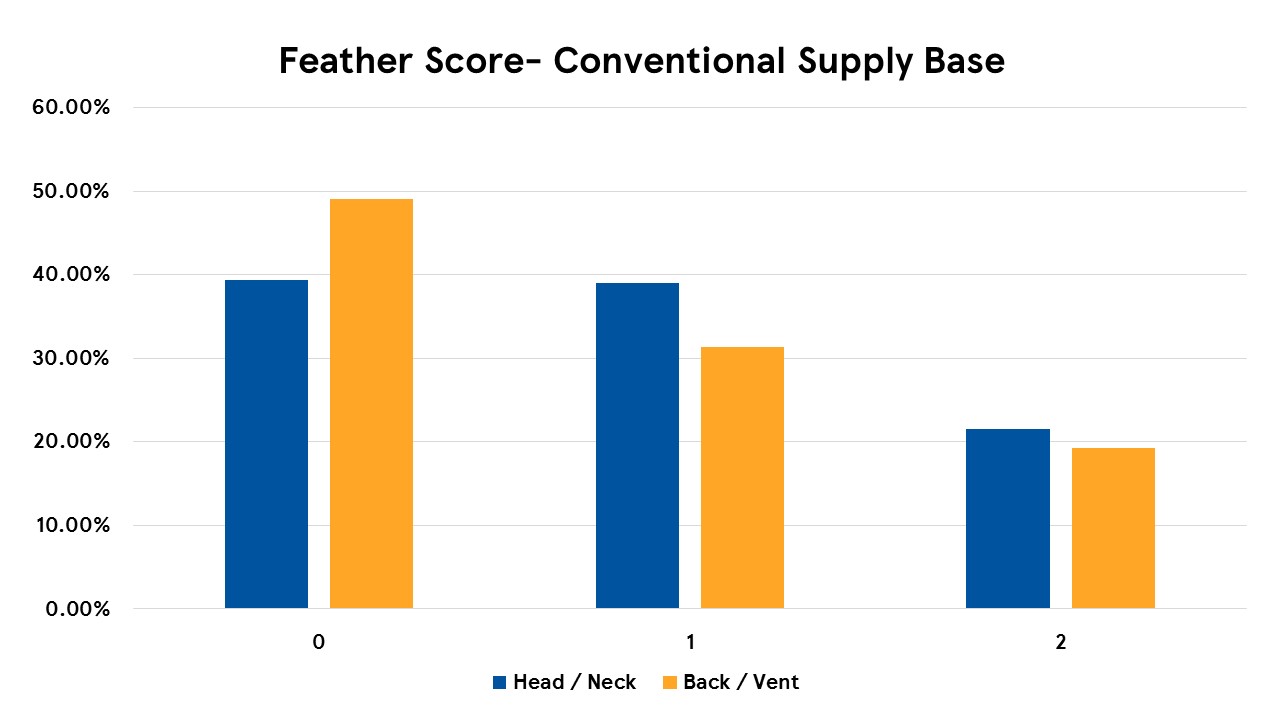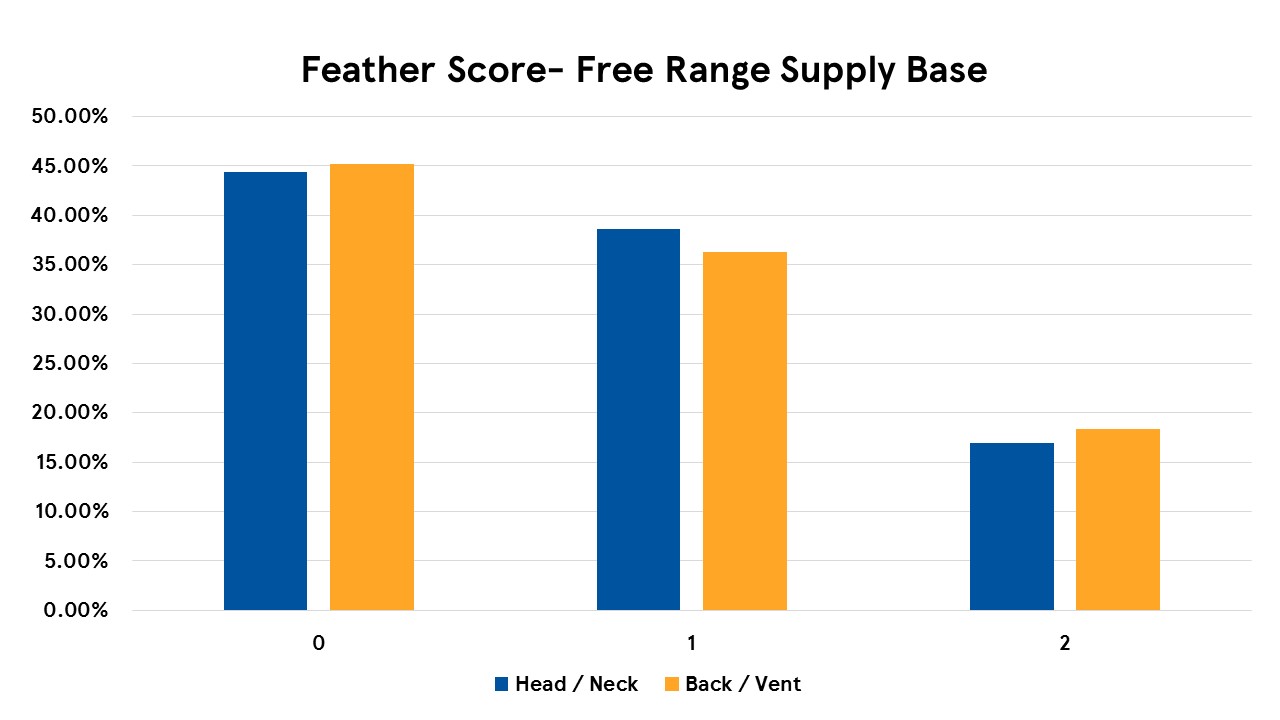 Pigs
Human Animal Interaction
The human-animal relationship on a site is recognised as a significant factor in determining overall pig welfare. As the category of livestock subject to the longest period of sustained human contact on farm, the breeding herd provides arguably the best measure of overall husbandry on a given farm. This is scored from 0 (very receptive to human contact) to 2 (averse to human contact). It is scored during pig farm inspections, by independent assessors, where a score of 0-1 is the target.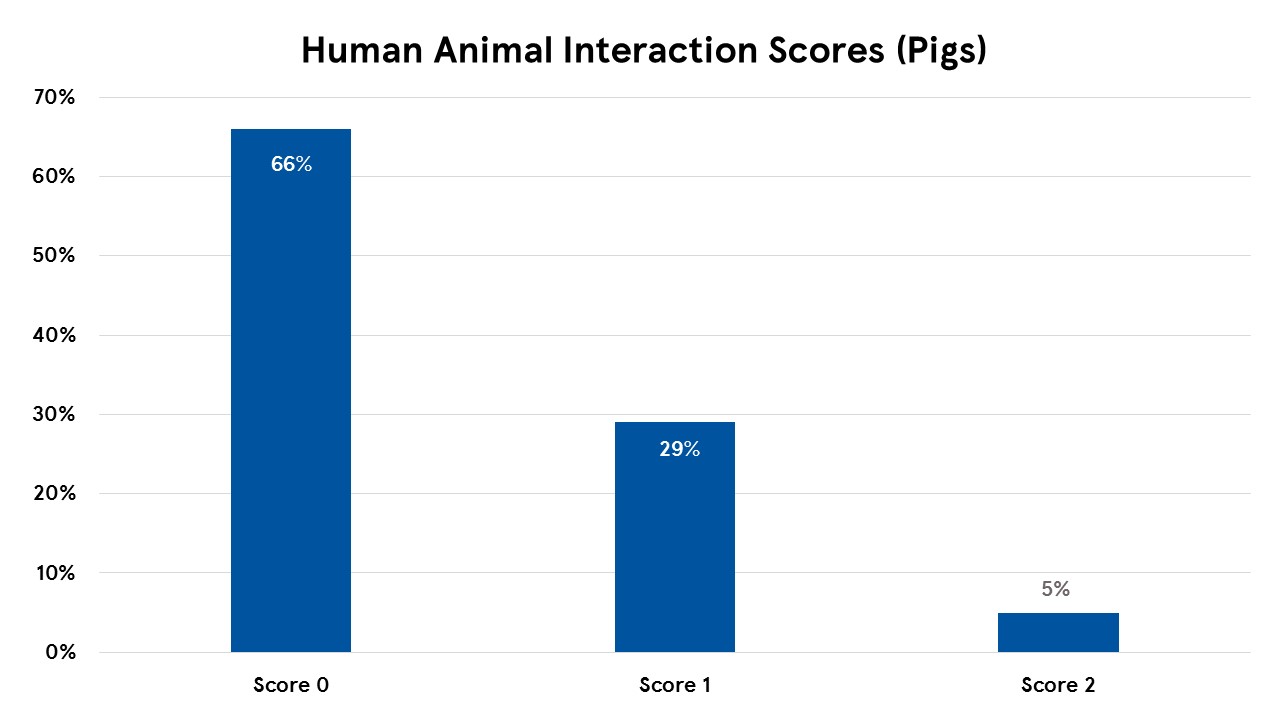 Fin Fish
Crowd Scoring
In open water aquaculture systems the area that the fish occupy has to be gradually reduced to allow fish to be moved safely from sea pen to collection vessels. This so called 'crowding' must be carefully managed to ensure that fish are not stressed. It is scored during harvest inspections by independent assessors where a score of 0-2 is the target (maximum possible score: 5). This represents ongoing improvement particularly in the bass and bream sectors that have successfully moved to electric stunning systems where fish are crowded and pumped through a water channel before stun, rather than being pulled clear of the water in a net system ('brailling').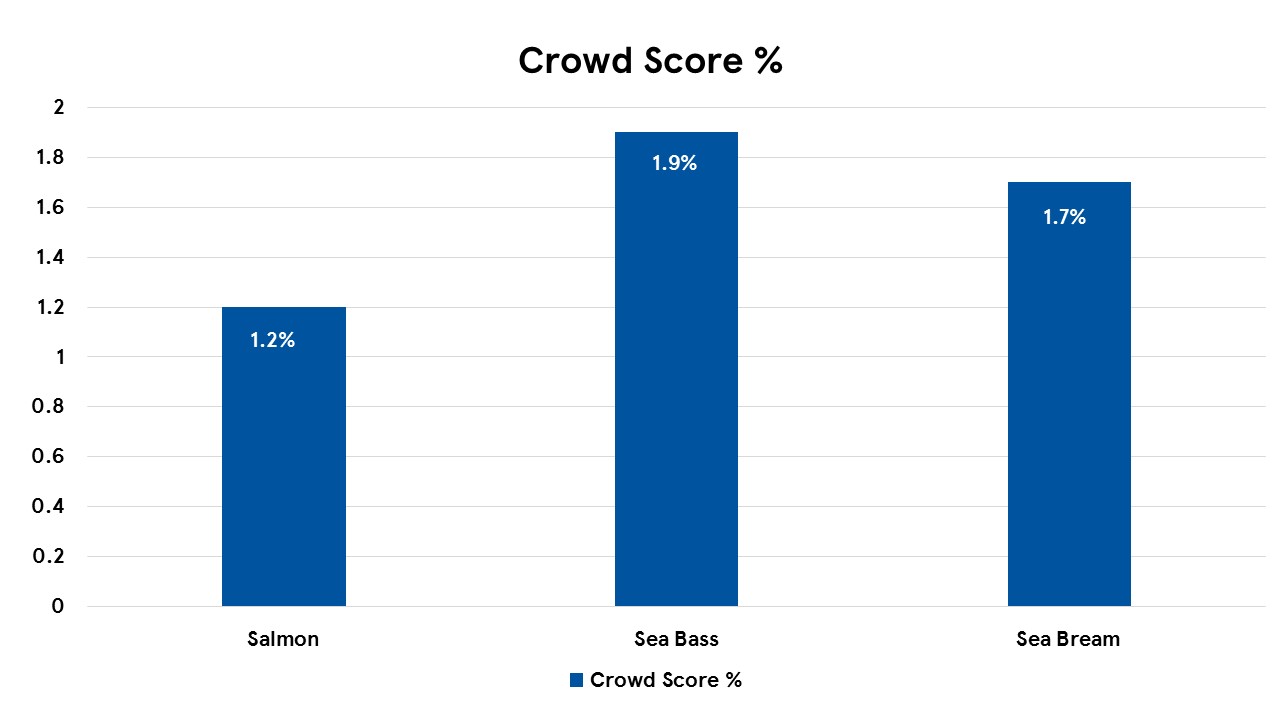 Transport
Transport times
Self-reported data from all livestock suppliers shows adherence to the requirement for transport times to be 8 hours or less over land. Independent third party inspection data confirms that 100% of our beef cattle, lamb, pork, broiler chickens, ducks and turkeys travel from farm to slaughter within 8 hours.
| | |
| --- | --- |
| Species | % Transport Less than 8 Hours overland |
| Broiler Chicken | 100% |
| Turkey | 100% |
| Ducks | 100% |
| Pigs | 100% |
| Cattle | 100% |
| Lamb | 100% |
The above represents all animal transport times for the animals used in our products entering our UK stores irrespective of country of origin. 100% of the animals in our supply chain entering UK stores are transported in 8 hours or less.
Animal Handling
It is recognised that loading and unloading can be inherently stressful for animals and as such Tesco require that unloading is assessed and subsequently verified as part of the independent third party inspection process. Slips and falls are monitored for cattle and pigs; the inherent assessment challenges mean that only falls are recorded for lamb.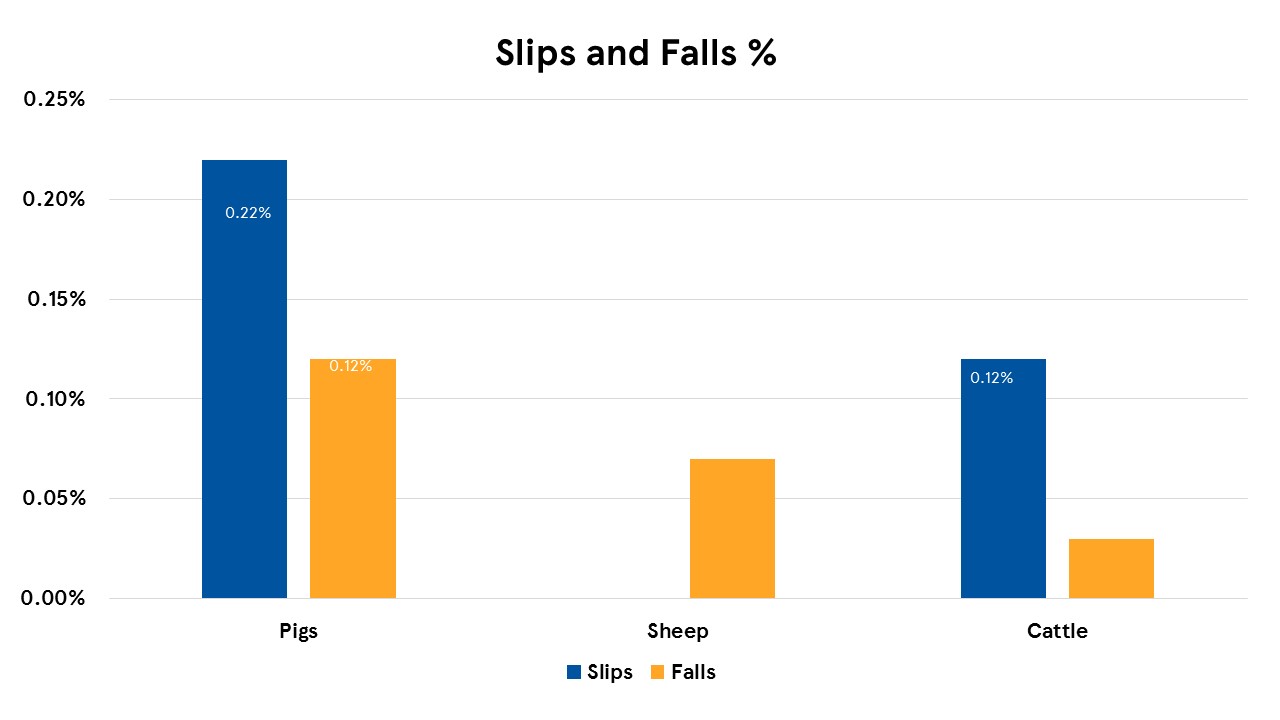 Pig Indices
Tesco prohibits the mixing of pig farm groups in transit. Pig welfare post-transit is further monitored by assessment of lameness and skin damage; the levels of which are consistently low across our supply base indicating housing and transit handling are to a good standard.

Cattle Behavioural Indices
Vocalisation in the lairage area is recorded to provide a measure of the likely stresses and associated welfare status of the animals. Low reported levels have been validated by independent third party assessment.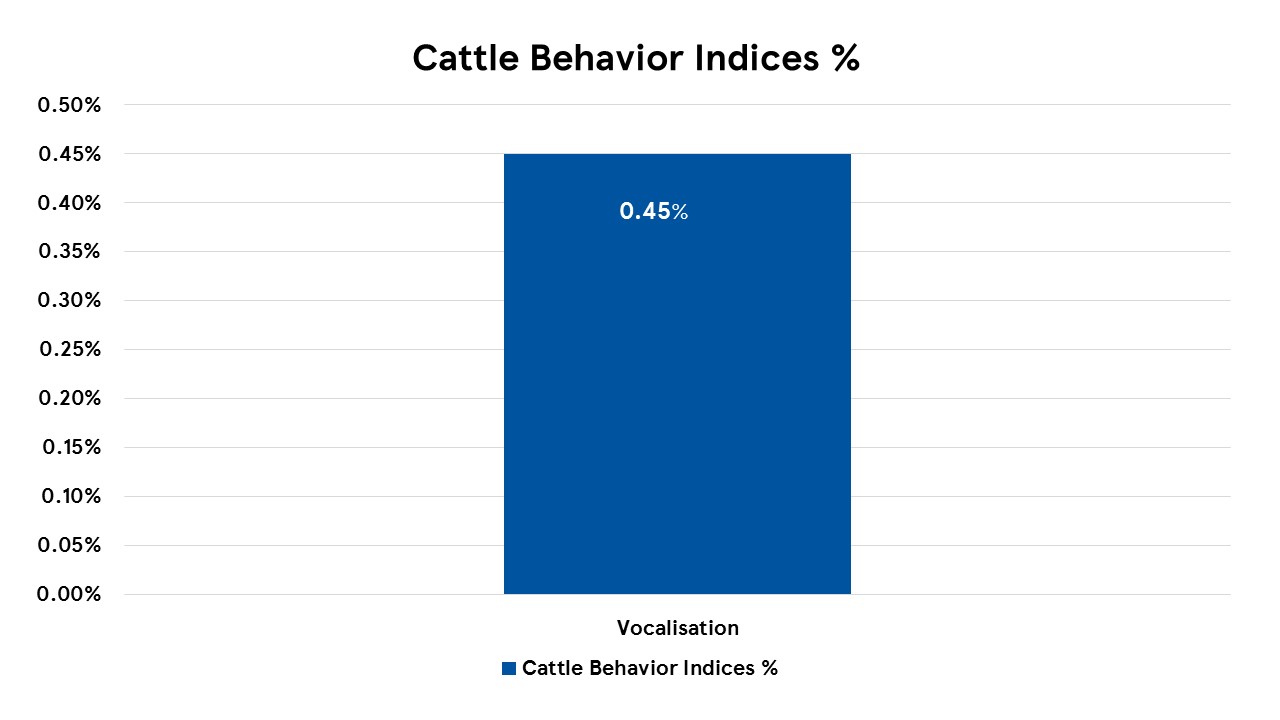 Slaughter
Pre-Slaughter Stunning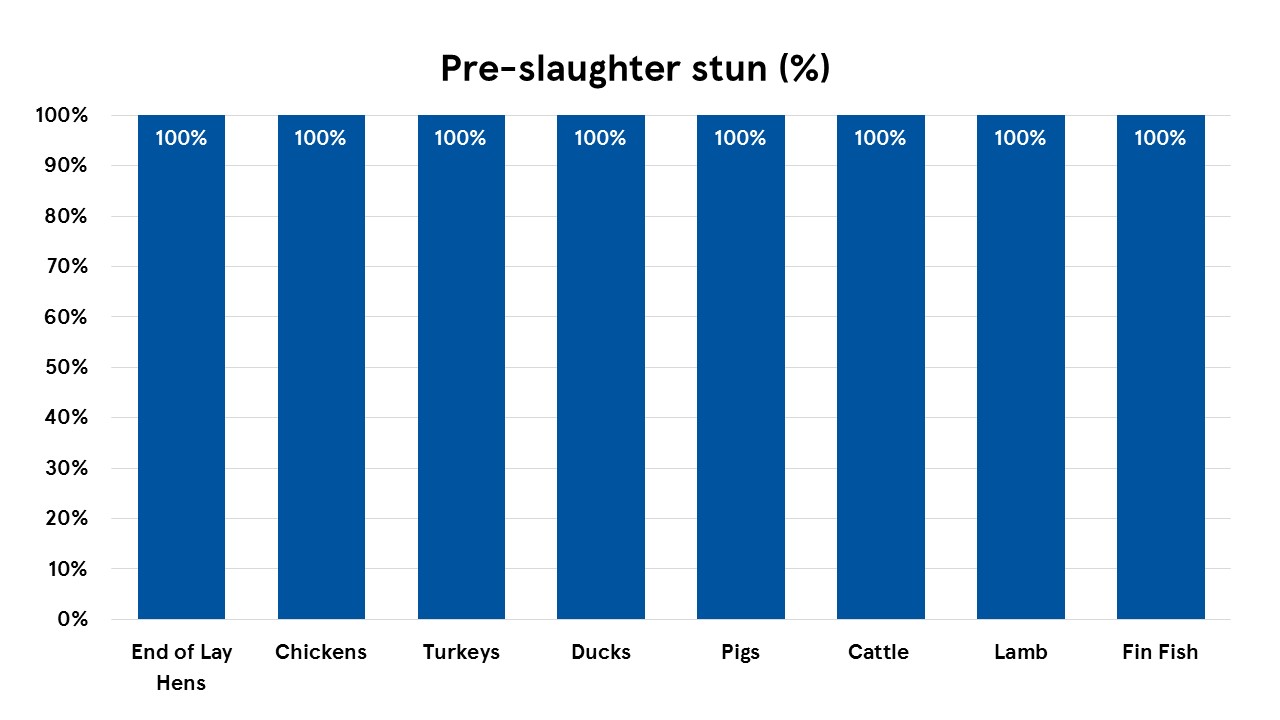 The Tesco Animal Welfare Policy requires that all livestock species are pre-stunned in accordance with European regulatory requirements (Regulation 1099/2009 EC). This is irrespective of geography or species. This means that while there is currently no statutory requirement for fish to adhere to prescribed methods of stun and slaughter, Tesco suppliers of  salmon, trout sea bass and sea bream have adopted industry best practice i.e. electrical stunning prior to slaughter. Where poultry species are sourced from Halal approved sites this is strictly limited to those that accept electrical stunning as part of the process. Stunning practice and procedure is verified during independent audit and the effectiveness of stun now constitutes an element of our outcome measures.
100% pre-slaughter stunning of all livestock species 
Tesco Group
The below data represents the total Tesco Group, including all of our Own Brand products entering Tesco stores globally and Booker.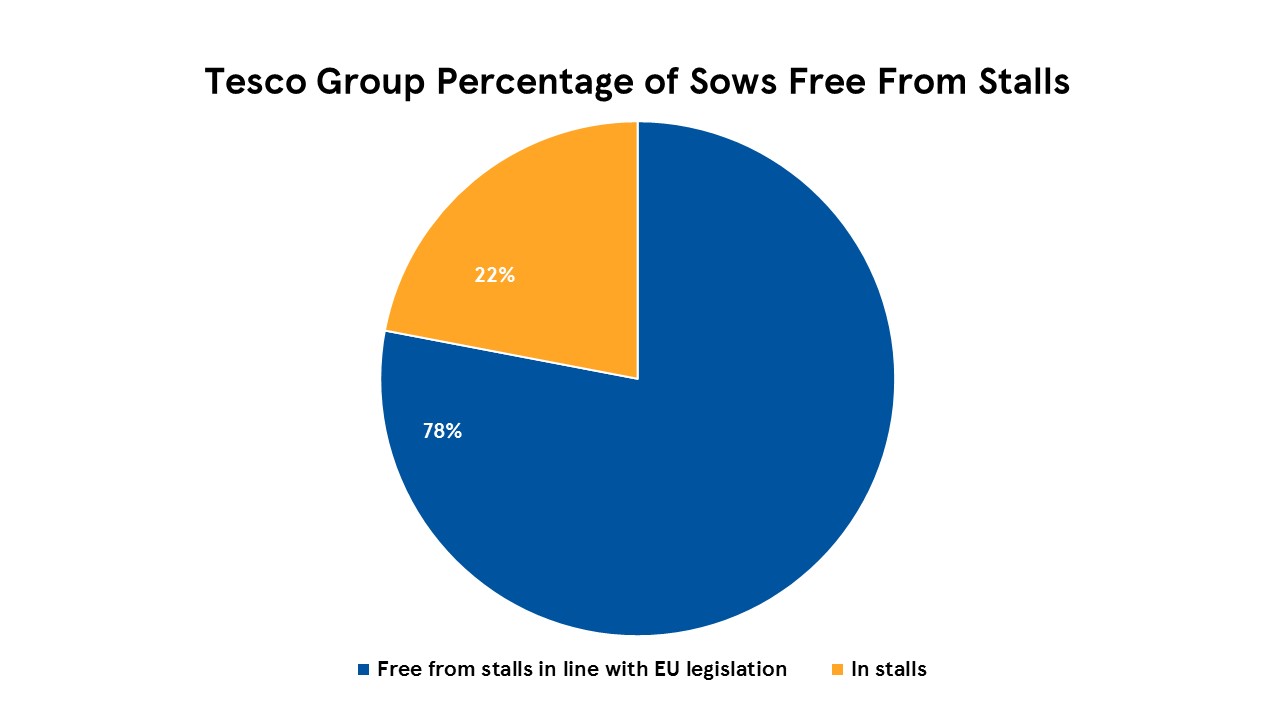 78% of the pigs used in the Tesco Group supply chain are free from stall in line with European legislation. In the UK 100% of the pigs entering UK stores are from farms free of stalls in line with UK legislation. A further commitment has been made by Tesco Lotus to source pork from farms with group housing by 2030 in their Express Stores.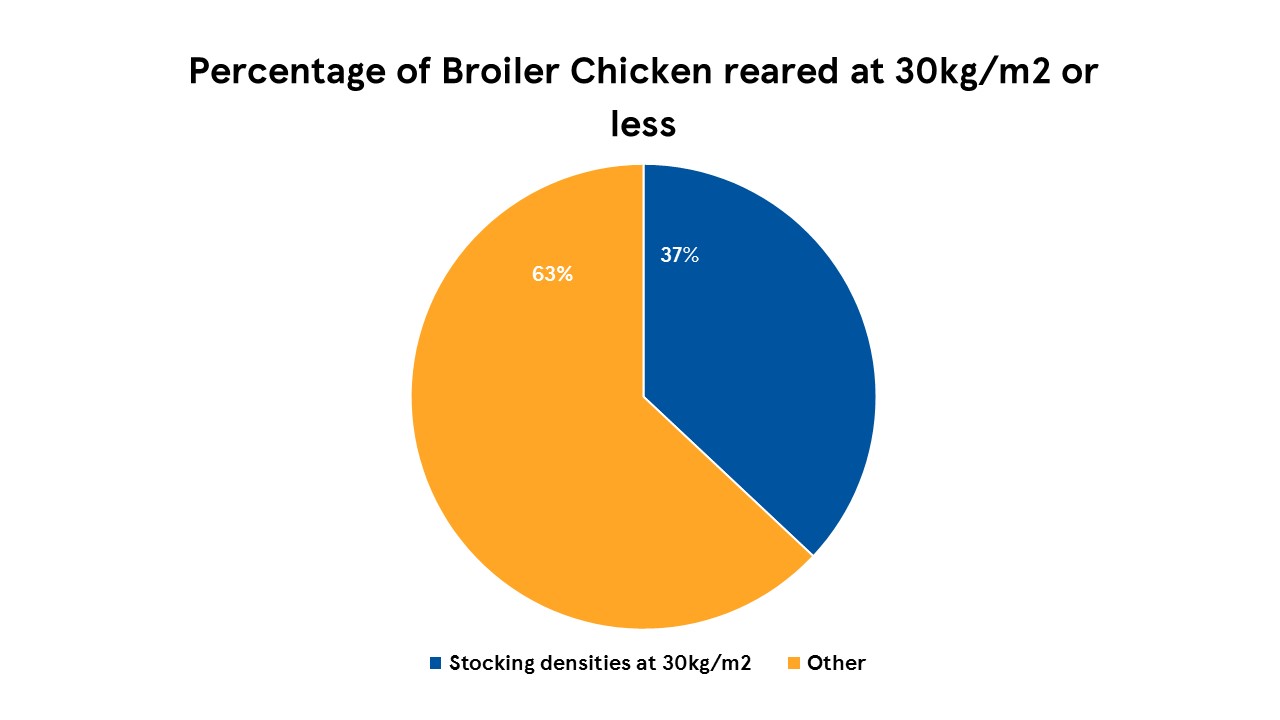 37% of the total Tesco Group broiler chickens are reared at a stocking densities of 30kg/m2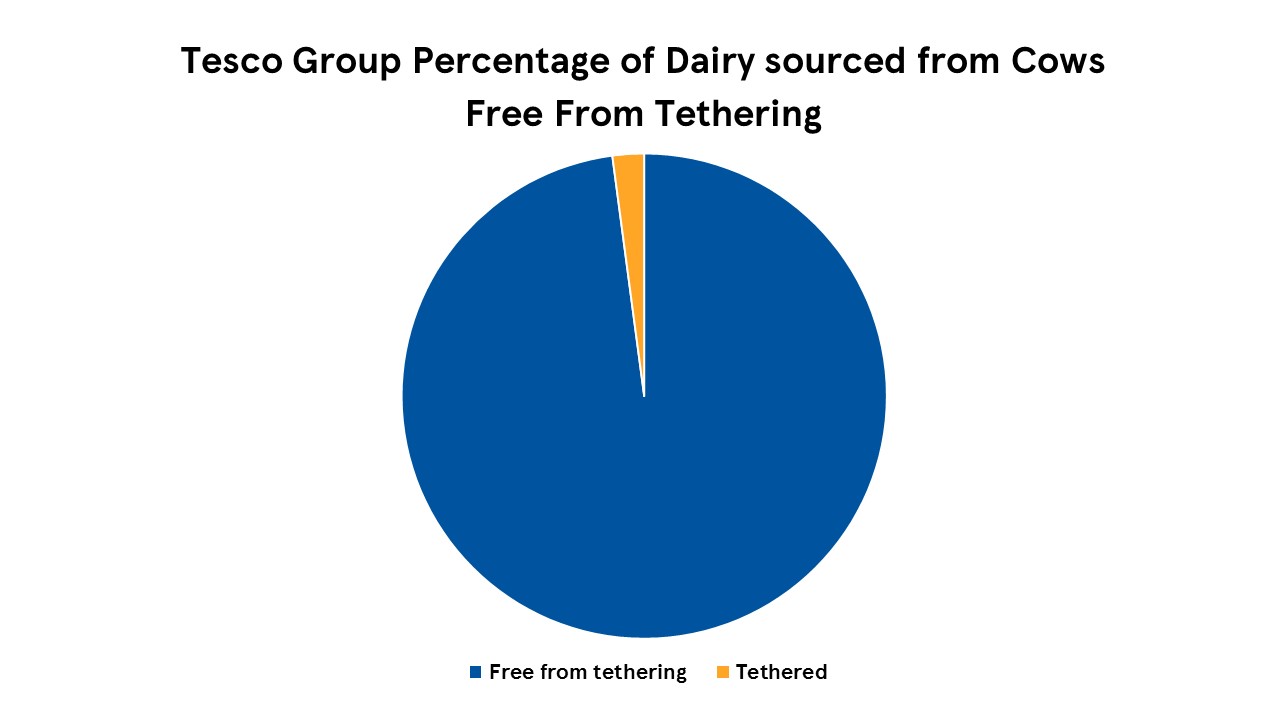 97.9% of the total group dairy supply chain is sourced from cows that are free from tethering.
97.9% of the total group dairy supply chain is free from tail docking.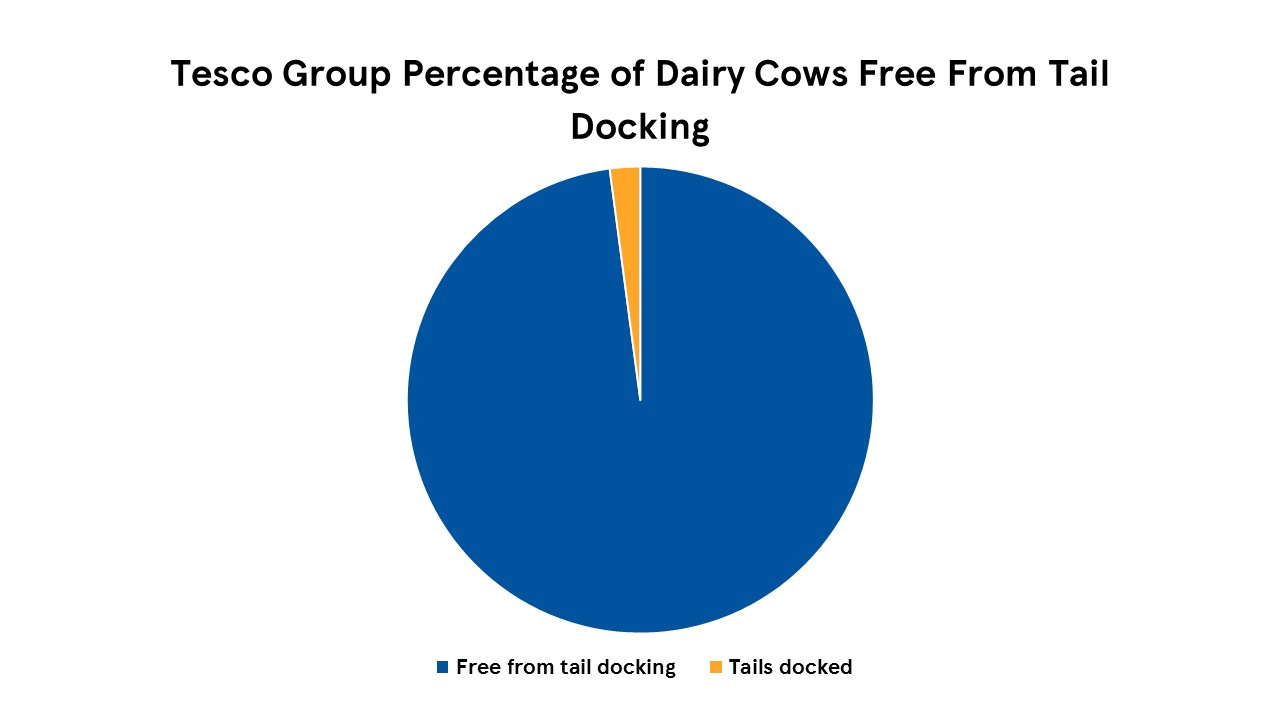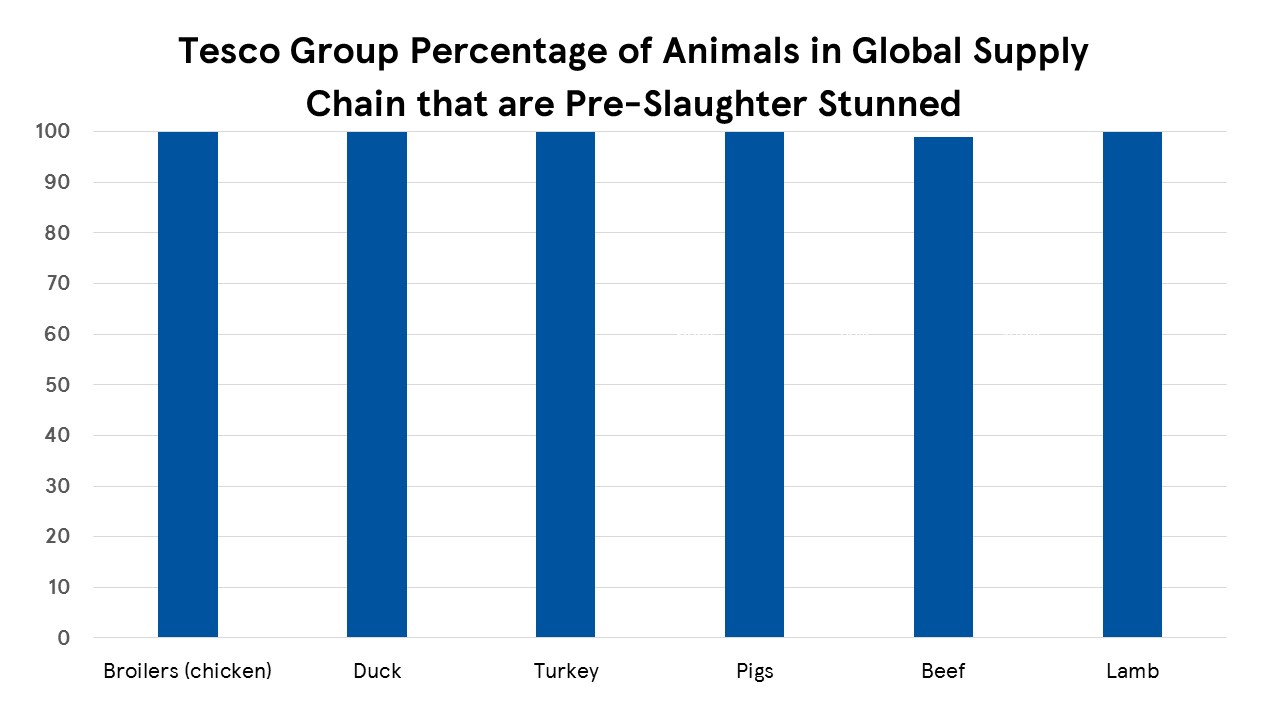 Over 99% of the animals in our group supply chain are stunned before slaughter. 100% of the animals entering our UK stores are stunned before slaughter.
Transport
100% of the animals in our supply chain entering UK stores are transported in 8 hours or less. This accounts for 54% of the Tesco Group.