Food waste data 2016/17 - Central Europe
We have now published our data for 2017/18 here. We have recalculated our total food waste tonnage for financial year 2016/17. For more information, please view our method page. 
Central European Food Waste Data 2016/17.
We are proud to be the first retailer in Central Europe to publish food waste data for our own operations.
We already work hard to minimise the amount of food waste in our Central European operations through forecasting and ordering, and reducing to clear our food that is approaching its use by or best before date. But, a further way we reduce food waste in our stores is by donating any surplus food that is safe for human consumption to food banks and local charities, with our food surplus donation programme.
Since beginning our partnership with food banks, we have donated over 12,000 tonnes of food across Central Europe to feed people in need.
This is the equivalent over 29 million meals.
There are currently over 500 stores across Central Europe offering surplus food and aim to have 600 stores by the end of the year, including all our hypermarkets.
We have made a commitment that by 2020 all our stores in Central Europe will offer surplus food to food banks and local charities.
We are working hard to achieve this, and our ambition is that one day no food that is safe for human consumption will go to waste at Tesco.
We also recognise that we have a shared responsibility to tackle food waste from farm to fork. We've made a range of changes to help do this in Central Europe, such as:
Introducing the Perfectly Imperfect range of wonky fruits and vegetables to all our hypermarkets this year to help cut food waste on farms.
Improving our supply chains to speed up the delivery of citrus fruits, giving customers two additional days of freshness, and helping to cut food waste at home.
Ending 'buy one get one for free' promotions in our stores to help our customers buy what they need, and waste less at home.
We know that we can't fight food waste alone and that's why we work in partnership with food banks, local government and with our suppliers to do so.
We would like to encourage the food industry, including our competitors, to be transparent by publishing their food waste data. Together we can help tackle food waste from farm to fork.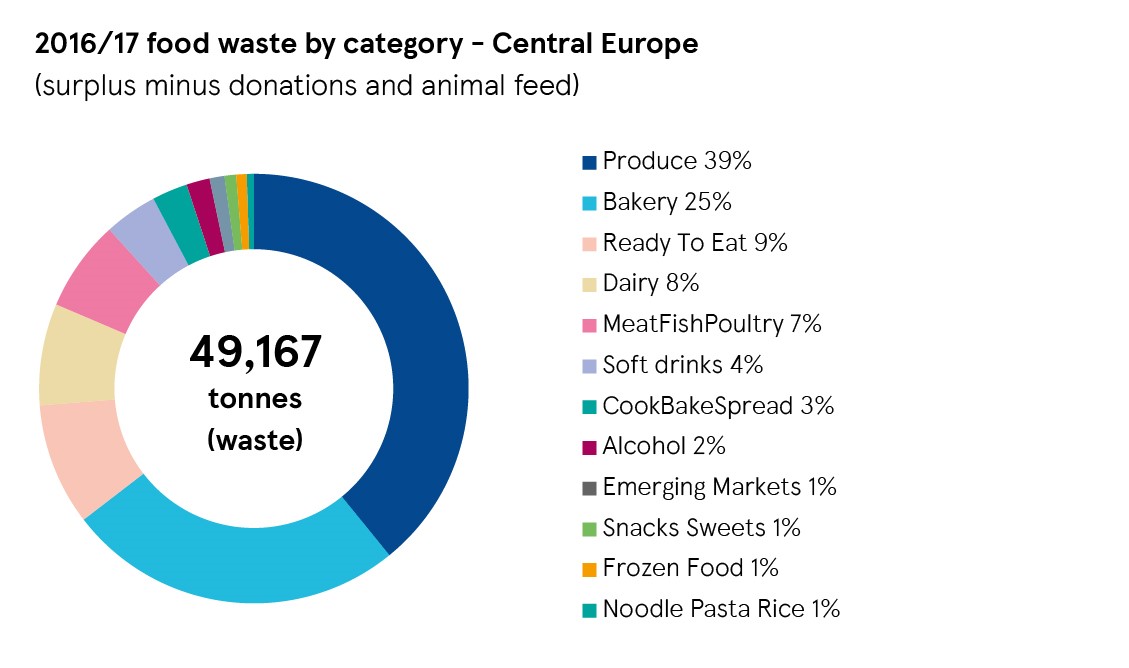 Transparency and measurement are essential for identifying waste hotspots in our Central European business, and in tackling the causes of food waste. It helps everyone understand how much, where, and why food is being wasted.
The total level of food wasted in Central Europe was 1.5% of all food sales in 2016/17.
| | |
| --- | --- |
| Total CE food sales | 3,352,675 tonnes |
| Total food waste | 49,167 tonnes |
| Waste as % of food sales | 1.5% |
| Donations | 5,136 tonnes |
 In total in 2016/17, we sold 3,352,692 tonnes of food to customers through our CE operations. This generated:
60,918 tonnes of surplus (not sold to customers)
27,143 tonnes of this was fit for human consumption
8,143 tonnes of this was donated or redistributed for animal feed
With 19,000 tonnes of food fit for human consumption going to disposal
We're working hard to ensure that no food that's safe for human consumption will go to waste from our retail operations. Our goal is to help halve global food waste by 2030.
While we have made progress in tackling food waste, there is still much we need to do. We won't stop trying. We have no time for waste.
Find out how we calculate the food waste figure