Food waste data 2016/17 - Ireland
At Tesco, we have no time for waste.
As the first Irish retailer to publish our food waste data, we want to lead the industry in helping to stop good food from going to waste.
One way we reduce food waste is through our surplus food donations programme. Through this,
4 million meals have been donated to more than 260 charitable groups so far
From 1 trial store in Dublin in 2013, we now have 144 stores donating today
Donations have increased by 96% compared to 2014/15 – from 300 tonnes to 588 tonnes
Our surplus food donations programme will be rolled out to all Irish stores by the end of 2017
Last year we donated 50 tonnes of surplus food from our distribution centres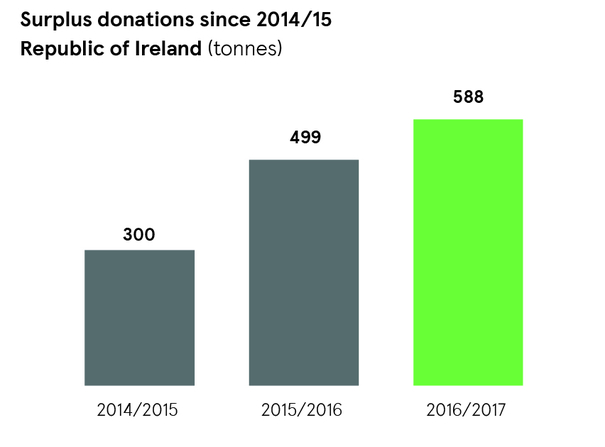 We also have a shared responsibility to tackle food waste from farm to fork. By working with our suppliers we are helping to reduce food waste at a production and manufacturing level.
With farmers, we are helping reduce farm waste by introducing crop flushes to stores.  This is where farmers have bumper crops, due to weather for example.  We buy the whole crop and sell to customers at reduced prices.  In the last 12 months, crop flushes included Brussel sprouts, cauliflower, lettuce and tomatoes. We are also working in partnership with farmers to use irregular or imperfect produce, including mushrooms which are now sliced and sold prepared for customers, saving 62 tonnes of food waste over the past twelve months.
Innovative new packaging in meat and produce has helped customers reduce food waste in their homes. We've made a range of changes with our suppliers, such as skin pack packaging on Tesco Finest steaks and bacon rashers, which keeps food fresher for longer in customers' homes reducing waste and saving customers' money.
We've also worked with suppliers across the supply chain to use irregularly shaped vegetables which would otherwise have gone to waste, for example with potatoes and onions which are used in the production of Tesco own-label ready meals.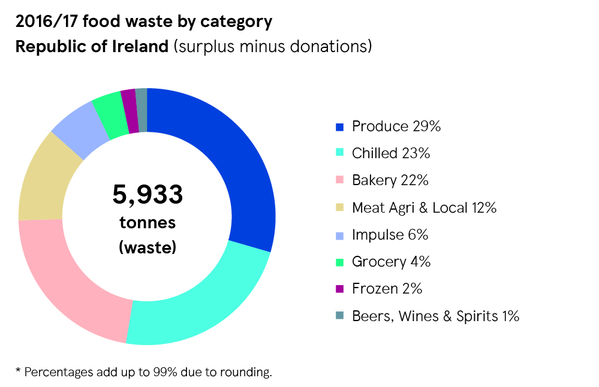 In March, the Department of Communications, Climate Action and the Environment established the first Action Group on Food Waste in the Retail Sector bringing together representatives from across retail to agree a series of actions that the sector will take to reduce food waste, including public reporting on food waste. Tesco is the first Irish retailer to publish its food waste data, and through this group we will support other businesses to report on their data too.
Transparency and measurement are essential for identifying hotspots, and in tackling the causes of food waste. It helps everyone understand how much, where, and why food is being wasted.
| | |
| --- | --- |
|   | 2016/17 |
| Total Ireland food sales | 544,128 tonnes |
| Total food waste | 5,933 tonnes |
| Waste as a % of food sales | 1.1% |
| Donations | 588 tonnes |

In total in 2016/17, we sold 544,128 tonnes of food to customers through our Irish operations. This generated:
6,521 tonnes of surplus (not sold to customers)
3,481 tonnes of this was fit for human consumption
588 tonnes of this was donated
With 2,892 tonnes of food fit for human consumption going to anaerobic digestion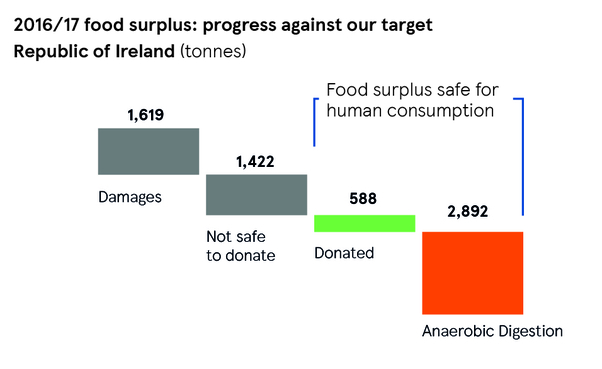 *Not safe to donate refers to foods that legally cannot be donated by retailers according to guidelines from the Food Safety Authority of Ireland
We're committed that no food that's safe for human consumption will go to waste from our Tesco Ireland stores.
While we have made progress in tackling food waste, there is still much we need to do. We won't stop trying. We have no time for waste.