Addressing the sustainability challenges in our top 20 products and ingredients.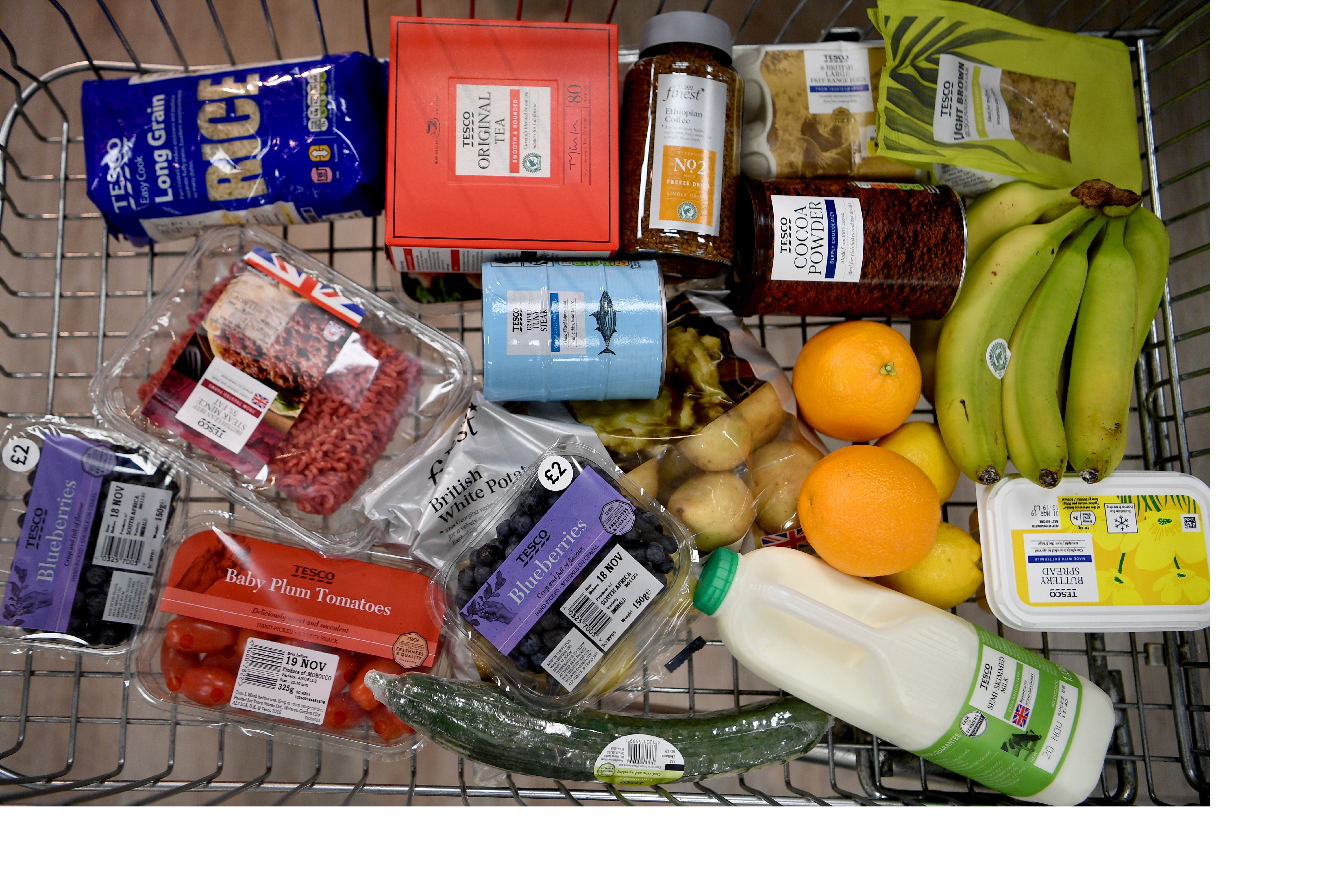 One of the commitments in the Little Helps Plan is to lead the industry in addressing the sustainability challenges in our supply chains. We want to give our customers peace of mind that the products they buy from us are sourced with respect for the environment and people who produce them, while remaining affordable. These have been selected either because we sell them in large volumes or because they have the biggest sustainability impacts.
We have already made some significant progress. Below we outline the key risks associated with each product and ingredient as well as some of the steps we are taking to address these.
1. Bananas
Bananas are one of Tesco's best-selling products. We source all our bananas for the UK and Ireland from Rainforest Alliance Certified™ farms, to promote continuous improvement of labour conditions and protect the environment. Both are key elements of promoting sustainable production. We also work closely with farmers to ensure increased worker welfare and protection of natural resources.
Nearly 80% of our bananas are from producers in Colombia, Costa Rica, Ecuador and West Africa, who we have been doing business with for more than five years. These long-term relationships help them to plan ahead and effectively invest in their farms and workforces. We are a leading member of the World Banana Forum, seeking industry-wide improvements to wages, working conditions and environmental stewardship.
2. Corned beef (Amazon origin)
As part of the Consumer Goods Forum, we are committed to achieving zero net deforestation in our sourcing by 2020. Cattle ranching in Brazil is a significant driver of deforestation. Our sourcing of beef from Brazil is limited to corned beef products. Our supplier has controls in place to monitor the farms they source cattle from directly, using GPS satellite-based mapping technology to identify and, if necessary, block farms that encroach on protected forest areas. But we recognise that progress towards full transparency within the Brazilian cattle supply chain must be accelerated.
3. Fresh beef
Fresh beef is a significant source of greenhouse gas emissions (particularly from cows burping!) as well as other environmental impacts such as land and water use. We are supporting industry forums, such as the Sustainable Agriculture Initiative and Waste Resources Action Programme (WRAP), to identify practical solutions to increase efficiency and reduce emissions from the sector, as part of industry standards. We are also looking at innovative solutions to reduce cattle methane. In partnership with our key suppliers, we are currently gathering GHG emissions data from a sample of farms that we source from so that we can drive improvements in efficiency and lower overall emissions.
Across the UK we have created a series of Sustainable Farming Groups to ensure that we build long-term relationships with our farmers so that we can become British Agriculture's most trusted partner. The groups provide a forum to discuss sustainable production; customer needs, our standards and how we can work more closely together. They also play an important role in terms of securing supply, increasing efficiency and improving animal welfare.
4. Berries
To meet customer demand, we source berries from a wide range of locations around the world. Some of these regions face environmental challenges, such as water stress. For example, the majority of our Spanish berries come from the Huelva region, which is next to the Doñana National Park. We are working with other European food companies and WWF as part of a Sustainable Agriculture Initiative project to ensure that berry production in the region is sustainable. This includes ensuring that growers have legal permits for land and water, and supporting them to reduce their water use through training and technology. Further information on this can be found here.
Berries are often hand-picked by farm workers. As part of the Better Strawberries Group, co-ordinated by Ethical Trading Initiative (ETI) and Oxfam, we are looking at how we can help further safeguard workers on Moroccan farms.
Find out more information on the ETI website.
5. Chicken and eggs (using soy feed)
Fresh chicken and eggs are important staples for many of our customers. The feed used to rear chickens usually includes large volumes of soy. South America is one of the world's biggest producers of soy and an important sourcing region for our UK supply chain. It's also home to some of the world's most valuable forests and other ecosystems. As the demand for soy in animal feed increases, so does the pressure on these valuable ecosystems. As part of the Consumer Goods Forum (CGF), Tesco is committed to zero-net deforestation in our sourcing of soy by 2020 and we are currently implementing our UK Zero Deforestation Soy Transition Plan to achieve this. Beyond our supply chain, we work collectively at an industry level and with other stakeholders (such as NGOs and governments), because we recognise that developing the right conditions for a sustainable soy market requires effective collaboration. We recently finished gathering GHG emissions data from all our key suppliers to ensure we are on track to meet our supply chain carbon reduction targets.
6. Citrus fruits
Citrus products are typically water-thirsty and are often grown in water-scarce regions such as Spain and South Africa. We are working with growers in these locations to monitor on-farm water use and reduce the pressure the cultivation of these products has on the local environment.
Like other agricultural sectors, citrus production also has challenges with workers welfare on farm and in packing facilities, with high proportions of seasonal and migrant labour. We conduct audits at a grower level in high risk countries and collaborate with others as part of the Sustainable Agriculture Initiative and Ethical Trading Initiative (ETI) working groups to improve social dialogue as a tool for ensuring decent work. We also have a full-time Responsible Sourcing Manager based in South Africa to work with suppliers to ensure good working conditions, support the strengthening of industry standards, and increase opportunities for disadvantaged youth groups.
7. Coffee
Coffee is one of the world's most traded commodities. But coffee production around the world faces significant challenges, including smallholder livelihoods, labour rights and poverty. We are helping to address these through a combination of independent certification of our own coffee sources and helping drive industry-wide improvement.
All the coffee beans we use in Own Brand products sold in the UK, which includes coffee drinks in our cafes and coffee beans used as an ingredient such as in cakes, are Rainforest Alliance or Fairtrade certified. We are also collaborating through the Global Coffee Platform, to address endemic challenges that cannot be solved through certification alone, requiring multi-stakeholder engagement for the development of sustainable solutions.
8. Cocoa
All the cocoa required for our Own Brand chocolate products sold in the UK is sourced from Rainforest Alliance Certified farms. All the cocoa used in other Tesco UK Own Brand products, such as biscuits, cakes, desserts and cereals, is responsibly sourced from one of four schemes – Cocoa Horizons, Fairtrade, Rainforest Alliance or UTZ.
As part of our broader strategy on cocoa we are also members of the World Cocoa Forum, a multi-stakeholder initiative that seeks to create a sustainable and profitable cocoa economy, thereby improving the lives of cocoa producers and their families. We are also signatories of the Cocoa and Forest initiative which bring together key private and public sector players to end deforestation and forest degradation in the cocoa sector.
You can find more information on our responsibly sourced cocoa at Easter time and how it supports growers.
9. Cotton
Tesco is a member of the Better Cotton Initiative and we are committed to sourcing 100% more sustainable cotton by 2025. To eliminate forced labour in cotton production, we have banned sourcing from Uzbekistan and Turkmenistan where state-sanctioned child labour and forced labour are common in cotton production.
We are also committed to eliminating the use of hazardous chemicals in our clothing and footwear supply chains by 2020. Our plan is endorsed by Greenpeace as part of their DETOX campaign.
10. Milk
Due to the large volumes that we sell, milk is a significant source of greenhouse gas emissions as well as other environmental impacts such as land and water use.
The Tesco Sustainable Dairy Group (TSDG) has paid £270 million above the cost of production to farmers since it was established in 2007. In addition to ensuring a fair price for its 720 farmers, the TSDG has also improved animal welfare standards and reduced greenhouse gas emissions. For example, every TSDG farm receives a bespoke carbon assessment by an expert consultancy to identify emissions hotspots and to make recommendations on how the farm can improve. Through the group we also encourage other environmental best practice, for example soil health and on-farm biodiversity, and we are exploring innovative solutions to reduce emissions from cattle methane.
11. Palm oil
Palm oil plays an important role in many of our products. For the 2018 calendar year, 100% of the palm oil used in our Own Brand products in the UK was certified by the Roundtable on Sustainable Palm Oil (RSPO). However, significant challenges remain for the palm oil industry, including deforestation and forced labour. Developing the right conditions for a sustainable palm oil market is not something that we can achieve on our own, which is why we are collaborating with the Consumer Goods Forum (CGF), with other retailers and the RSPO to transform the industry. As part of the Consumer Goods Forum, we are committed to achieving zero-net deforestation in our sourcing of palm oil by 2020.
12. Potatoes
Like other agricultural crops, potato production can have a number of environmental impacts, and the large volumes our customers buy make it a priority for us. These impacts include greenhouse gas emissions, water demand, water pollution and soil quality.
Last year we worked with a number of our suppliers and growers to identify emissions hotspots using the Cool Farm Tool. Our Sustainable Farming Group for potatoes is focussing on interventions which will be most effective in reducing emissions, such as optimising application of nitrogen fertiliser and promoting use of over-winter cover crops. We're also working with a range of growers in the Broadland Rivers Catchment in East Anglia to improve water quality and soil health, as well as farmers' profitability, including innovation in tractor use.
13. Prawns
A 2014 investigation by The Guardian, as well as reports by NGOs and the US State Department, identified cases of modern slavery in the Thai-farmed prawn supply chain relating to the local production of prawn feed. We have established traceable monitored supply chains; worked collectively with others to advocate for better laws and implementation; and focused on protecting vulnerable workers by requiring our suppliers to work with credible NGOs who can provide information on risks and support with remediation.
A key partner in this is the Issara Institute, a platform to tackle human trafficking and forced labour in Southeast Asia. The Institute's Inclusive Labour Monitoring™ approach brings together intelligence from workers, businesses, field experts and local communities, to create a comprehensive understanding of what is happening on the ground. As part of this work, migrant workers in our Thai prawn supply chain have access to the Issara Institute's multilingual helpline. The Issara team provides information, assistance, and referrals to migrant workers and victims of labour abuses through these calls.
14. Rice
The environmental footprint of rice is substantial – a result of significant methane emissions during the growing phase. More than one billion people depend upon rice production, most of them are poor smallholder farmers. Rice is also the daily staple for half the global population and the demand for it is projected to increase significantly.
Because our direct leverage is relatively limited in terms of global consumption, and because industry efforts in this area are in development, our focus is on working with our suppliers, who engage with initiatives such as the Sustainable Agriculture Initiative in Italy and the Sustainable Rice Platform, to support this development collaboratively.
15. Salads (e.g. fresh tomatoes and cucumbers)
The production of salads has a range of environmental impacts. In the UK, the main impact is greenhouse gas emissions from artificial heating and lighting required for early-season production. Some of our suppliers are industry leaders in terms of energy efficiency and the use of innovative anaerobic digestion.
From a human rights perspective, salad production often involves a large number of migrant workers in many parts of the UK and Europe who are more vulnerable to exploitation. We are engaging with the Sustainable Agriculture Platform and working with the Ethical Trade Initiative to address these risks in partnerships with our suppliers and others. We are also supporting multi-retailer ethical workshops in Spain to upskill growers on labour and human rights, helping to ensure that all migrant workers are treated fairly and with respect. In the UK, all our suppliers have undergone Stronger Together training on forced labour risks and responses.
16. Sugar
Cane sugar especially is linked to a number of challenges including low wages, poor working conditions and threatened smallholder livelihoods. Water use and water wastage is high in both cane and beet sugar. We are currently working with our supply base, NGOs and certification bodies to explore how we can best improve human rights issues and environmental sustainability in our sugar sourcing.
17. Tea
Tea is associated globally with low wages, often accompanied by social challenges for the wider tea-growing communities. All our tea is now certified by the Ethical Tea Partnership, and all our Own Brand black tea sold in the UK is Rainforest Alliance Certified.
In Assam, where girls and young women can be at risk of trafficking, we are working with the Ethical Tea Partnership and UNICEF to address the roots of gender inequality. Directly working with tea gardens, we have already funded training to empower women as well as the wider community, to prevent trafficking and gender-based violence. Over three years, more than 35,000 women have been involved.
Together with Oxfam, the Malawian tea association and leading tea brands, we are also part of the Malawi 2020 coalition - a collaborative effort to improve productivity and yield across the Malawi tea industry, empower workers, and ultimately achieve living wages for tea workers by 2020. It has already led to two collective bargaining agreements with associated wage increases.
18. Tuna
Sourcing tuna sustainably is about more than just the catch method. It is about the health of stocks, the impact on other marine life, how fishermen and crews are treated, and how the whole fishing area is managed.
In November 2016, we updated our tuna requirements to ensure our sourcing will help drive the development of truly sustainable fisheries. We only allow tuna caught through 'pole-and-line' fishing, 'FAD-free' fishing – a type of free-school fishing with a low by-catch – or from fisheries that are certified by the Marine Stewardship Council (MSC). The fisheries involved also need to pass our own Tesco Tuna Responsible Sourcing Requirements. We have also been extending our range of Marine Stewardship Council (MSC) certified seafood, making Tesco the UK's largest retailer (by volume) of MSC products. Lastly, we have taken action to ensure that we only stock branded tuna products in the UK that are on a clear path towards sustainability.
19. Wild fish
Our ambition is to source all our wild fish from fisheries where stocks are healthy, environmental impacts are minimal and effective management is in place. We follow the principles of the Marine Stewardship Council (MSC) standard, and we want all of our seafood to meet the MSC Standard.
We now source more than 129 Marine Stewardship Council (MSC) certified products, up from only 16 in 2016, making Tesco the UK's largest retailer (by volume) of MSC products. All our 650+ fish counters in the UK are MSC approved and we were awarded MSC Fish Counter of the Year 2017 for having the largest range of certified sustainable seafood of any UK retailer.
20. Wood and paper
Wood and paper, as well as other timber products (such as pulp and viscose), are used for the manufacturing of many of our general merchandise, household and clothing products. The increasing demand for timber products is putting significant pressure on forest resources and is driving deforestation in some of the most critically important ecosystems of the world.
By 2020, we have committed that all our Own Brand products containing timber will be FSC or PEFC certified or will be made using recycled material. As of the 2018 calendar year, 87% of our general merchandise wood and paper products in the UK were on track against our 2020 target. For viscose used in our clothing, we are collaborating with the Canopy Style initiative to eliminate the sourcing of viscose from ancient and endangered forests.