British Red Cross
Tesco has a long history of working with the British Red Cross. Since 2007, together with our customers and colleagues in the UK, we have donated over £14.6m to support their work.
This funding has provided vital support for emergencies in the UK, as well as humanitarian work in overseas disasters.
With the outbreak of the coronavirus pandemic, our partnership has become even more important, particularly in supporting the most vulnerable people affected in communities around the UK.
We have recently been working with the British Red Cross to promote their new coronavirus helpline through our marketing channels, such as posters on the community noticeboards in stores.  The helpline is free and confidential and is available for people who are finding it hard to access food, medication, or for people who are feeling lonely or worried.  You can call 0808 196 3651 if you would like to speak to someone. The British Cross volunteers can give emotional or practical support, or direct you to other people or local services depending on your need.  The line is open from 10.00 – 6.00 pm every day.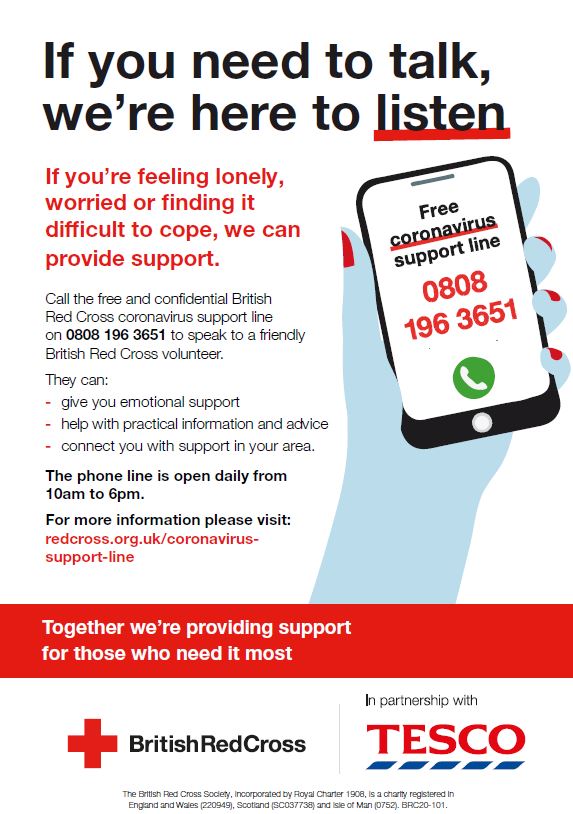 At the beginning of the pandemic, we donated £2m to the British Red Cross to help then continue their vital work. Their network of committed colleagues and volunteers means they are uniquely placed to help facilitate organisations, such as local food banks and NHS trusts, to collect the groceries they need to create food parcels for those unable to access supplies; or to help those vulnerable people who might fall through the gaps.
We have been able to activate our emergency protocol during the coronavirus pandemic to give support to local communities in Bradford, Rotherham, Rochdale, Stoke-on-Trent, Hackney and Belfast. Products such as cereals, bread, pasta, tea and toiletries were donated to foodbanks and to make up parcels for families in need.
We have ensured that priority store access has been given to British Red Cross volunteers - they simply have to show their charity ID or uniform.
Our pharmacies have also supported British Red Cross volunteers who need to collect medicines on behalf of those who are self-isolating.
These are difficult times for everyone, but with Tesco's support the British Red Cross will be able to provide vital help to those in need and to alleviate some of the stresses people will face over the year ahead.
UK Emergency Agreement
Our emergency agreement enables British Red Cross emergency response teams to request goods as gift-in-kind from any store in the UK. In the past, this has led to us providing essential toiletries, bottled water, blankets and food to families and communities when they need it most, such as after severe flooding or the loss of their home and more recently with the pandemic crisis.
Our activation at store level has also helped support communities affected by fires, floods, and extreme weather in locations including Liverpool, London, Gateshead, Gillingham, Swindon and Wrexham.
Our support over the years
Since the beginning of our partnership, together with our customers and colleagues in the UK, we have donated over £10 million to the British Red Cross. This money has provided vital support for emergencies in the UK, such as the 2019 floods in South Yorkshire, as well as humanitarian work in overseas disasters, including:
2019 Cyclone Idai
2018 Indonesian tsunami
2017 Sri Lanka floods and landslides
The 2016 Hurricane Matthew

The 2015 Tunisian attack

The 2014 Ebola Outbreak Appeal

The 2013 Typhoon Haiyan Appeal

The 2010 Southeast Asia Flooding Appeal
The Disaster Relief Alliance
In December 2014 we built on our long-standing support of international disaster relief by becoming a founding member of the innovative British Red Cross Disaster Relief Alliance (DRA). By joining this group of organisations and individuals we are investing in the future of humanitarian action by looking beyond the traditional model of responding only after a disaster has struck.
The Disaster Relief Alliance funds preparedness and recovery work, as well as response activities. This commitment to 'pre-investment' in disaster-prone areas ultimately increases the number of lives saved, and reduces emergency response costs. It is estimated that every £1 spent on disaster preparedness saves £4 on emergency response. The Red Cross responds to hundreds of emergencies every year, most of which do not make the headlines or receive public support through emergency appeals, so our support for this initiative will hopefully make a big difference.
You can find out more about the Disaster Relief Alliance here.
How else does Tesco work with the Red Cross?
We work with the Red Cross in a number of ways in Central Europe.
The Red Cross takes part in each edition of our You Choose We Help programme in all countries.
In addition, the Red Cross is one of our strategic partners in Hungary. Every year encourage our customers to participate in the food collection of the Hungarian Red Cross. When doing their usual shopping before Christmas, they can buy durable food items and donate them to those in need before Christmas. Besides food collection, Red Cross regularly organizes blood donations in our Hungarian stores nationwide.
Tesco Slovakia also supports the Red Cross by in-kind donations regularly.  Our customers and colleagues have an opportunity to support Red Cross during money collections which are going on in some of Tesco stores in Slovakia.