Health Charity Partnerships
Our 'Helping you to live healthier' five-year partnership with Cancer Research UK, British Heart Foundation and Diabetes UK is built on a simple belief – that Every Little Help can make a big difference.
The partnership, established in January 2018, aims to inspire, empower and support Tesco colleagues, customers and their families to make healthier food choices and live healthier lives, bringing about measurable changes to the behaviours that can lower the risk of cancer, heart and circulatory diseases and type 2 diabetes.
Cancer, heart and circulatory diseases and diabetes account for more than half of all deaths in the UK. We all know someone diagnosed, living with or who has sadly lost their lives to one of these conditions, yet four in 10 cases of cancer, up to 5 in 10 cases of Type 2 diabetes*, and many heart and circulatory diseases can be prevented.
We continue to raise vital funds to support research carried out by our charity partners, while helping to increase awareness and build understanding of the health conditions that impact families across the UK.
*or delayed
Health / COVID-19
Customers and colleagues can easily access direct help and support from our health charity partners about the impact of coronavirus when living with cancer, diabetes or a heart condition via tesco.com website page.
We are working with our pharmacy teams to regularly provide help and advice on these health conditions. For more information on how to reduce the risk of serious illness, visit our pharmacy online page www.tesco.com/pharmacy
"Through our websites we provide free, clinically accurate and user-friendly information to people who are living with, at risk or affected by cancer, heart and circulatory diseases and diabetes. On each of our charity websites you'll find tools to understand your risk, information about how to prevent the conditions, as well as support for people living with the conditions."
Helen George, Head of Health Community Engagement, Cancer Research UK
In addition, we have identified our most vulnerable customers and enabled them to benefit from online shopping during this pandemic. Over 850,000 vulnerable customers in the UK now have confidence they can get a regular delivery with us.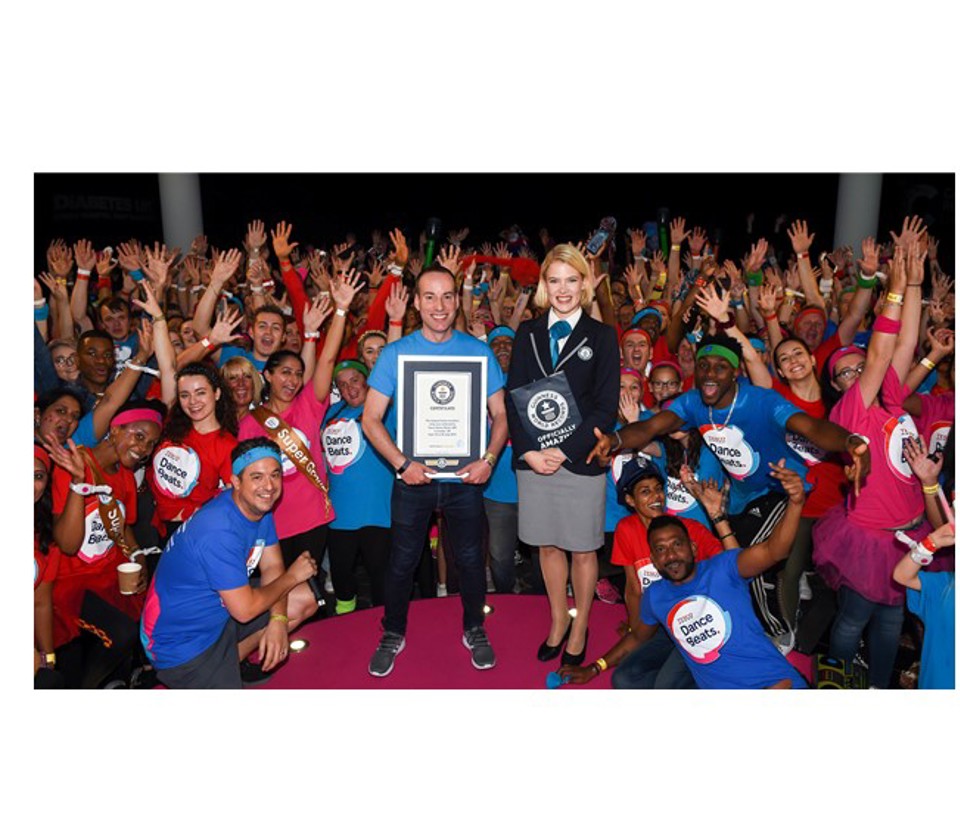 Fundraising
£2m raised in our 2019 DanceBeats event
Prior to COVID-19, we held our largest ever fundraiser – Tesco Dance Beats, which involved thousands of Tesco colleagues, members of the public, charity representatives and celebrities throughout June and July 2019. The event enabled our customers to donate in store and take part in an online dance challenge – raising £1 million. We also donated £278.30 for every colleague, family, friend and customer who took part in the Guinness World Record dance marathon relay at Wembley Stadium, which equated to a further £1 million, bringing the final total to £2 million.
During the pandemic, face to face fundraising has been restricted. We continue to support our partners, adapting our approach to fundraising so that we can continue to raise the funds needed for their vital research and work, to save and improve lives.
In September 2020 over a 13-day period, customers were able to round-up their shopping total in store at the checkouts to the nearest £1. Customers generously donated almost £1.5m which Tesco matched to bring the total charity donation to £3m.
From the 26-28 February 2021, customers gave another boost to fundraising, generously donating to the charities by rounding up to the nearest £1 using our self-service checkouts, donating their Clubcard reward vouchers, donating online and via QR codes at the checkouts to raise almost £233,500.
"Tesco customers and colleagues are fundraising heroes, always finding innovative ways to raise money, even in the most challenging of times. Over the years, you have donated millions of pounds to the three charities to support our life-changing work, spanning national and local efforts to prevent the three conditions and the harm they can cause. From local collections, to events and challenges, and in recent time rounding up at the till, it all adds up to a massive impact on the millions affected by the conditions now and in the future. Thank you."
Will Macleod, Head of Philanthropy & Partnerships, Diabetes UK
Other links:
See our commitments to supporting healthy and sustainable diets.
Read our A balanced diet for a better future report.
See more information on our charity partners Cancer Research UK, British Heart Foundation and Diabetes UK